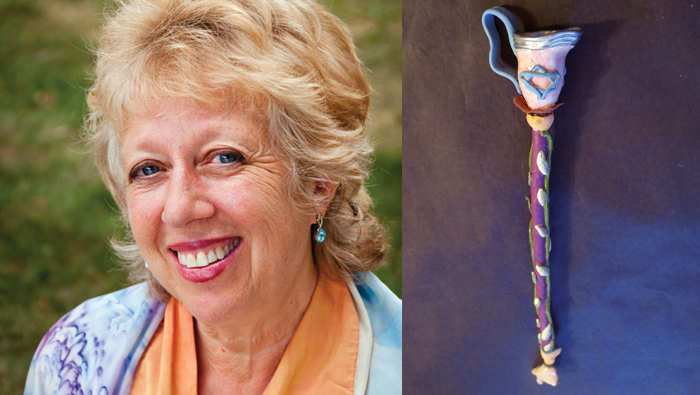 Trio of Shabbaton Events with Rabbi Shefa Gold
Three Oregon congregations are hosting a Shabbaton with Rabbi Shefa Gold March 24-25. Rabbi Gold is the author of Torah Journeys and The Magic of Hebrew Chant.
Rabbi Gold composes and performs spiritual music, has produced several recordings, and her liturgies are published in many prayer books. Her melodies have become standards in communities across all denominations and around the world. With ordination from both the Reconstructionist Rabbinical College and Reb Zalman Shachter-Shalomi, she is a leader in the Jewish Renewal movement.
A teacher, mentor, and role model to hundreds of rabbis and cantors, Rabbi Gold embodies deep spiritual practice grounded in the practice of chanting verses from the Bible, Jewish liturgy and classical texts – a practice that transforms our understanding of Jewish tradition, enhances our spiritual practices, and grounds us during challenging times.
Rabbi Gold will lead services and present workshops at Temple Beth Sholom in Salem for Kabbalat Shabbat, March 24; Beit Am in Corvallis on Shabbat morning, March 25; and afternoon/havdalah at Temple Beth Israel in Eugene.
rabbi@tbsholom.org | office@beitam.org | nina@tbieugene.org
Artists Reimagine Ritual Objects for Exhibit
Oregon Jewish artists reimagine the ritual object in Ritual Unmoored at the Portland State University Broadway Gallery (Lincoln Hall, Ground Floor; 1620 SW Park Ave.), March 22-Sept. 15. An opening reception will be 5-7 pm, March 22.
Ritual Unmoored features six noted Oregon Jewish artists who fashion vessels, abstract or figurative sculptures, and wall pieces, to reimagine the ritual object, and other traditional forms. Sponsored by the Oregon Jewish Museum and Center for Holocaust Education and PSU and organized by artist Willa Schneberg, the exhibition also includes work by Patricia Berman, Linda Bourne, Betty Feves, Kenneth Pincus and Maria Simon.
The ceramic artists featured are working in stoneware, earthenware, porcelain and colored clay. Their work exemplifies the balance between utility and beauty, which lies at the heart of human creativity – how to adapt to the needs of everyday life while reaching for the sublime.
Some pieces are secular in nature, while others are informed by the celebration of the natural world and the feminine divine. Some adhere to Jewish tradition as re-envisioned forms unmoored from ritual tradition. All find final form, perfected over time, through each artist's particular ritual: wedging, throwing, hand-building and carving, performed with practice and discipline in his or her studio space.
Ritual Unmoored: Works by Six Jewish Ceramists is presented by Oregon Jewish Museum and Center for Holocaust Education, Portland State University's College of the Arts and Broadway Gallery in conjunction with the National Council for the Education of Ceramics' conference in Portland March 22-25.
ojmche.org | 503-226-3600