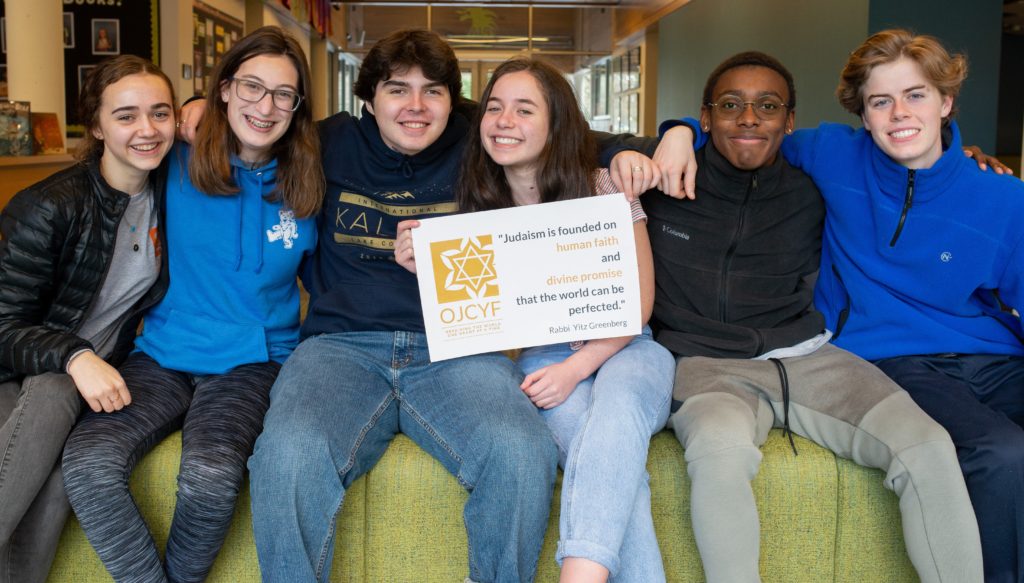 PHOTO: Some members of this year's OJCYF board. Photo by Eden Swartz Photography
OJCYF's annual benefit dinner March 14
The Oregon Jewish Community Youth Foundation will be holding its annual benefit dinner on Thursday, March 14, at the Mittleman Jewish Community Center. Casino Royale: All In On Our Youth will showcase the strong relationship between OJCYF and our local Jewish organizations. Nonprofits who wish to submit a grant proposal to the teens, can do so now by visiting the Receive a Grant page on OJCF's website: ojcf.org.
Casino Royale: All in On Our Youth
5:30-8:30 pm, Thursday, March 14
Mittleman Jewish Community Center
6651 SW Capitol Highway Portland
$54 per adult and $36 per youth
Tickets available at ojcf.org
For more information on the dinner, call 503-248-9328.
NYT's Bari Weiss to make Portland Impact
Enjoy an evening with friends and hear from New York Times opinion editor and writer, Bari Weiss, at Jewish Federation of Greater Portland's Women's Philanthropy Impact 2019.
This year's Impact event will be 5:30-8:30 pm, Monday, May 6, at the Mittleman Jewish Community Center, 6651 SW Capitol Hwy., Portland.
Before joining the Times, Bari was an op-ed editor at the Wall Street Journal and an associate book review editor. For two years, she was a senior editor at Tablet, an online magazine for Jewish news, politics and culture. Bari regularly appears on shows like Morning Joe and Bill Maher. At last month's International Lion of Judah Conference in Florida, Bari interviewed gymnast Aly Raisman, whose gold medal-winning routine at the 2012 Olympics included performing to the Israeli folk song Hava Nagila.
In the onstage interview, Aly told Bari and the audience, "I didn't realize at the time I was representing not only the United States but the Jewish community. I received a letter from a Holocaust survivor saying she never imagined in her life seeing a young girl performing to 'Hava Nagila' in front of the world and see her win for it."
Tickets for Impact are $54, or $36 for attendees 30 and younger. Admission includes cocktail hour and dinner. Kosher dietary laws observed. For more information, visit jewishportland.org or call 503-245-6219.
Women's Circle grant applications due Feb. 22
The Jewish Federation of Greater Portland's Women's Giving Circle has begun its grant application cycle. Grants of $1,000-5,000 are distributed to agencies that support the needs of Jewish women and girls in Oregon or Southwest Washington. Applications are due Feb. 22, 2019.
Mia Birk, co-chair of the Women's Giving Circle, describes the circle as a "fabulous group of women who pool our money and distribute it out to the community in the form of small grants toward projects and programs in the areas of Jewish-themed activity, women and children, and social justice."
Wendy Kahn, JFGP's associate director of financial resource development, says the women are committed to collaborative and informed decision making. "They visit grant applicants and provide thorough research and informed opinions to assist us all in selecting organizations."
To apply visit: jewishportland.org/ourcommunity/womens-philanthropy/womens-giving-circle. For more information, contact Wendy at wendy@jewishportland.org or 503-892-3015.
Applications due March 1 for NewCAJE conference subsidies
NewCAJE will hold their 10th annual conference at Reed College in Portland July 28-31. Shabbat programs will be offered July 26-27.
Portland Area Jewish Educators is able to offer up to $400 toward the cost of the NewCAJE conference. For more information and to register for the conference, visit newcaje.org/home/newcaje10. Registration may not be open yet for the conference; you do not have to have registered to apply for the subsidy. New educators can also check out the special grant for new teachers on the NewCAJE website.
NewCAJE's mission is to connect, inspire and affirm all Jewish educators to build a stronger Jewish community. NewCAJE seeks to raise up Jewish educators through transformational experiences, professional development and Jewish learning in a joyful and intentional community.
For more information on the local PAJE grants, contact Rachel Nelson, director of educational initiatives & intergroup outreach for the Jewish Federation of Greater Portland, at 503-892-7415 or  rachel@jewishportland.org.
BBYO alumni plan 50ish-year reunion
A group of former BBYO participants are planning a 50th year reunion for alumni from the Evergreen Region, which includes chapters in Oregon and Washington. BBYOers from 1966 to 1970 are invited to join the reunion Sept. 13-15, 2019, in Bellvue, WA.
Coordinator Phil Tobin is planning the event with a group of friends who were in the senior class of 1968. Calling themselves the Magnificent Seven, the friends get together every year and celebrate life. "We come from Miami; Vancouver, BC; Tucson; Portland; and southern California," says Phil. "This past summer we decided we should try and do a reunion for our class. We decided on the 50th because time is running out, and those four BBYO years were amazing years for all of us. From there it mushroomed, and we decided to make it from 1966 through 1970."
The reunion will be held at Courtyard Marriott Bellevue Washington 11010 NE 8th St. Bellevue, WA.
Tentative activities include: Friday Golf Tournament at a local golf course; Saturday evening dinner and dance (DJ music from 1960s & '70s and no host wine bar); and Sunday brunch 10 am to noon.
To be added to the contact list for more details, send your email address to Phil Tobin at  phil@philtobin.com or to Linda Israel Gerber at  sunmaiden19@gmail.com.
.