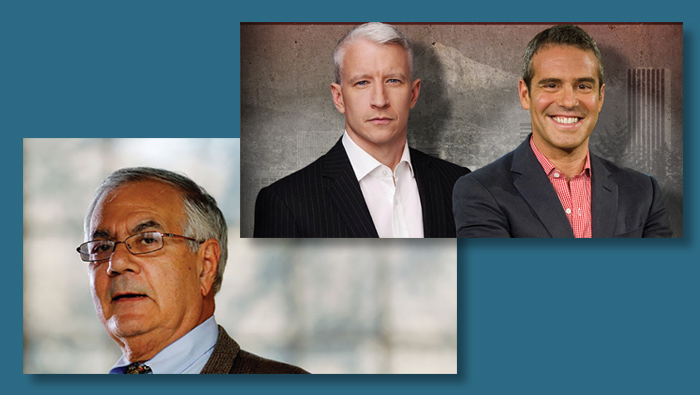 Anderson Cooper & Andy Cohen in Portland Feb. 10
AC2 An Intimate Evening with Anderson Cooper & Andy Cohen. Join this duo for an unscripted, uncensored and unforgettable night of conversation at the Arlene Schnitzer Concert Hall at 8 pm, Feb. 10.
The late night talk show host and the journalist, longtime friends, interview each other and take questions from the audience. It's a live, interactive look behind the scenes of pop culture and world events.
Anderson Cooper is the multiple Emmy award-winning CNN anchor and correspondent for CBS' 60 Minutes. He has covered most major news events in the United States and around the world for the past 23 years, and his memoir, Dispatches from the Edge, topped the New York Times' Bestseller list.
Andy Cohen is an Emmy award-winning host and executive producer of Watch What Happens: Live, Bravo's late night, interactive talk show. Cohen, who had a bar mitzvah in a Reform congregation, calls Yiddish part of his vernacular. Cohen is also the executive producer of the wildly popular Real Housewives series. Cohen has written two New York Times' Bestsellers: Most Talkative: Stories from the Frontlines of Pop Culture and The Andy Cohen Diaries: A Deep Look at a Shallow Year.
A VIP Package includes premium seating and an opportunity to meet Anderson and Andy immediately after the show. VIP ticketholders will also have an opportunity to take a picture with Andy and Anderson and will receive an autographed gift.
Tickets are available through portland5.com, the Portland'5 Box Office, TicketsWest outlets, and by phone: 800-273-1530.
Hear women's legacy Tuesdays in January
Preserving the Past: The Legacy of Jewish Women is the theme of the Lifelong Learning Lecture Series in January at Rose Schnitzer Manor at Cedar Sinai Park.
RSM invites to community to come to the lecture series every Tuesday evening this January. All lectures are open to the public and will be held in Zidell Hall of Rose Schnitzer Manor at 7 pm. Rose Schnitzer Manor is located at 6140 SW Boundary St., Portland. For more information, contact CSP Senior Living Advisor Polina Munblit at Polina.Munblit@cedarsinaipark.org or 503-535-4004.
The series begins Jan. 3 when Priscilla Kostiner speaks on "The Personal Journey of a Jewish Woman." Priscilla has spent her life as a Jewish lay leader and professional in the Jewish world. Whether leading Shabbat services at the Rose Schnitzer Manor, speaking about Judaism to high school students or greeting new immigrants on the tarmac at Ben Gurion Airport in Israel, Priscilla loves what she does, and is looking forward to sharing her experiences with you.
On Jan. 10 Ellen Eisenberg speaks on "Whatever Happened to Old South Portland."
Ellen is the Dwight and Margaret Lear Professor of American History at Willamette University and is the author of The First to Cry Down Injustice? Western Jews and Japanese Removal during WWII, Embracing a Western Identity: Jewish Oregonians, 1849-1950 and The Jewish Oregon Story, 1950-2015.
Cantor Ida Rae Cahana continues the series Jan. 17 with her talk, "Abi Gezunt – As Long as You're Well, You're Happy!" Ida Rae was raised in Pittsburgh, PA, where she made history and the local news at the age of 17, when she became one of the first women to sing in a synagogue as cantorial soloist. Ida Rae has since appeared on Broadway and in concerts at Merkin Concert Hall and the 92nd Street Y. She made her Carnegie Hall debut in 2012 and her Oregon Symphony debut in 2013. Ida Rae is a featured soloist for two recordings from the Milken Archive of Jewish music (Naxos label), of Yiddish Art Song, and on their latest release of Jewish Wedding Music. With ordination from Hebrew-Union College –Jewish Institute of Religion in 1993, she is the senior cantor for Congregation Beth Israel. She says her greatest joy is to be the "ema on the bima" for her four children, Sarit, Liora, Idit and David.
On Jan. 24 Jeannie Smith will share how "One Person Can Make a Difference!" Jeannie is the daughter of Polish Rescuer, Irene Gut Opdyke; who passed away on May 17, 2003.  Irene received international recognition for her actions during the Holocaust while working for a high-ranking German official. Kimberly Marlowe Hartnett will speak Jan. 31 about "Jewish Women and Civil Rights: Behind the Scenes, Around the Table, and on the Picket Line." Kimberly is the author of Carolina Israelite: How Harry Golden Made Us Care about Jews, the South, and Civil Rights, the first comprehensive biography of Golden. Golden's one-man newspaper and hugely popular books including, Only in America and For 2-cents Plain, used wry humor and blunt observations to raise awareness of the Jewish role in fighting for civil rights in this country.
A Frank view of Democracy after Trump
Speaking on "Democratic Values after Trump: A Frank View," Barney Frank will deliver the 12th Annual Gus & Libby Solomon Memorial Lecture at 7 pm Jan. 26.
After a redefining year in American politics, the 12th Annual Gus & Libby Solomon Memorial Event welcomes former U.S. Congressman Barney Frank to discuss the future of the Democratic Party and liberal values following the inauguration of Donald Trump.
Barney Frank (U.S. Congressman D-MA 1981-2012) worked to adjust America's spending priorities and fought against discrimination. In 1987, Frank made history as the first openly gay member of Congress. He championed legislation for Wall Street reform and consumer protection as co-author of the 2010 Dodd-Frank Act. Frank is the author of two books: Speaking Frankly (1992), a collection of policy essays; and a memoir titled Frank: From the Great Society to Same Sex Marriage (2015).  He has taught at Harvard, Boston University, the University of Massachusetts Boston and the University of Massachusetts Dartmouth.
The annual Gus & Libby Solomon Memorial Lecture at Portland State University is devoted to the values of social justice exemplified by the Solomons and explorations of the American Jewish experience.
The free lecture will be held at Lincoln Recital Hall 75. Tickets available at the door or in advance at the PSU Box Office.
For more information, contact the Harold Schnitzer Family Program in Judaic Studies at judaicst@pdx.edu or 503-725-8449.