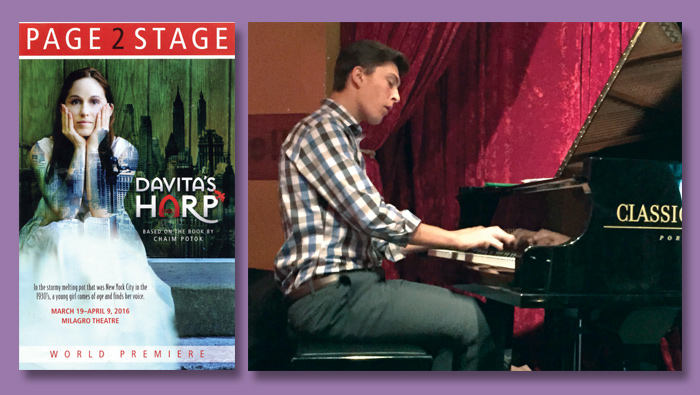 Portland Jewish Book Celebration continues
The annual Portland Jewish Book Month celebration was expanded this year to reach beyond one book and one month. The six-month celebration that began last November continues with several events in March and April.
In March the Mittleman Jewish Community Center hosts its first Authors' Series. The talks at the MJCC begin with Kimberly Marlowe Hartnett. At 7 pm, March 3, she will discuss her book, Carolina Israelite – How Harry Golden Made Us Care about Jews, the South, and Civil Rights. On March 8 at 7 pm, author Jessica Fechtor will share her book, Stir – My Broken Brain and the Meals That Brought Me Home. Laura Nicole Diamond, author of Shelter Us: A Novel, wraps up the author series at 7 pm, March 15.
Single tickets are $8 or $5 for MJCC members; a series pass is $20 or $12 for members. For information and registration for the Authors' Series, visit oregonjcc.org/authorseries or contact Len Steinberg at lsteinberg@oregonjcc.org.
In addition, there are a number of events focusing on the novel Davita's Harp, which was written by Chaim Potok. The Jewish Theatre Collaborative will be presenting a dramatic version of this book for its Page2Stage program beginning in March. This story concerns American-Jewish socialists, and part of the book details information about the Spanish Civil War. One of the main characters is a journalist who goes to Spain to report on the war.
To tie into the novel's exploration of a war reporter, the MJCC will sponsor "The One-Eyed Watchman: Viewing war through the camera lens." Daniel Morrison, a war correspondent and photojournalist, will discuss his work as an embedded journalist at 1-2:30 pm, March 17. Morrison has worked in El Salvador, Nicaragua, Honduras, Beirut, Tel Aviv, Angola in Africa and Afghanistan, where he came under fire. The talk will be in the White Stag Block, floor 3R, 70 NW Couch St., Portland. For more information, contact Marge Congress at maven345@yahoo.com.
The JTC world premiere production of "Davita's Harp" will be onstage March 19-April 9 at Milagro Theatre, 525 SE Stark St., Portland.
A post-play discussion for teens and adults will follow the 7:30 pm, March 30, performance at the theater. The discussion is sponsored by Havurah Shalom and The Jewish Theatre Collaborative. For more information, contact Ruth Feldman at ruth@ruthmike.com
Laz Glickman returns for third Ten Grands for Kids
Laz Glickman, son of Marshall and Lisa Glickman, will perform at this year's Ten Grands for Kids in the Arlene Schnitzer Concert Hall March 25. The 75-minute show created especially for kids, a mix of professional musicians and gifted kids playing 10 grand pianos together on one stage.  Now a 15-year-old sophomore a Lake Oswego High School where he is a member of the school's jazz band, Laz also performed in the show in 2012 and 2013. The next night on the same stage, Ten Grands will present 10 grand pianos and 10 concert pianists playing a variety of classical and modern pieces both simultaneously and individually. Created by Michael Allen Harrison, the concert benefits his Snowman Foundation, which provides instruments, instructors and inspiration for young people as a way to fill the gap due to a lack of music funding in the schools.
COMMUNITY INTERGROUP PASSOVER SEDER APRIL 7
The Oregon Area Jewish Committee first brought together interfaith communities to share the Passover story17 years ago. Since then, every year before Passover begins, the community intergroup seder brings together community members of varied faiths and backgrounds for a meal that tells of the Jewish journey from bondage to freedom.
This year the community is invited to the seder table at 6 pm, April 7, at the Mittlman Jewish Community Center (6651 SW Capitol Hwy., Portland). This program is funded by the Emily Georges Gottfried Fund of the OJCF, the Oregon Jewish Community Youth Foundation of the OJCF and the Jewish Federation of Greater Portland.
Sherry Fishman chairs the Community Intergroup Seder Program Committee of the JFGP's Jewish Community Relations Council. In an invitation to the interfaith community, Sherry shared a passage from the haggadah used at the seder:
"Our Seder is a unique and inspiring presentation of an ancient story – liberation from slavery, a fight for human rights including an end to hunger, and a pursuit of religious freedom. Togetherwe uphold these shared values – every day we live our own story – tonight, around the table wecelebrate as a community. It is with deep gratitude that we welcome you here."
To RSVP, call 503-245-6219 or go online at jewishportland.org/intergroupseder
PURIMSHPIELS, HAMANTASCHEN AND CARNIVALS
West Side Schpiel
What if Jerome Robbins, Leonard Bernstein and Steven Sondheim collaborated to write a Purim schpiel? Well, that's not going to happen. Instead we have Congregation Beth Israel's own retelling of the Biblical Book of Esther: "West Side Schpiel."
The community is invited to this free entertaining shpiel at 6 pm, March 16.
Starring the clergy, staff and the volunteer choir of CBI, "West Side Schpiel" is the story of star-crossed lovers caught between the warring factions of uptown Shushan. A parody of one of the most beautiful and beloved Broadway musicals, "West Side Schpiel" brings a hilarious new telling to the ancient tale.
Congregation Beth Israel's annual Purim Shpiels have become a highlight of the year. These original productions fulfill the ancient Jewish custom of retelling our familiar story in new and engaging ways. Through clever rewording of the lyrics, the shows bring humor and joy to our community. Past productions have included "The Jews Brothers," "Blazing Schpiel" and "Pirates of Purim." Scenes from these and others are on the synagogue's website: bethisrael-pdx.org
CBI is located at 1972 NW Flanders St., Portland. For more information, call 503-222-1069.
Megillat Esther: A Rock Opera
Megillat Esther: A Rock Opera kicks off the Purim celebration in Eugene at Temple Beth Israel.Following this year' Purim spiel at 7 pm March 23, the congregation hosts the Megilah Reading at 8 pm. Costumes are encouraged, admission is free.
Temple Beth Israel – Center for Jewish Life is located at 1175 E 29th Ave., Eugene. For more information: 541-485-7218  or tbieugene.org.
Purim of Broadway
The Havurah Synagogue in Ashland will present The Purim of Broadway On March 23 at 6:30 pm . This Purimshpiel is full of slightly altered versions of some of your favorite Broadway tunes. Everyone is invited to come in costume to enjoy an evening of singing, dancing and lots of laughter. Free. The Havurah synagogue is located at 185 N Mountain Ave. in Ashland. Call 541-488-7716 for more info or log onto havurahshirhadash.org.
Hamantaschen Sale
Shaarie Torah Sisterhood has been baking and selling hamantaschen for at least the last 65 years. Last year 92 volunteers (both men and women) baked 2,405 dozen during 12 days of baking.
These Purim treats taste great fresh and can also be frozen to be enjoyed all year round. Orders must be received by March 14. Visit: shaarietorah.org/hamentaschen2016 or call 503-226-6131.
Hamantaschen Bake Off
Enter your best Hamantaschen recipe in this fun food-lovers contest for Purim! Drop you're your best hamantaschen by 6:15 pm March 21 at the guest services desk in the MJCC lobby.
The community is invited to taste and vote for your favorite hamentashen from 6:30-7:30 pm.
Non-Kosher entries are accepted. For more information, call 503-244-0111.
Purim Bash
Chabad Jewish Center of Hillsboro presents the annual  Purim Bash Family Fun-night-out featuring the amazing Alexander, Master of Marvels Magic and Illusion Show! Kids crafts, Purim costume masquerade, raffle, and bagel and salad buffet. The bash begins at 5:30 pm, March 24, at Intel HF3 Auditorium, 5200 NE Elam Young Parkway, Hillsboro.
Suggested entry donation: $4 per person
RSVP appreciated: chabadhillsboro@gmail.com  or 503-747-5363.
Purim Carnival
The Mittleman Jewish Community Center and Portland Kollel present a Purim Carnival at 1:30 pm, March 20. The carnival will feature a bounce house, face-painting, carnival booths, Purim gifts, kids crafts and entertainment.
The MJCC is located at 6651 SW Capitol Hwy., Portland. For more information, call 503-244-0111.
CBI Purim Carnival
Congregation Beth Israel invites all kids and kids at heart to the Annual Purim Carnival at noon, March 13. Lunch will be provided for $5 per person. 1972 NW Flanders St., Portland. 503-222-1069
Fiesta De Ester
Purim at Neveh Shalom includes 6 pm dinner and 7 pm Megillah reading on March 23.
Dinner begins at 6 pm by RSVP only – Dairy taco fiesta with all the fixins, margaritas, cervezas and more! $15/adult, $10/child, $50/family max. RSVP at tinyurl.com/fiestadeesther
All are welcome for the Megillah reading and 'Omentashen' (Spanish for Hamantaschen). Come in costume and join in the celebration at 2900 SW Peaceful Lane Portland. 503-246-8831
Night of Magic
Congregation Shaarie Torah hosts a Night of Magic & Miracles beginning at 5 pm, March 23. Magician Hart Keene performs at 7:15. Free. 503-226-6131