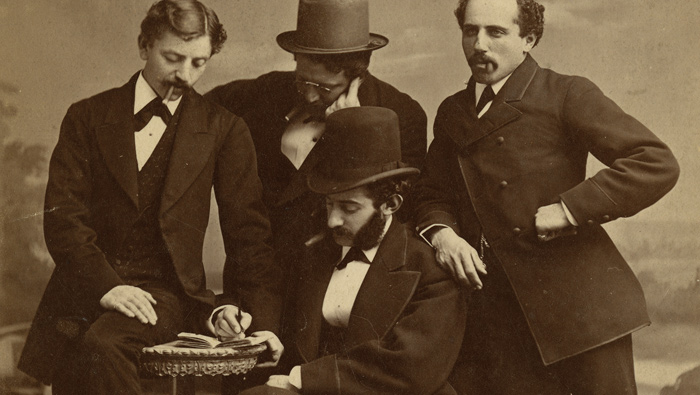 OPB screens "The Jewish Frontier" at MJCC before on air premiere
Experience: "The Jewish Frontier" will air at 9 pm, Jan. 25 on OPB TV.
Oregon Public Broadcasting also will present an advance community screening of the show at 7 pm, Jan. 19, in the Stern Family Ballroom of the Mittleman Jewish Community Center (6651 SW Capitol Hwy., Portland).
The new, one-hour Oregon Experience documentary "The Jewish Frontier" examines the history of the Jewish people who helped build the American West. They were some of the earliest settlers, arriving with the Gold Rush and staying to create the businesses and communities that formed the state.
They range from junk peddlers in Portland's immigrant community, to entrepreneurs who built multi-million dollar businesses. This includes Aaron Meier, who opened his first Portland store in 1857 and went on to operate Meier & Frank, one of the nation's largest department stores. Bernard Goldsmith was a mediator between the military and Native Americans, and became Portland's first Jewish mayor. Sigmund Heilner followed gold miners to Southern and Eastern Oregon where he established a one of the region's longest-operating businesses.
Through Urban Renewal that displaced homes and synagogues, to the devastating aftermath of the Holocaust, Oregon's Jews have continually found new ways to honor the past, and set the foundation for a future, while at the same time redefining what it means to be Jewish in the American West.
Using rare historical photos, film and more than two dozen interviews with people all over the state, "The Jewish Frontier" tells the story of pioneering Jews who helped shape Oregon.
PDX Playwrights offer festival within Fertile Ground Festival
For its sixth consecutive year, PDX Playwrights returns to the Fertile Ground Festival with a strong lineup of comedies, dramas and lyrical work, with six nights of performances Jan. 22-31 at Hipbone Studios (1847 E Burnside).
PDXP's "Festival Within the Festival" is its largest contribution to the Fertile Ground Festival of New Works ever, featuring 28 plays by 18 different playwrights, with dozens of Portland's best- Miriam Feder writes with PDXP and is producer for its Festival-Within-the-Fertile Ground Festival. "We help playwrights bring their work to an audience by taking care of a lot of the production pieces, making it affordable and helping them through the process. It's a very heimish approach." She also writes with P-Town Playwrights, along with Jewish playwright Rich Rubin, known both for his probing historical work and lighthearted comedies.
Miriam has three short plays in the PDXP mix this year. Her play "Under a Tin Roof Moon" was chosen to be part of Daisy Dukes Shorts Night, on Jan. 22 at 7 pm (followed by a party). It also shows Saturday Jan. 23 at 7 pm (followed by Sam Dinkowitz's hilarious Spectravagasm 8: Drugs by separate admission). Miriam's short "A New Woman" is part of Short & Sweet, Jan. 30 at 7 pm and Jan. 31 at 3 pm. Her play "Bathtub Gin" will be featured on a bill with Peter Armetta's "You Are Not My Enemy," a modern Noh adaptation Jan. 31 at 1 pm.
Audiences may remember Miriam's full-length play, "Ephemory," from the 2012 production at the Headwater's Theatre. "Ephemory" tells the tale of her mother's immigration as a teen from Hitler's Germany to the USA. Miriam has performed vignettes from this work for the Next Generation's Group and Oregon Jewish Museum and Center for Holocaust Education. A generation of PJA students will remember Miriam as the playwright, composer, director and accompanist for "In Portland," the third grade play.
Tickets for all shows are $10, available in advance through Box Office Tickets (boxofficetickets.com or bit.ly/1YeaJC5), or at the door. Fertile Ground Festival passholders (up to 20 per show) admitted free.