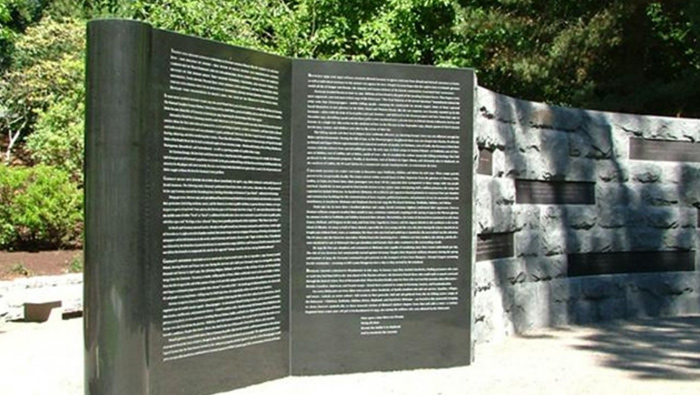 MUSEUM HAS BUSY NOVEMBER SCHEDULE
The Oregon Jewish Museum and Center for Holocaust Education has a very busy November planned. For more information on any of the November programs, visit ojmche.org.
Nov. 1, 1-2:30 pm: Sunday Speaker
Deb Mrowka is the first of four Sunday speakers at OJMCHE during the winter months of 2015-2016.  Sunday speakers are all members of OJMCHE's Holocaust Speakers' Bureau and each talk includes time afterwards to ask the speaker questions.
Other speakers include Anneke Bloomfield (Dec. 6), Miriam Greenstein (Feb. 7) and Evie Banko (March 6).
Deb Mrowka travels regularly to share the story of her mother, Eline Hoekstra Dresden. Eline is sometimes able to attend these presentations to offer commentary and answer questions.
Eline Hoekstra Dresden was born in 1923, the youngest of four Jewish children, in The Hague, The Netherlands; two years later her family moved to Utrecht, The Netherlands. In 1939 her family took in two Jewish children whose parents had sent them away from Germany for safekeeping among strangers. After the invasion of The Netherlands, German authorities forced these two sisters to leave Eline's family and return to the Jewish orphanage, from which they were deported to Auschwitz and murdered.
Free with museum admission.
Nov. 3, 7:30 pm: Jewish Voices
In 1999 OJMCHE established Jewish Voices, an annual event with readings by prominent Oregon Jewish poets and writers. The six writers in the 2015 program span a range of genres including fiction, science fiction, poetry and memoir.
This year's featured writers are:
Bruce Barton is the author of The Book of Baruchio, poems inspired by Jewish prayer circle and study group. Upcoming books include Completion Before Perfection: Collected Poems 2000-2010 and a collection of his original short sayings.
David D. Levine is the author of Arabella of Mars (Tor 2016) and over 50 science fiction and fantasy stories. His story "Tk'Tk'Tk" won the Hugo, and he has been shortlisted for awards including the Hugo, Nebula, Campbell and Sturgeon.
Alicia Jo Rabins is a poet, composer, musician and Torah scholar. Her book, Divinity School, won the 2015 American Poetry Review/Honickman First Book Prize and is published by
APR/Copper Canyon.
Willa Schneberg has authored five poetry collections, including In the Margins of the World, awarded the Oregon Book Award, and the letterpress chapbook The Books of Esther, produced in conjunction with her 2012 OJMCHE exhibition.
Amy Schutzer is an award-winning poet and fiction writer. Her first novel, Undertow, was published by Calyx Books in 2000. Her second novel, Spheres of Disturbance, was published in spring 2014 by Arktoi Books/Red Hen Press, and was a finalist for an Oregon Book Award.
Debra Gordon Zaslow of Ashland is an acclaimed storyteller and author of Bringing Bubbe Home, a Memoir of Letting Go Through Love and Death. She runs a maggid training program with her husband, Rabbi David Zaslow.
Ticket Info: General: $10; OJMCHE members: $8; students: $5.
Nov. 8, 1-4 pm: Confronting Extremism: The State of Hate Today
Join OJMCHE for our Fall Symposium, a film screening of the 2014 film, "HATE," followed by a conversation with the director and other guest speakers. This program will be at Portland State University CampusHoffmann Hall, 1833 SW 11th Ave.
Special guest is Nadav Eyal, acclaimed Israeli journalist and director of HATE, a documentary dramatically depicting the resurgence of anti-Semitism in Europe. The screening will be followed by a discussion with local panelists reflecting on the challenges posed by racism, extremism, hate groups and hate speech in our community.
Panelists include Miriam Greenstein, Jo Ann Hardesty, Kayse Jama, Erious Johnson Jr., Natan Meir, Lorry I. Lokey, Judith Mowry, Steven Wasserstrom, Moe and Izetta Tonkon.
OJMCHE is joined by 22 organizations sponsoring this program. Howard and Wendy Liebreich provided generous underwriting. No person will be turned away for inability to pay.
Ticket Info: General: $20; educators and students with ID: $8.
Nov. 12, 7 pm: Frank's Song
"Frank's Song," a documentary film by David Bee tells the story of Frank Wesley, who began playing saxophone at the age of 70. Learning the jazz melodies of his youth in the 1930s and 40's made him happy and soon he was playing them on his porch, sharing these songs with his bustling neighborhood in Portland. Ticket Info: General: $10; OJMCHE members: $8; students: $5.
Nov. 15, 1-3 pm: Opening Reception
Reception for two new exhibits opening at the museum. Pointing the Way: The Art of the Torah Pointer and Surviving Remnants
Nov. 15-Feb. 28, 2016
Pointing the Way: The Art of the Torah Pointer.
The Barr Foundation has assembled a remarkable collection of antique and contemporary Torah pointers, known by the Hebrew word yad, literally "hand" in English. Created by artists from different ages and cultures and of diverse materials including wood, precious metals, jewels, ceramics and paper, these yads chronicle the timeless, universal aesthetic guide in reading the Torah.
Surviving Remnants:
Photography by Elizabeth Collings of Damaged Crimean Torah Scrolls
In 1990 members of a medical delegation from Willamette University returned from a visit to the Crimean city of Simferopol with two large paper sacks filled with fragments of Torah scrolls. Simferopol had been the center of Jewish life in Crimea for centuries. In 1941 the Nazis captured Simferopol.
Members of the medical delegation brought the Torah scrolls to Congregation Beth Israel in Portland. Deemed beyond repair, the scrolls were scheduled to be buried in the synagogue cemetery, in accordance with Jewish tradition. Before the burial, photographer Elizabeth Collings worked with educator Jan Rabinowitch to trace their history and document their condition. In the spring of 1995 Beth Israel religious school children buried most of the scrolls in a small memorial garden in the Beth Israel cemetery.
Nov. 17, 7 pm: The Port of Last Resort: Zuflucht in Shanghai
The Port of Last Resort: Zuflucht in Shanghai is the little-known story of the Jewish refugees in Shanghai presented through the recollections of four former refugees, and a collage of evocative materials: personal and published writings, relief reports, secret documents, rare home movies, photographs, newsreels and propaganda films.
After the film we will hold a conversation around experiences in Shanghai, focused on local survivors and their descendants. The museum will also feature a small display of artifacts related to Jewish life in Shanghai.
This film is presented as part of Portland Jewish Book Celebration: Many Stories, One Community and is sponsored with the Institute for Judaic Studies and Havurah Shalom.
Ticket Info: Public: $10; OJMCHE, IJS and Havurah members: $8; students: $5.