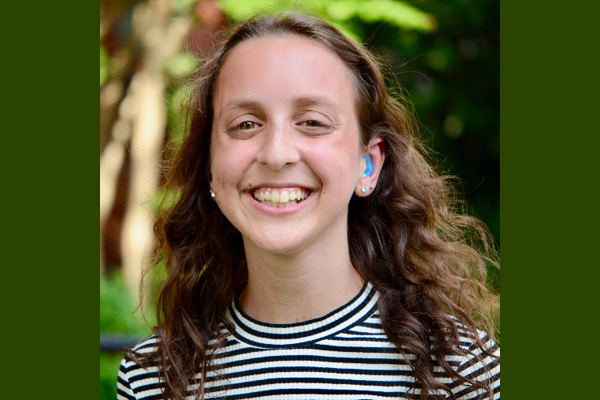 Photo: Sarit Cahana
The American Association of People with Disabilities (AAPD) presented its 2021 Portrait of Empowerment series, which featured the AAPD Summer Interns. Sarit Cahana, daughter of Congregation Beth Israel's Senior Rabbi Michael Cahana and Senior Cantor Ida Rae Cahana, participated in this summer internship program.
For Summer 2021, AAPD hosted the Summer Internship Program virtually. The internship program is a 10-week leadership and career development opportunity for interns with disabilities. AAPD places college students, graduate students, law students, and recent graduates with all types of disabilities in paid summer internships with Congressional offices, federal agencies, nonprofit and for-profit organizations.
At the beginning of summer, interns participated in a 1-week orientation session to acclimate to AAPD, meet their peers, and learn about the disability rights movement. Throughout the summer, interns are also required to participate in the Disability Advocacy Certificate Program. The Certificate Program is a 3-credit optional course where interns learn about key issues in the disability community and develop skills to advocate on the local, state, and national levels. Lastly, interns received opportunities to attend events, community events, briefings, and more.
Throughout the Summer Internship Program, AAPD focuses on storytelling as a form of advocacy. The series aims to uplift and center the stories of the interns.
Following Sarit Cahana shares her full advocacy story:
"I first learned about advocacy out of necessity when I didn't get the accommodations I needed in high school. Teachers treated my IEP (Individualized Education Plan) accommodations as optional. When I talked to my caseworker about it, he told me that I needed self-advocacy skills. This would have been really helpful, but he did not help me with those skills nor did he hold my teachers accountable. At the end of junior year, I was encouraged to sign away my IEP and spent senior year with no protections.
"That year, a teacher of mine had our class do an assignment answering, 'What would you change about your community?' I slowly realized that I deserved better all these years in accessing my education. I started spending time in my inaccessible classrooms writing down all the ways I would make my school more accessible. I created a presentation for this class about this topic in front of my non-disabled peers and they really enjoyed hearing what I had to say. This brought me to continue advocating to the administration of the school and the district as well. From there, I haven't stopped!
"Advocacy has taken time, trial and error. I ended up gaining strong self-advocacy skills and I still have trouble getting the accommodations I need. Advocacy can look like telling someone you need the captions turned on, to protesting, to meeting with your Senator. Anyone can be an advocate in many different forms and can ask themselves 'what would you change about your community?' and work towards it."
Rabbi Cahana posted on his Facebook page, "Very proud of Sarit for her advocacy and courage to tell her story."
See all of the 2021 Portraits of Empowerment interns here and read their stories.