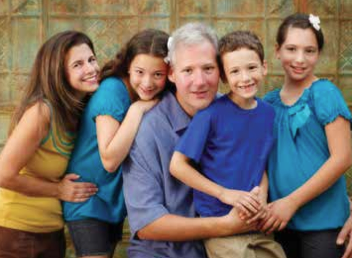 Rob Hershinow is a board member at Congregation Beit Haverim. "Rosh Hashanah is an opportunity to remember our spiritual compass, the significance of Jewish practice and Judaism in our ongoing lives," he says. "Life changes and unfolds throughout the year with new people and new experiences. Values are tested. Rosh Hashanah is something familiar. The connectedness with my family, friends and the Jewish people comes full circle and, year after year, becomes increasingly important."
Rob grew up in the Chicago area and moved to Oregon at age 23. "I've been making the holiday on my own since," he says. "Some years it was nothing; some years it's Mom's recipes – brisket, fish, kugel, soup. Although I haven't yet mastered the recipe, a Jewish holiday is not a Jewish holiday without Bubbe's mandel bread (recipe below). She made it with chocolate chips for the kids and nuts for the grownups, but everyone ate the chocolate chips." Like many people from cities with large Jewish populations, Rob finds rewards and challenges in Portland. "Growing up in Chicago made celebrating High Holidays easy," he says. "Anywhere from 40 to 60% of my childhood friends were Jewish. My children grew up knowing one or two Jewish children outside of the Beit Haverim community. Here, the holiday doesn't occur unless we make the holiday. A greater personal effort is necessary, and I find greater significance in participating."
Steve Bilow belongs to congregations Beit Haverim and Beth Israel. "I love the whole period of preparing for the High Holidays," he says. "Selichot is the service before High Holidays and the start of the period of repentance. It's a cool experience, an advance warning that you still have time to make yourself better. You mend relationships and become aware of the things you could have done better. The whole notion of Rosh Hashanah as the birthday of the world reminds you that the world is something to nurture."
Michelle and Dave Minch attend Congregation Beit Haverim, where she is on the board. "The High Holidays are a good time to get to know Beit Haverim," Michelle says. "It's a soul-searching time and brings a sense of community. Our cantor, Ann Brown, is amazing. She plays the guitar and helps you savor the holidays. And several people at the congregation are skilled at blowing the shofar – until they're kind of blue in the face." Her husband Dave agrees. "Throughout the year everyone has different things going on," he says. "But at the High Holidays everyone is here to celebrate, recant the last year and start anew. After services on Rosh Hashanah, everyone from the congregation goes down to the river in Lake Oswego for tashlich (casting sins into the water). We break off bread and toss it into the river, or, since bread isn't good for the environment, we can also use rocks."
The couple has become matzo ball soup aficionados, the staple for every Shabbat and holiday. "The kids protest if we skip it," Dave says. "We are vegetarians so the big thing is OSEM vegetable broth. We've tried several recipes and find Manischewitz Matzo Ball Mix works best. We might cook up a challah, and we try to do traditional Jewish foods like apples and honey."
Vicki Stone and her husband Jim attend services at Chabad. "We have been Ba'al Tshuva (returnees to Orthodox Judaism) for 25 years," Vicki says. "We moved to this house so we'd be near the synagogue. "Rosh Hashanah is a typical holiday. It's praying and eating, praying and eating. Jim and I are traditional in our gender roles. He goes to synagogue, and I make sure there is a lovely meal."
The Stones have adapted traditional foods to their family's special needs. "You're supposed to have the head of an animal, but I don't know anyone who grew up with a sheep's head," Vicki says. "I grew up using smoked fish with the head on, but my daughter doesn't like smoked fish. When she was 9, she cut a fish out of paper and stuffed it with Kleenex (so that it was three-dimensional), and we've used that since. We have apples and honey to symbolize the sweetness of the New Year and round challah stuffed with raisins. It looks like a turban."
Rebecca Berzow and her husband Tuvia belong to Kesser Israel, where he serves as congregation president. "My husband and I became more observant later in life, so the Artscroll Transliterated Linear Machzor is very helpful," Rebecca says, referring to a popular version of the traditional High Holiday prayerbook. "There are explanations and essays on what repen- tance means. The High Holidays are a time to do inner work on ourselves. We contact family and friends to ask for forgiveness for anything we did to offend them."
The family's Erev Rosh Hashanah meal includes traditional food omens detailed in the machzor. "You say a little prayer and then eat the food," Rebecca says. "It's cute and fun for the kids. For example, for apples and honey, you say 'Have a good and sweet year,' and for fish, 'Be fruitful and multiply like fish.' Outside of that, Rosh Hashanah dinner is a lot like Shabbat dinner – challah, salad, wine, meat and dessert. I ask the kids, what can we learn this year? What can we do bet- ter? We always try to improve ourselves and be better people in the world."
SPECIAL HIGH HOLIDAY EVENTS FOR SINGLES/YOUNG ADULTS
Singles will find the welcome mat out during the high holidays this year. Meal Swap, a program started by Jodi Berris and now run by Portland Kollel, specializes in making connections. "We find people who are interested in a holiday meal and a family that is interested in hosting," rabbi tzvi Fischer explains. "We try to find the best fit regarding the level of kosher, level of observance and diet.
"Most asking to be hosted are young, but anyone is welcome," Fischer continues. "Many people have been matched. For example, one young woman who had recently returned from a Birthright israel trip called. her mother was Jewish, but her Christian father had raised her, and she'd never been in a sukkah. We matched her with a family, and she had a wonderful Sukkot." For more information on Meal Swap, email info@portlandkollel.org.
Meanwhile, good news! Portland Moishe house, the grassroots community center for young adults that almost closed due to funding issues, reports they are up and running thanks to the generous support of Liz Menashe, Jim Meyer and the local community. they are planning a September field trip to visit beekeepers outside Portland. Join them to learn about honey, beekeeping and how this relates to rosh hashanah by visiting facebook. com/moishehouseportland or emailing moishehousepdx@gmail.com.
In addition, Jews Next Door (bethisrael-pdx.org/community/jews-next-dor, jndpdx@ gmail.com) will host several high holiday programs for young adults. here's the tentative schedule: Sept. 5, 5:30 pm: Tashlich and happy hour. Location TBD.
Sept. 14, 1 to 4 pm: Yom Kippur Lounge at Beth Israel.
Sept. 14, after Neilah service: Breakfast at the Asa Lounge (joint event with Moishe House).
Sept. 25, 6 to 8 pm: Event in the Sukkah. Details TBD
BUBBE'S MANDEL BREAD
Courtesy Rob Hershinow with permission from Bubbe.
Ingredients
11⁄2 sticks margarine
1 cup sugar
2 eggs
2 teaspoons vanilla
1 cup ground walnuts (or chocolate chips)
21⁄2 cups flour
2 teaspoons baking powder
(added to flour) C
innamon and sugar mixture
Directions: Soften margarine and mix well with sugar. Add eggs, vanilla and nuts – mix well until creamy. Add flour/baking powder and mix all together. Put into fridge for several hours or overnight so it will be easy to handle.
Grease cookie sheet. Make three long, narrow rolls, each about 2-3" wide (roll in your hands and stretch out on cookie sheet). Sprinkle with cinnamon/sugar mixture and bake at 350 degrees for 20-30 minutes or until brown.
Slice one-inch pieces while warm (at an angle) – turn pieces on side and sprinkle with more cinnamon/sugar. Toast for an additional 10 minutes being careful to watch so it doesn't burn. The mandel bread will harden as it cools.