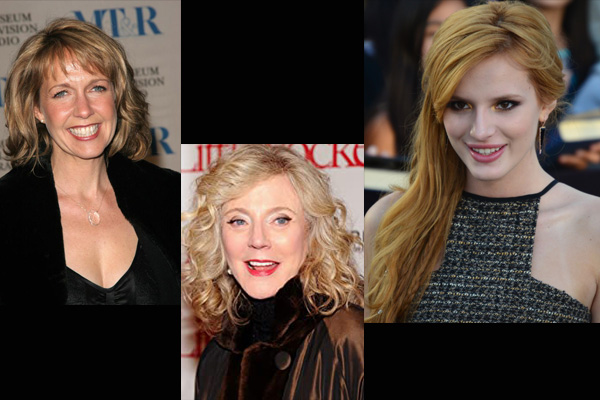 Photo: Actresses Monica Horan, Blythe Danner and Bella Thorne are just a few of the celebrities featured in ads for Women for Biden-Harris 2020 campaign.
It only made sense when Kim Rosenblum started working on the Women for Biden/Harris 2020 campaign that she reached out to her friend of more than 25 years, Barry Greenberg, owner of Celebrity Connection (CelebConn.com), to acquire celebrities for promotional ads.
Barry initially supported Pete Buttigieg and was working in the Pacific Northwest with "Jews for Pete," which has now transitioned to "Jews for Pete – for Joe." He also was peripherally involved with the veteran's group supporting Pete's campaign.
"When Joe became the nominee, everybody who was in all of the other candidate's camps started working for Joe," says Barry. "The beautiful thing is that the Jewish people for Joe, the veterans and Women for Biden-Harris – many are the same people – (all came together), which is great."
Some of the celebrities on the roster doing promotional spots include Marcia Gay Harden, Blythe Danner, Ernie Hudson, Sharon Lawrence, Jean Smart, Ashley Rickards, Monica Horan, Nella Thorne and Chris Noth.
Chris Noth, NYPD Detective Mike Logan on "Law & Order" and Big on "Sex and the City," even made a surprise appearance at Wisconsin's Women for Biden-Harris phone bank training.
Barry has been working with celebrity acquisitions since 1982. Celebrity Connection was born from a comment that Barry's friend, Harry Chapin, made to him one day.
Prior to 1982, Barry had worked in the Jewish community as an executive with B'nai B'rith International, Jewish National Fund and Jewish Hospital-National Asthma Center. During this work, he realized that most people wanted access to celebrities that could benefit nonprofit organizations.
Harry was deeply involved in charity work and had the idea of a "round table" for celebrities to pass around the needs of various charities and each "take a bite" and undertake a responsibility.
"So I sat on this idea of his – it was his idea, after all – for almost a decade until he died," says Barry. "When he died, I realized that there had been nothing stopping me from doing this all along. So I started Celebrity Connection, and for the first five years, I did only celebrities and charities, and then I started to do work with for-profit companies."
Barry met Kim when he did contract work for Nick At Night and TV Land. Kim is currently working full-time for Women for Biden-Harris 2020. "She's devoting herself 100% to this," says Barry. "I'm just giving a little bit."
Political involvement is just part of the "fraction of my life where I decided to give something back," says Barry. He is also Chairman of the Cascade Pacific Council's Committee on Jewish Scouting, Boy Scouts of America. He admits that he had limited involvement in scouting as a kid, but he is glad to be an active part of it now for his 10½-year-old triplet boys.
"Especially now when you can't have soccer or basketball, and it's hard to do karate, letting kids do scouting, even if most of the scouting is virtual, is really beneficial," says Barry.
He admits that it has been a challenging time with the kids and online schooling. "It's all part of my TED Talk," jokes Barry. "If nothing else, I hope you will heed the title, 'Never Have Triplets at 58.' So, as long as you never have triplets at 58, you're going to be okay."
To contact Barry, visit Celebrity Connection (CelebConn.com); for information on Women for Biden-Harris, visit their Facebook page.