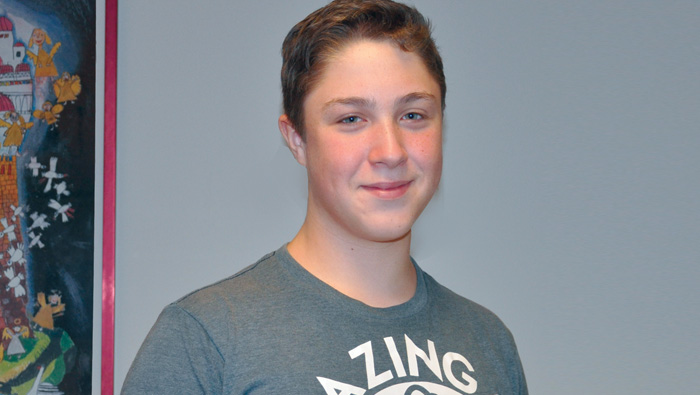 Portland teen Yosef O'Brien has begun an elite education program in Israel for students gifted in science. Yosef, 14, is the only U.S. student in this year's Anières Elite Academy program. Other than one student from Canada, the 30-student class is made up of teens from the former Soviet Union. Anières, a program for gifted students in the science areas, is a joint program with the Technion in Haifa.
Anières is one of seven programs in the Naale Academy for English-speaking Jewish students aged 14-16 who want to finish their high school educations in Israel. The 23-year-old Naale program has more than 16,000 graduates. Students from more than 40 countries study in 25 schools throughout Israel.
Students who pass Naale's intensive academic, social and psychological testing receive a scholarship that covers full board, school tuition, full health insurance, trips, extracurricular activities, pocket money and travel fare for going out to visit family and friends in Israel.
"The purpose of these tests is to try and determine whether the student has what it takes to succeed in such a special program," says Chaim Meyers, director of the western world region for Naale Elite Academy.
Students graduate with a full Israeli matriculation, after which they can stay in Israel and join the IDF – in which case they get special financial assistance – or return home. Students who stay and join the IDF receive scholarships to cover tuition for university after their service.
The Anières program allows the students to attend university before military service and then serve as engineers in their fields of expertise. Yosef hopes to serve in the Israeli Air Force, ideally as a pilot.
"Since World War II the decisive factor of war has been a good air force," says Yosef, who had the opportunity to pilot a small plane after winning a plane trip at a Chabad auction.
The son of Bayla and Tony O'Brien, Yosef and his three sisters have lived in Portland since he was 2. The family is active with Chabad. Last year, Yosef's friend Ben Sand went to Tel Aviv to study on a Naale scholarship.
"I looked into it and it looked very good," said Yosef in an interview before flying to Israel Aug. 30.
Bayla notes, "He researched it and brought it to me. He did his homework."
Yosef attended Odyssey Middle School, where his youngest sister, Shimrit, 8, is now a student. Last year as a freshman at Wilson High School, Yosef was selected for an OHSU internship normally reserved for 10th- to 12th-graders. Following a couple of months of OHSU lectures for all interns, he was paired with a mentor, Dr. Lindsey Crawford, with whom he worked on a viral therapy study. The research to use a virus to manipulate DNA fits into Yosef's goal to become a biomedical engineer and cure genetic disorders.
In addition to advanced science and math classes taught in English, Yosef will spend his first year in an intensive ulpan to learn Hebrew, which will be the language for all classes in future years.
This year he is looking forward to studying math and science at such a high level. But he says he will miss his family. "I like my family," he says. "I'm going to miss them."
But he won't be totally separated from his family in Israel. His older sister, Raizel, spent a year in Israel at a women's yeshiva. She will return to Israel for three months after the High Holidays to volunteer in a youth crisis center. His sister Mina, who works for Hewlett-Packard, will be in Israel at the end of December.
For more information on Naale programs in Israel, visit elite-academy.org.