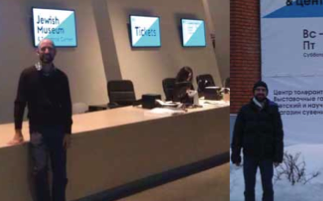 Visit an Odessa café filled with intelligentsia or watch a shtetl family recite Sabbath prayers. At Moscow's Jewish Museum and Tolerance Center, interactive exhibits combine audio and video to recreate history. Conceived by Ralph Appelbaum Associates, the designers of the United States Holocaust Memorial Museum, Europe's largest museum devoted to Jewish history and culture opened in November 2012 with Israeli Prime Minister Shimon Peres as guest. Here visitors explore Jewish migration from Spain with interactive maps or point to a Torah on the screen to view this week's parashah.
Professor Natan Meir, of PSU's Harold Schnitzer Family Program in Judaic Studies, gave the museum a strong Portland connection. A specialist in Eastern European Jewish history and author of Kiev, Jewish Metropolis: A History, 1859-1914, he guided initial discussions, developed the academic advisory committee and designed exhibits. When the organizers flew him to Moscow for a retrospective last December, he saw the final product for the first time.
"I was impressed and proud of our accomplishments," Meir said in a recent interview. "To see the exhibits that we had worked on for so long was exciting. It brings them to life in a way I haven't seen before." Meir got involved in the project while teaching in England. "They wanted people with strengths in particular eras, like an expert in the revolution, World War I and early Soviet years," he said. "I dealt mostly with the 19th century when Jews were moving from shtetls to urban centers. My other area, migrations, starts with the destruction of the Second Temple. It's challeng- ing to cover 1,600 years in one space.
"One of our goals was to debunk stereotypes," Meir continued. "The most glaring example is that the Bolshevik party was primarily or even totally Jewish. Some Russian intellectuals have helped to propagate this myth, and it's not true. And, why did the masses of Jews support the Bolsheviks? They were the only armed force that was not carrying out pogroms. That aspect of the story has been forgotten or was never known."
Meir also worked to show that Jewish prevalence in the alcohol trade did not rise from a desire to addict and exploit peasants.
"Jews were in the right place in the economy to take advantage of agricultural products like potatoes to distill vodka," he said. "They were the economic middle class of Eastern Europe. Nobles weren't interested in taverns, and peasants didn't have the money or skills."
Like others involved in the $50-million museum project, Meir enjoyed seeing creativity and new technology bring history to a wide audience.
"It's important to remember that this is a Jewish museum and tolerance center," he said. "It's about more than anti- Semitism, although pogroms and the Holocaust are part of it. People come away with an understanding of what intolerance can lead to and where else in their lives they might experience bias or hatred."