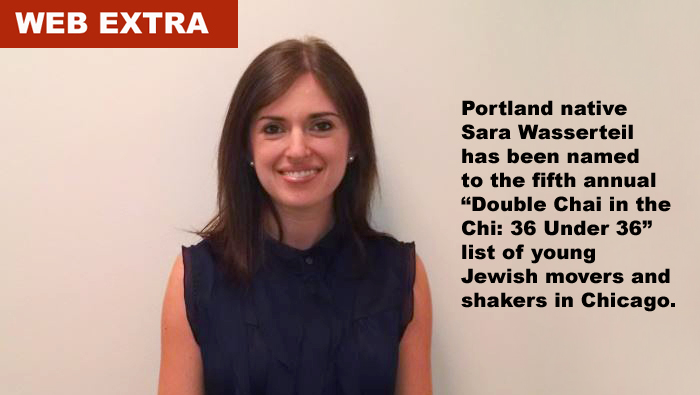 Sara Wasserteil, 31, a Portland native, has been named to the fifth annual "Double Chai in the Chi: 36 Under 36" list of young Jewish movers and shakers in Chicago.
Presented by JUF's Young Leadership Division and Oy!Chicago — an outreach website for Chicago 20- and 30-somethings—the list shines a spotlight on the faces of Chicago's Jewish future and recognizes the amazing contributions of this generation. The young professionals featured are noted for making a difference through their work, giving back in their free time, and earning distinction in the Jewish community and beyond.
Sara is the daughter of Howard and Vivian Wasserteil, who now live in Kirkland, WA, where her dad is now the director of administration for Temple B'nai Torah in Bellevue. Sra became a bat mitzvah at Congregation Neveh Shalom. A graduate of Beaverton High School, she was very involved in BBYO and served on the regional board for two years. She was a camper and later counselor at B'nai B'rith Camp for six years.
"It's truly amazing that this marks our fifth year of this initiative — and that in that time we have honored and gotten to know 180 of this community's innovative young leaders," said Stefanie Pervos Bregman, co-founding editor of Oy!Chicago. "As always, this year's list confirms for us that the future of Chicago's Jewish community is incredibly bright."
"I get excited when the list comes out every July to see what other young Jewish adults are doing to help make the future of our community better," said Michael Waitz, incoming YLD board member and a former award winner. "From rabbis to entrepreneurs, the thing that's really remarkable is that the list includes young Jewish professionals from different backgrounds that are making an impact."
This year, for the first time ever, donations to JUF of up to $36 in recognition of a 36 under 36 honoree will be matched in full, doubling the impact and benefit to those in need in the community. Learn more.
The 36 winners will be honored at YLD's "WYLD" party at 7 pm on Wednesday, Aug. 24 at Joy District, 112 W Hubbard St., Chicago. The party is open to the public. Tickets are available for $20 in advance or $30 at the door. Register online or e-mail yld@juf.org.
Sara Wasserteil has devoted herself to the most vulnerable communities in Chicago and the world. After spending much of her 20s abroad assisting refugees in Zambia and the Congo, helping expand agriculture and the private sector in Nigeria, and working on other civic projects in Ghana and Kenya, she brought that dedication to Chicago, where she consults on civic impact initiatives that improve lives. She has developed strategies for organizations to help keep at-risk youth in school, built a roadmap for the Cook County Public Defender to get people awaiting trial with mental health or substance abuse issues out of jail and into treatment, and much more.
Sara also has a habit of teaching and mentoring everywhere she goes, including about Judaism. In Africa, she brought Jewish holidays to her communities; in Chicago, through the Harris School of Public Policy, she mentors graduate students in her field and connects students to effective public sector leaders.
Following is a Q&A with Sara from the Oy!Chicago Website:
Primary gig:
Consultant, Civic Consulting Alliance
On the side:
Sister, improviser, soccer player and aspiring aviator
Relationship status:
Single
How do you give back?
I love growing people, so I am currently mentoring five graduate students interested in pursuing international development careers and serve as the founding director for the Practitioner's Council at the Center for Policy Entrepreneurship, which enables me to connect students to civic-minded leaders.
Something most people don't know about me:
I spent several years abroad when I was in my 20s. In my first few months overseas, I had a driver who was a Neo Nazi. I don't think he'd ever met a Jew before. When I learned this, I started teaching him about Judaism, dispelling many of the falsehoods he'd believed his whole life. When I left a few days later, he no longer knew Jews as hateful, dangerous people. We exchanged information and stayed in touch for several years.
How do you Jew in Chicago?
I like to teach people of different backgrounds about Judaism. When I lived in Ghana, I led a Seder to teach my community about Jewish traditions; while in Zambia, I led a Chanukah celebration for my neighbors. Now that I'm in Chicago, I started integrating family history into holiday celebrations to help family and friends connect their own histories to Jewish stories and traditions.