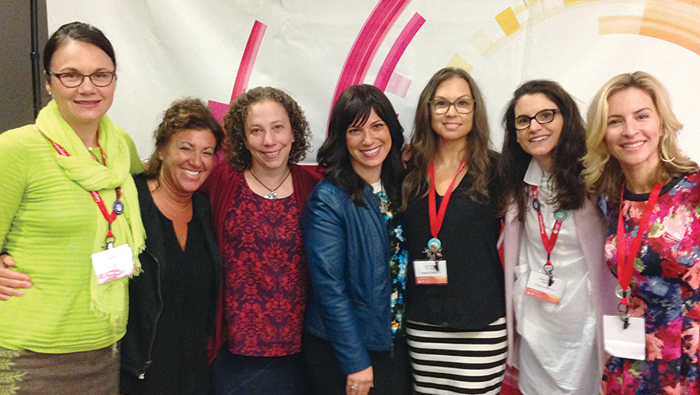 Seven Jewish mothers from Portland participated in the Jewish Women's Renaissance Project Leadership Conference, Sept. 18-20, in College Park, MD. Allison Sherman, Janine Gottheiner, Lee Lazarus, Eve Levy, Sandy Nemer, Paula Reed and Jodi Garber-Simon attended from Oregon.
The conference, held in collaboration with Israel's Ministry of Diaspora Affairs, gathered Jewish women from across the world to hone their leadership skills and create a global Jewish women's movement. The annual conference was launched in 2013 with 65 participants from the United States, Canada and Mexico. It has grown to include some 300 people from nine countries – Australia, Cuba, Greece, Israel, Panama, Russia, Spain, South Africa and the U.S. – this year.
Portland sisters Janine and Lee, of the communications consulting firm the Presentation Company, were among the featured speakers. In their presentation, "Visually Telling Your Story," Janine shared many ways to visualize information.
Other speakers included Mindy Scheier, founder of Runway of Dreams,  who joined the first JWRP Fashion trip this summer; Ariel Halevi, founder and co-owner of Vayomar, an Israel-based communications consulting firm; Charlie Harary, an entrepreneur, philanthropist and leader of the JWRP Momentum men's trips; Gidi Grinstein, founder and president of the Reut Institute, a non-profit strategy group focusing on Israel and Jewish issues; and Dr. Zeev Ben Shachar, director of Israel education at Hebrew University.
Allison, one of the Oregon participants, called the experience "an amazing weekend of motivation and encouragement on how to excel at your passion." She said the speakers provided tools to realize a life goal. "Don't doubt yourself. If you have a dream or an idea, go for it. If you fail, get up and do it again. Let fear propel you to take the chance, not avoid it. Know yourself and (your) uniqueness and use it to succeed."
The JWRP brings Jewish mothers on life-changing Momentum trips to Israel, with support from Israel's Ministry of Diaspora Affairs, to inspire them to change the world. Since 2009, more than 8,000 Jewish mothers from 150 partner organizations in 26 countries spanning  five continents,  Australia, Africa, Europe, North America and South America, have experienced the Momentum trips. Participants commit to getting involved in activities when they return home, including community events, Israel engagement programs, Jewish education, global learning, leadership development and Momentum Israel missions for husbands.
"I loved reconnecting with people I'd met on my two JWRP trips to Israel," says Portland mom Jodi. "It was also fantastic to be at the conference with so many members of our Shine board (Portland women's group). We learned some new strategies and ideas to help bring inspiring Jewish programming to Portland women. This was an amazing opportunity afforded to me by the Portland Kollel, and I am very grateful."
The next trip for Portland Jewish women, who will be taking a trip with JWRP and the Portland Kollel, is Dec. 4-14. Two spots are available for the December trip. Portland will also participate in a November 2017 trip. Any Jewish woman with children under the age of 18 is eligible to apply for this experience of a lifetime. Contact Eve Levy for more information, 720-315-4267. Apply at jwrp.org/apply.