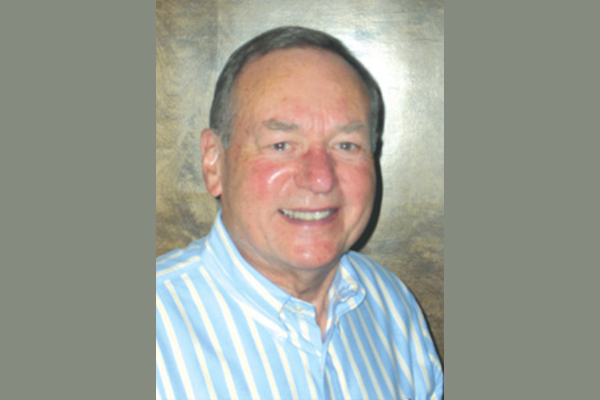 Portland lost another community icon recently. Jim Meyer, z"l, was truly a mensch, who conducted himself with quiet strength, thoughtfulness and generosity.
Ami-Fields-Meyer, a grandson of Jim Meyer, wrote a beautiful tribute to his grandfather.  Following is a partial excerpt:
"(My grandfather) was an elder statesman in Portland and in Oregon. Governors and CEOs sought his advice. He had success in business. He was often the first choice to sit on an important new board, a role he adored. He had a reverence for civic life and the institutions of democracy, perhaps a consequence of his New England upbringing.
'Jim touched every public issue: The Parks Foundation. The Schools Foundation. The Health Foundation. The Economic Development Commission. The Art Museum. The United Way. The Oregon State Human Rights Committee. Pretty much every Jewish organization in the Pacific Northwest. When the City of Portland needed to reform its charter, they turned to Grandpa to help lead the commission. The phrase 'great man' is a cliché — but it keeps coming up this week, from many provinces of his life. I certainly feel that way.
"But if he knew he was a giant of his community, he didn't show it. He gave of himself with deep humility and no expectations of return. He was wired that way: to give, often quietly, whenever he was asked. And while he was generous philanthropically to the causes that called on him — almost always the most vulnerable — the real currency of his life was wisdom and mentorship.
"When people were just starting out in business, they would seek out a rite of passage: a lunch with Jim Meyer. Three generations of Meyers, and our close friends, and sometimes their close friends, turned to him in moments of complexity. I will never forget watching him hold court at my high school graduation party, watching him talk my math teacher through a big life transition.
"How extraordinary that I got nearly three decades with this man, a pillar of his community and the heart of our family. How privileged I was to receive a set of values, etched not into stone tablets but in the sediment of shared time: When I was four, he taught me how to tie my shoes. When I was 14 and showing interest in politics, he took me for a walk to explain patiently how subprime mortgages had tanked the economy. When I was 24, he talked me through navigating my first job.
"But there were 15 other Meyers for whom he was doing the same thing! And hundreds more, beyond our family, who were calling on him in their most difficult moments, with problems that had no good answers. And he would always pick up. It was his joy.
"Between those moments was a scaffolding of wisdom and advice, often informal, formed over cool lagers and grilled salmon dinners and FaceTime calls and trips to the Oregon Coast. Thursday night on the flight to Portland I searched "Jim Meyer" in my email inbox. Hundreds of notes appeared: Book recommendations, New York Times columns of interest, thorough responses to things I'd published, letters to our family.
"Scrolling through, I came across a subject line I didn't recognize: 'Good Accidents in Life.' He had written it during my freshman year of college and addressed it to his three oldest grandchildren: Shana, Alex, and me.
"Over several paragraphs, Jim recounted the many serendipitous events that had led him and our Bubbe to their marriage, their home, their family, and their gorgeous shared life. He closed with this:
'The point of these stories is that it's good to plan and set goals, but sometimes it's equally important to be open to what else is out there, which may turn out to be as good as, or better than, what you had in mind.  We've benefited from those experiences, and hope you will, too.'"
Jim Meyer is survived by his wife of six decades, Lora Meyer, their three sons and their partners and eight grandchildren. May his memory forever be a blessing.