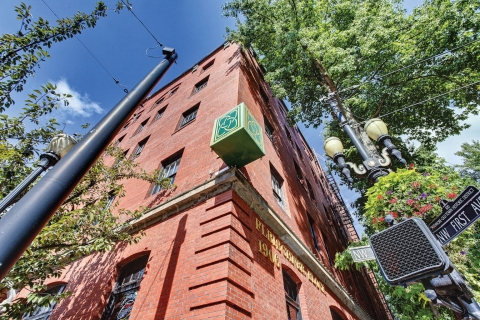 A group of shareholders of the family law firm Gevurtz Menashe has purchased the historic Fleischner-Mayer Building, 115 NW First Ave., from the Bill Naito Company. The purchase includes the adjoining parking lot. Once renovations are complete in early 2013, the law firm will move its offices from the U.S. Bancorp Building to the new building, with plans to occupy two floors. One of the largest firms in the United States with a practice limited to family law, Gevurtz Menashe has 22 attorneys and 21 support employees.
"This is not only a strategic business move for us, it's a reflection of our love of this community and those who have helped build it," said Albert Menashe, a founding shareholder of Gevurtz Menashe. "We are pleased to have acquired this wonderful historic building from the Bill Naito family. They were a pleasure to work together with on this transaction, one which involved two of Portland's iconic immigrant families."
The building will receive a substantial modernization, including the build-out of the firm's office space on the fourth and fifth floors, along with common area improvements.
Designed by noted Portland architect Edgar Lazarus, the 38,000-square-foot Fleischner-Mayer Building was completed in 1906 as an office and warehouse relating to the waterfront commerce located just blocks away. As shipping by water gave way to other shipping models, the vitality of the Old Town commercial district sagged and the building stock deteriorated. In the 1920s, the dry goods firm of Fleischner-Mayer Company occupied the building. In the following decade, it served as the Armory Annex and housed Field Artillery manual drills. In the 1950s and '60s, the building housed Norcrest China Company, a wholesale chinaware importer. In the late 1970s, the interior was renovated and adapted for ground floor restaurant use and upper story offices.