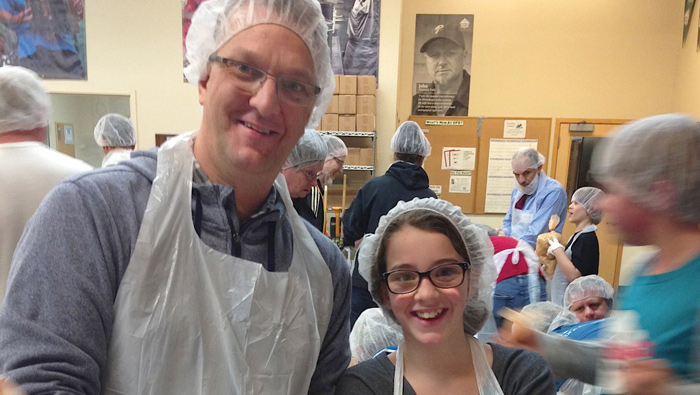 GivingTuesday comes to Portland as the Jewish Federation of Greater Portland hosts a phone-a-thon and a volunteer activity on Dec. 1.
We have a day for giving thanks. We have two for getting deals. Now, we have #GivingTuesday, a global day dedicated to giving back. On Tuesday, Dec. 1, charities, families, businesses, community centers and students around the world will come together for one common purpose: to celebrate generosity and to give.
In Portland the #GivingTuesday Phone-a-thon will begin at 6 pm at the Mittleman Jewish Community Center, 6680 SW Capitol Hwy. It will be an evening of philanthropy, gratitude and tzedakah. Volunteer "callers" will come together to help bring in the 2016 Annual Campaign. This phone-a-thon replaces Super Sunday, when federation volunteers have traditionally called past and potential donors.
Volunteers will be part of #OregoniansGive, a statewide effort to raise $4,000,000 and part of the national #GivingTuesday network that is raising tens of millions of dollars worldwide.
Volunteers can take a more hands-on approach by participating in a food sorting and packing project at the Oregon # Oregon Food Bank. Volunteers ages 6 and older are invited to sign up for this evening activity. Volunteers will work from 6 to 8:30 pm in the Perishable RePack Room of Oregon Food Bank West, 1870 NW 173rd Ave., Beaverton.
To volunteer for these two GivingTuesday events go to: jewishportland.org/GivingTuesdayCallers or jewishportland.org/GivingTuesdayVolunteers (to help at the food bank).