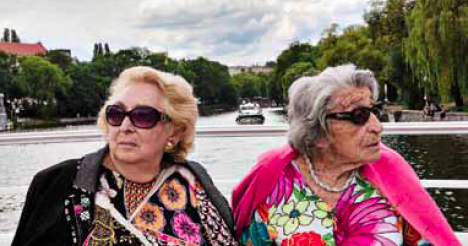 The Portland Jewish Film Festival, which annually attracts thousands of Jewish and non-Jewish filmgoers, this year presents a very diverse array of 17 films during its two-week plus run.
The 22nd annual PJFF is presented by the Northwest Film Center in partnership with the Institute of Judaic Studies June 15-29. This year's festival includes films from nine countries designed to appeal to a wide range of interests. The films range from the family fun of The Zigzag Kid to the powerful exposé of World War II crimes presented as a seductive thriller in Aftermath. (See reviews below.)
While the Festival specifically celebrates the diversity of Jewish history, culture and identity, the IJS film festival screening committee screens a couple hundred films each year seeking films they hope will speak to experiences and issues that confront our common humanity.
"We want excellent films that while they speak to Jewish culture and experience, tell more universal stories that can also speak to a non- Jewish audience," says NWFF Executive Director Bill Foster. "Films that are good enough that they play in any context, not just a narrow, subject-driven Jewish film festival."
All screenings will be at NWFC's Whitsell Auditorium at the Portland Art Museum, 1219 SW Park. (See schedule pages 36-37.)
This year festival passes, which enable holders to see all 17 films, are $125. Tickets to individual films are $9, or $8 for students and seniors. Tickets are available online at portlandjewishfilmfestival.org or nwfilm.org.
– See more at: http://ojlife.com/2014/jun/lifestyle/portland-jewish-film-festival-ready-enrich-community-22nd-year#sthash.9YhoUAWB.dpuf