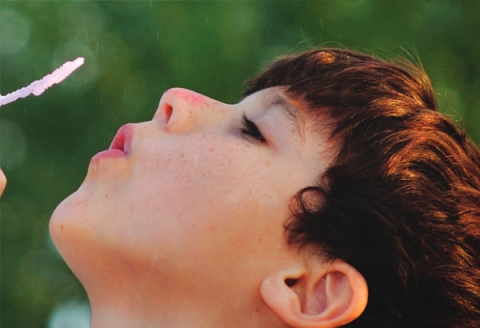 Families with children in kindergarten through fifth grade are invited to explore Portland sites and learn about Jewish teachings through a three-part program this spring presented by Congregation Shaarie Torah.
Education Director Dorice Horenstein says she and Rabbi Joshua Rose created the program to make Jewish learning more fun while offering activities that families can do together.
"We're excited about the idea that we can inspire people to connect their Jewish learning to the world out there," says Rabbi Rose.
On March 15, "All the World's a Stage: Purim and Pretend" meets at Action Adventure Theatre, 1050 SE Clinton St. Purim is the great Jewish festival of pretend and dress-up. Explore the world of comedy, theater and make believe with guest actors Jason Glick and Nadav Hirsch.
On April 19, "Eat, Eat! Nourishing Body and Soul" meets at Nourish Northwest, 4418 SE Hawthorne Blvd. Eating is one of the great Jewish traditions – the way we celebrate, the way we mark important moments of our spiritual lives and the way we pass on our culture. Cook gluten-free, vegetarian foods while reflecting on the Jewish tradition of caring for our bodies. 
On May 17, "Hiking in Green Portland" meets at Shaarie Torah, 920 NW 25th Ave., before heading off for a hike in Forest Park. Explore the beautiful ecosystem and reflect on what the Torah has to say about what it means to care for the world we live in.
The outings are part of Shaarie Torah's religious school, but families may also sign up for just these spring adventures. Each program runs from 10 am to 12:30 pm at that month's location. Parents are invited to participate, but kids whose parents are not able to attend are also welcome. The fee for each child for all three outings is $80 nonmember or $60 member (parents are free!).
"Portland Jewish Explorers appealed to us because it connects Judaism to our community as a whole," says Camille Levinson, who recently moved to Portland with her husband, Zev, and their 4-year-old son. "The program has activities that move with the seasons and the moods of the year. … Shaarie Torah has welcomed us with open arms. We love their innovative approach!"
The second year of the program will begin in September with monthly activities throughout the school year.
"I believe that involving families in Jewish learning creates more dedicated as well as knowledgeable Jewish families," says Dorice.
Rabbi Rose adds that while studying the aleph bet, Torah or Jewish history in the classroom is vital, such study is not the only mode of deep Jewish learning.
"The fact that the programs will be at different locations throughout the city – on a hiking trail, at a children's theater, maybe a program at OMSI eventually – is important for two reasons. First, it's just fun and engaging to find things that are already interesting to kids and to build on that. But there's also the essential message that what we learn as Jews needs to turn us on to important questions we face in the world around us. We're excited about the ways that this program is going to really get kids and parents excited about having fun and deepening their Jewish connections."
Contact Dorice Horenstein at education@shaarietorah.org or 503-226-6131, ext. 229, for more details.