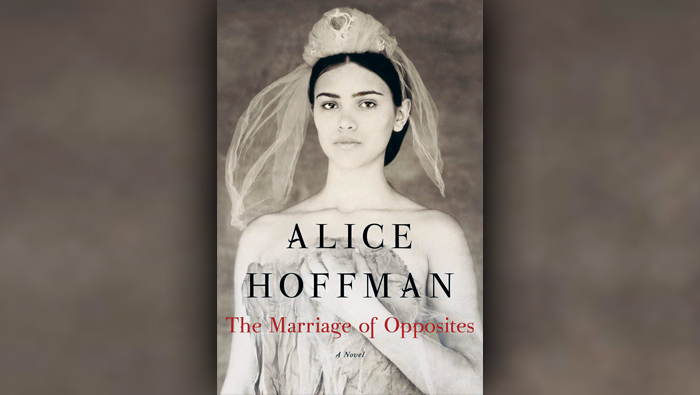 The 6th annual Many Stories, One Community: Portland Jewish Book Celebration will focus on one book in November – The Marriage of Opposites by best-selling author Alice Hoffman – and three books in March when the Mittleman Jewish Community Center presents three authors at its annual authors' series.
Hoffman's The Marriage of Opposites explores growing up on St. Thomas in the early 1800s in a Jewish refugee community. Rachel dreams of a life in Paris, but instead she is married off to save her father's business. When her husband dies and his nephew arrives from France, Rachel seizes her own life story, beginning a love affair that sparks a scandal that affects all of her family, including her favorite son, who will become one of the greatest artists of France, Camille Pissarro.
The November celebration of that story features five public events.
Tuesday, Nov. 8, 6:30-8:30 pm: Ahava Reads at Sip d'Vine, 7829 SW Capitol Hwy., Portland. Discuss the book The Marriage of Opposites at this event sponsored by Congregation Shaarie Torah.
Tuesday, Nov. 8, 6:30-7:30 pm: Pageturners discuss The Marriage of Opposites at the Hillsdale branch of the Multnomah Public Library, 1525 SW Sunset Blvd., Portland. Sponsored by Friends of the Library.
Sunday, Nov. 13, 10:30 am: Mirabella Retirement Complex, 3550 SW Bond Ave., Portland, hosts these salty tales. When Spain launched the Inquisition, it got something completely unexpected – Jewish Pirates of the Caribbean. Join Ron Silver and Eric Kimmel for salty tales of the Jewish pirates who found revenge, and a whole lot of booty, as they raised havoc in the Spanish New World. Light refreshments will be served. Parking is available in the adjacent OHSU parking lot for a small fee. This event is sponsored by Congregation Beth Israel, Congregation Neveh Shalom and the MJCC.
Tuesday, Nov. 15, 7-9:30 pm: The MJCC, 6651 SW Capitol Hwy., Portland, hosts Pissarro, Pinot & Palette: Impressionism and Beyond. Local artist Jeffery Hall will talk briefly about how his work relates to The Marriage of Opposites. Following the discussion, participate in a two-hour creative art instruction session led by Hall. He will guide you to explore your inner artist in an informal, no-pressure environment. Transform a blank canvas into a finished representation to take home with you at the end of the night. There will be a $36 charge with reservations required.
Wednesday, Nov. 16, 7 pm: Havurah Shalom, 824 NW 18th Ave., Portland, hosts a film evening exploring the future of the Caribbean Jewish community. The film "A Kippah in the Caribbean" (2015, Dutch with English subtitles) traces the culture of Caribbean Jews from Portugal, The Netherlands and Brazil, to Curaçao, Suriname, Aruba and the Dutch island of Saint Eustatius. Young Jews explore their lifestyle, including "Jewish Caribbean rap." Great for all ages. Sponsored by the Institute for Judaic Studies, Oregon Jewish Museum and Center for Holocaust Education, and Havurah Shalom. Tickets are $8 general admission; $5 OJMCHE members; $5 students; and free for youth groups.
In March, the MJCC Authors' Series features three authors on March 7, 14 and 21. Two of the speakers have been confirmed. Janis Cook Newman, author of A Master Plan for Rescue, and Jennifer Keishin Armstrong, author of Seinfeldia, will be the first two speakers.
Please join us for these creative and thought-provoking events to explore the ideas, themes and information in The Marriage of Opposites. For more information on all events or to register for Pissarro, Pinot & Palette see oregonjcc.org/arts-culture/jewish-book-celebration.