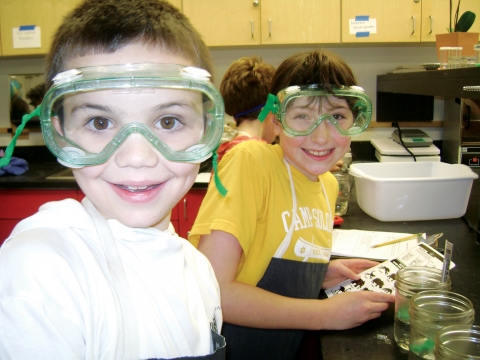 Portland Jewish Academy Principal Merrill Hendin is looking forward to a banner year.
"We still have enrollment coming in, and we are in a very good spot," she said, just days after returning from a mid-summer vacation.
Portland's flagship Jewish school will have about 190 kindergarten through 8th-grade students when classes start after Labor Day, and is looking to strengthen core offerings and innovations this coming year.
"As a school, we continue to be passionate about what we do," Hendin said.
PJA, along with Maimonides Jewish Day School and the fledgling Ma'Ayan HaTorah Day School are part of the expanding mosaic of Jewish educational offerings in the Portland metropolitan area. Both PJA, and Maimonides celebrated important anniversaries last year – PJA its 50th, and Maimonides its 25th.
In addition to the day schools, families also have a range of preschools and supplementary education to choose from, including Congregation Neveh Shalom's Foundation School (pre-school) and Kochavim/Notz'tzim Hebrew immersion program, the Carl Preschool at Congregation Shaarie Torah, Congregation Beth Israel's preschool, and several Chabad-run preschools around the region.
PJA also offers programs for infants and toddlers as well as its own preschool.
"Jewish education has a very, very strong place at the center of the Jewish community," Hendin said.
Jewish tradition, of course, emphasizes education – an emphasis underscored by the "V'shinantam" ("You shall teach") in PJA's logo, which comes from the first paragraph of the Shema, Judaism's central prayer.
Today, PJA's curriculum includes rigorous general studies and Judaic offerings, arts and music programs, community service opportunities and a special emphasis on technology. Its location on the Schnitzer Family Campus adjoining the Mittleman Jewish Community Center is a special bonus, since students have access to the center's professional sports facilities, including the swimming pool, rock climbing wall and SportsPlex.
Hendin, who is beginning her third year as PJA principal, currently shares her office with what looks like a "crash cart" for hospital emergencies – but it's part of the school's ongoing focus on technology.
Officially called a "COW" – for "Computers on Wheels" – it houses 25 of the laptops that will be circulated to fourth- and sixth-graders this fall. A smaller contraption houses another dozen laptops.
"We're looking at all areas of the curriculum, to see how we can better integrate technology," Hendin said, crediting Sarah Blattner, the school's technology maven, for new initiatives.
PJA also has received a grant to work with other Jewish day schools in the Pacific Northwest to integrate technology into the curriculum, and Hendin looks forward to this and other collaborative opportunities.
"We already do some programs with other day schools, especially Maimonides and Ma'Ayan HaTorah," she said. "It's part of being a community of Jewish educators – to find ways to work together."
In addition to technology, Hendin said PJA plans to expand special education services in the next few years. "We need to look at and meet the needs of the community," she said.
The bottom line, as always, she said, is to serve PJA's students, families and community.
"We want to give our students and our families a strong foundation," she said. "We are constantly teaching our children to think for themselves and to work for the world."
Across the street from PJA, Maimonides Jewish Day School and its preschool, The Gan, are beginning a new chapter as well.
Maimonides, which is entering its second quarter-century, serves a diverse range of Jewish students from Salem to Vancouver, WA.
Like PJA, Maimonides is a partner agency of the Jewish Federation of Greater Portland. Maimonides currently offers programs for about 50 students from preschool through fifth grade.
Devora Wilhelm, Maimonides' founder and director, said she ideally would like to offer a day school option through 12th grade, but emphasizes that even a few years in a Jewish school provides an important foundation.
"Students who get a strong foundation in early childhood gain Jewish skills for life," she says.
She adds that The Gan Preschool, which last year became a separate program under the direction of Mimi Wilhelm, has never been stronger.
Mimi Wilhelm noted that The Gan is Portland's only Jewish preschool certified as "eco-healthy" by the Oregon Environmental Council.
"Children thrive in a loving, nurturing and stimulating environment," she said. "We focus on the needs of the individual child and combine the most contemporary educational theories with love of our heritage and respect for our environment."
This fall, longtime Portland educator Sharon Pollin returns to Maimonides both as a teacher and as director of general studies programs. Pollin was interim head of school last year at a Jewish community school in Palm Desert, CA., and also has been working on a PhD with a specialization in Jewish educational leadership.
"We're very excited to have her back," Devora Wilhelm said.
The school also will move ahead with a long-planned building expansion: lifting the main floor of one of its existing buildings to create a "daylight lower level" to be used for classrooms and a multi-purpose room.
Wilhelm said the expansion, expected to begin this month, "will provide a wonderful opportunity for students to delve into the science and engineering aspects of raising a building."
Wilhelm said that Maimonides is committed to providing students with "real and relevant" learning, emphasizing "the 21st-century skills" of collaboration, creativity, critical thinking and problem-solving."
"Our program synthesizes traditional Jewish learning and progressive education theory to create an academically engaging environment," she said.
"Each child brings a unique blessing into the world," she continued. "Each has unique talents and learns differently. We strive to give every child the tools to reach personal excellence, and the foundation to be a mensch – a responsible, compassionate member of society."
Ma'Ayan HaTorah, the city's newest Jewish day school, is significantly expanding its offerings as it begins its second year of operation.
The school, whose name means "Wellsprings of Torah," opened last fall with one preschool class of 11 children housed on the Neveh Shalom campus.
This September, the school already has 37 students signed up, and is offering programs for 2-year-olds through first grade, in addition to Yachad ("Together") an intensive supplementary Judaic studies program for students in grades 2-7 who are not attending a full-time Jewish day school.
"We provide a warm Jewish environment welcoming all families in the community wanting a Jewish education for their children," says Aviel Brodkin, the school's director.
The long-term goal, she added, is to establish a full pre-K through eighth-grade school, emphasizing excellence in both Judaic and secular studies.
"We strive to give each boy and girl the opportunity to thrive and shine as the unique individuals they are," she said. "We believe that the skills and values being taught in our Judaic program – focusing on classic Jewish texts – enhance a child's ability to think critically and analytically in their general studies as well."
Laura Leibman, a parent and Reed College professor who helped set up the school, said she is looking forward to her daughter, Lyla, entering the new first grade class this fall, joining her son, Noah, who will continue in preschool.
"My son can't wait each morning for school to begin," Leibman said. "I love it that Ma'Ayan HaTorah pays attention to where my children are at – and nurtures them so they can grow from that point forward."
___________________________
For more information:
Portland Jewish Academy
503-244-0126, www.portlandjewishacademy.org
Maimonides Jewish Day School
503-977-7850, www.maimonides-pdx.org
Ma'ayan HaTorah Day School
503-756-9939, www.mhtdayschool.org