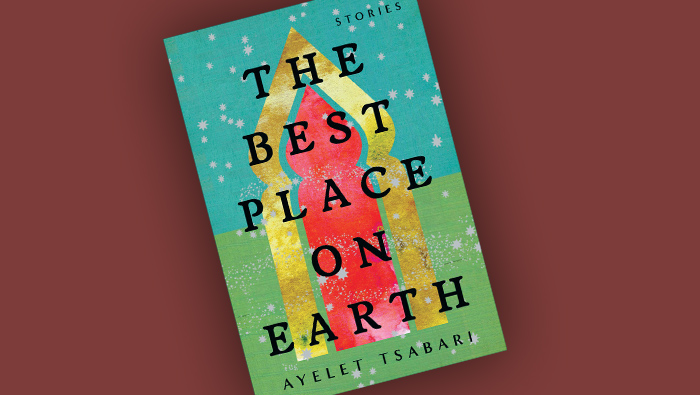 Jewish Book Month gets off to an early start in Portland this year. The seventh annual Many Stories, One Community: Portland Jewish Book Celebration will focus on one book in October/November, The Best Place on Earth, which was selected as a New York Times Book Review Editors' Choice. Written by Ayelet Tsabari, the book won the Sami Rohr Prize for Jewish Literature.
The Best Place on Earth's short stories are peopled with characters at the crossroads of nationalities, religions and communities: expatriates, travelers, immigrants and locals. Poets, soldiers, siblings and dissenters, the protagonists are mostly Israelis of Mizrahi background (Jews of Middle Eastern and North African descent), whose stories have rarely been told in literature. The Best Place on Earth explores Israeli history as it illuminates the tenuous connections – forged, frayed and occasionally destroyed – between cultures, between generations, and across the gulf of transformation and loss.
The community is invited to join the following creative and thought-provoking events to explore the ideas, themes and information in The Best Place on Earth:
Tuesday, Oct. 17, 6:30-8 pm, Ahava Reads at Sip d'Vine, 7829 SW Capital Hwy., Portland. Discuss The Best Place on Earth at this event, sponsored by Shaarie Torah.
Tuesday, Oct. 24, 7-8:30 p.m., Book Discussion, Havurah Shalom, 825 NW 18th Ave. Portland. Join in a lively discussion on immigration, the "other" and several engaging topics, with refreshments included. RSVP to Havurah (503-248-4662) or contact Ruth Feldman (ruth@ruthmike.com). Sponsored by Havurah Shalom.
Sunday, Nov. 5, 4 pm, Pages and Pixels – Book and Film Discussion, Neveh Shalom, 2900 SW Peaceful Lane. Love to read, watch films and make new friends? This month we are reading The Best Place on Earth by Ayelet Tsabari and viewing a film with a complementary theme. For more information, email kgoldhammer@nevehshalom.org. Co-sponsored by Neveh Shalom and Israel360.
Wednesday, Nov. 14, 7 pm, Oregon Jewish Museum and Center for Holocaust Education, 724 NW Davis St., Portland. A film pertaining to the themes of The Best Place on Earth will be shown. More detailed information will be available soon. This event is sponsored by the Institute for Judaic Studies and OJMCHE. General public $8, OJMCHE members $5, students $5 and free to all youth groups.
Sunday, Nov. 19, 10 am at Cedar Sinai Park's Zidell Hall in the Rose Schnitzer Manor, 6140 SW Boundary St., Portland. Ayelet Tsabari, winner of the 2015 Rohr Prize for Jewish Literature, will speak via Skype. Panelists will discuss several of the stories included in The Best Place on Earth and their impact on the reader. Following that, the author will explain the reason she felt she needed to write these accounts and her method of putting words to paper. This event is sponsored by Congregation Beth Israel, Mittleman Jewish Community Center and Cedar Sinai Park.
The series will continue next March with the MJCC's Authors Series, when three authors will speak about their latest books. For more information on book month and Authors Series events, visit oregonjcc.org/arts-culture/jewish-book-celebration.