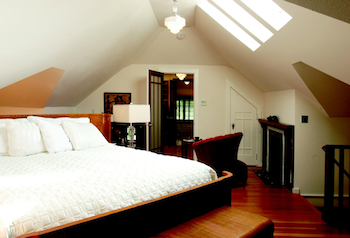 The glamorous Art Deco hotel suite in "The Thin Man" long ago caught Eric Friedenwald-Fishman's eye. He knew the style captured in the 1934 movie starring Myrna Loy and William Powell would one day live on. So as he and his wife, Rebecca, restored their 1909 dream house in keeping with its Arts and Crafts style, an idea for the attic set the stage. If previous owners had remodeled this room in 1927, the result could have been like that famous Hollywood scene. Between Eric's meticulous design and Neil Kelly's remodeling expertise, blank space transformed into a boudoir any movie star could love.
When the couple first got together, they rented a bungalow two doors down from the house they now own. Both en- joyed the Ladd's Addition neighborhood for its vintage homes, quiet feel and proximity to busy Southeast Hawthorne Boulevard. They fell in love with the American Foursquare they passed each day and left a note offering to buy the house if the current owners ever moved. They did, and the Friedenwald-Fishmans moved in September 1998, the day their son, Max, was born.
"The bones were good, but the house had been remodeled again and again," Eric says. They installed octagon tile floors in the bathrooms and exposed box beams in the kitchen; they swapped light fixtures throughout the house. They filled their home with Judaica inherited from ancestors, whose photos line the dining room walls. "We wanted to have a Jewish household," Rebecca says. "Every night of Hanukkah, we light three or four menorahs."The family, which now includes daughter, Sophie, belongs to Congregation Beth Israel and keeps a special Shabbat area complete with spice box, tzedakah box, kiddush cups and drawerful of yarmulkes.
When the time came to design their master bedroom, Eric's art history background came into play. Beginning with fir floors, high ceilings, skylights and windows that flood the space with light, he arranged the large loftlike room into functional areas using the dormers as features. The comfortable window seat recalls Mies van der Rohe's famous leather and chrome furniture from the 1920s. This space is used as a quiet reading area, and Eric's thoughtful design includes built-in alcoves for a cup of tea – or glass of champagne.
A writing desk fits snuggly in an- other dormer; the corner gas fireplace with its Art Deco surround heats the entire room. Walnut built-in bookcases and drawers have simple, geometric Art Deco lines. Even the outlets and lights have chrome plates and special-ordered black switches typical of the era. The huge walk-in closet/dressing room leads to a luxurious bathroom lined with period-appropriate tile. "Neil Kelly assembled a team of master craftspeople," Eric says. "Francois (Francois Tile Work LLC, 503-730- 7933) immediately understood the aesthetic that we were looking for. He used narrow spacing typical of the Art Deco period. And we spent hours getting just the right grout colors."
"The Fishmans were a delight to work with," says Neil Kelly designer Martha Kerr. "Eric has a very strong sense of design and knew what he wanted. Rebecca was warm and friendly and delightful … and made all the craftspeople feel welcome on her home (hard to do when someone is tearing your home apart)."
"Because the home is … located in a historic district, there were many challenges in the design phase to make sure we had a design that would blend nicely into the exterior and not look like an addition, and give ourselves enough interior space to ac- complish what we wanted in the bathroom and closet."
It's easy to envision Myrna Loy enjoying the 1927 bedroom set the couple found in San Francisco, the asymmetrical channel-back lounge chair and views from the window that stretch beyond the river to downtown. The Friedenwald-Fishmans love their designer loft and have advice for anyone contemplating a similar task. "First, have fun," Eric says. "Enjoy the process. Second, be clear about the aesthetic you are looking for. Show pictures of what you mean instead of trying to explain it. Third, find your own fixtures and furniture; do not rely on the showroom. And fourth, if something bugs you – fix it right away."