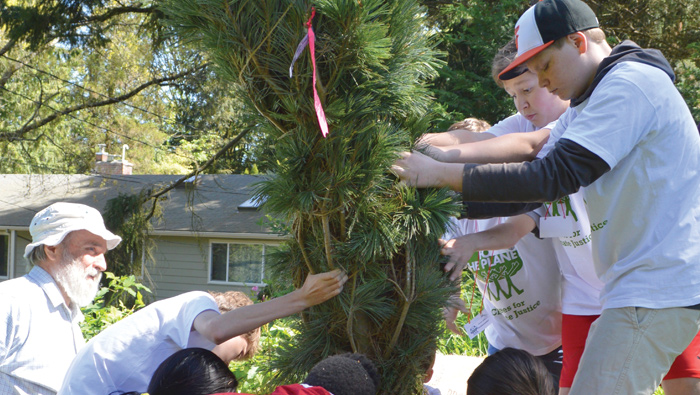 What Jewish activity brings together diverse students from four cities and nine schools with adult volunteers and awesome youth leaders to work together under the auspices of the United Nations to repair the world and protect it for present and future generations?
The answer is Plant for the Planet's Good Deeds Day Academy. Open to all students, the April 17 academy was supported by the Jewish Federation of Greater Portland, the Mittleman Jewish Community Center and Congregation P'nai Or.
Plant for the Planet is an international nonprofit founded by a 9-year-old who realized adults (and kids) weren't taking the climate crisis seriously enough. Children and families rarely participate in groups battling climate change, so when I came across this program in Seattle, I began working to spread it to other areas of the country.
Though small, like the story of the Israelites with God on their side, Plant for the Planet is mighty because of the community support of volunteers and VIPs such as U.S. Sen. Jeff Merkley (D-OR) and the youth who come to learn and return to lead.
We typically work with fourth- to 12th-grade youth at the local academies. Although the initial training takes only about five hours, the impacts on students and the adults who participate are immense. We cover climate science, how to plant trees to store carbon and how to speak about climate change to other youth and adults. When youth speak on this issue, they get adults to act.
Academies are all about youth training other youth. It works because of the commitment of kids like Peter Sallinger and Miko and Isaac Vergun, the trio who welcomed students with smiles and official Plant for the Planet T-shirts and badges on Good Deeds Day. Miko, Peter and Isaac presented our slideshow that explains the science of climate change, the present and imminent danger, and the injustice to the planet, to other species and to the most vulnerable among us. Isaac, Miko and Peter, with a bit of help from me, used a game to teach their soon-to-be fellow climate justice ambassadors about the inequity of climate change. They also taught them how to use rhetoric and presenters notes, and shared their own thoughts and experiences on how to teach others using the slideshow. Then, we got our hands in the earth and learned how to plant a tree from Scott McKinley, "to inspire kids to plant trees to erase our carbon footprint," as Peter explained.
Students and ambassadors also heard from community leaders, who praised their work. They included Albert Kaufman (Farm My Yard), Bill Bigelow (who is working to get schools to accurately teach about climate change) and our partner in that effort, Portland Public Schools Board Member Mike Rosen.
Mike and Albert joined us for the culmination of the day, when, after more practice presenting the slides, the students who came in the morning to learn presented the slideshow for their families and other guests.
They delivered, as Albert put it, "a poignant and passionate report about climate change."
Each student was appointed as a Climate Justice Ambassador and received Tree by Tree: Now We Children Save the World.
After the academy, the ambassadors got busy. Here's a sample of what a few of these kids did in the six days immediately following Good Deeds Day. Miko and Isaac were guests on Public Radio International's Live Wire Radio, where they spoke eloquently about their participation as plaintiffs in Kelsey Juliana et al. vs. U.S. et al. (The case was filed by 21 teenagers who claim the federal government is failing to protect them from the impacts of climate change.) Newly appointed Ambassadors Joel Guren (age 8) and Denali Cuevas Ullibarry (age 12) came to the Passover Academy to help a new group of students learn about climate change and to share matzah as we worked to get free from the slavery of climate change.
Denali said it best: "Plant for the Planet Academies have helped me understand global warming more deeply. … I can help our global community by planting more trees, sharing presentations with other people and inspiring them to do something about climate change. I am doing something to reduce global warming. What are you going to do?"
Pam Vergun, Ph.D., M.P.A, is the U.S. program coordinator for Plant for the Planet, a maggid, a sociologist, policy analyst and advocate, activist, and mom of Isaac and Miko Vergun. She can be reached through ClimateChangeRecovery.org.