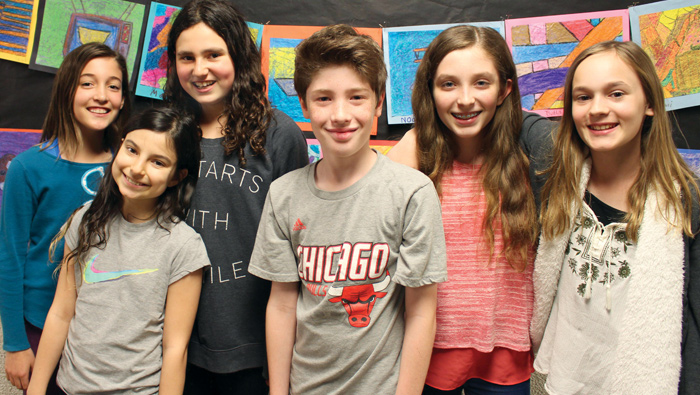 This spring several Portland Jewish Academy students were honored in two statewide writing contests – The Oregon Poetry Association and Honoring Our Rivers, both of which publish the winners' work in an annual publication.
"We are PJA Proud of these kids," says PJA Principal Merrill Hendin. "We really value writing. Our teachers do a great job of supporting writers in all writing styles, and our children really take to writing poetry, as evidenced by these awards."
Merrill says creative and expository writing is woven into the PJA curriculum beginning in the early grades and culminating in a capstone project that includes an in-depth research paper and a drash connecting the project to Jewish teachings. In addition to writing during the regular school day, PJA fifth-grade teacher Harriet Wingard offers a Living as a Writer afterschool workshop for sixth- to eighth-graders.
"Harriet creates an atmosphere in her class that really inspires and supports young writers," says Merrill.
Now in her 18th year at PJA, Harriet says, "Writing is my favorite thing to teach. To me it is analogous to teaching art – you start with a blank canvas. Writing is how I get to know my students."
In both her fifth-grade classroom and her afterschool writing workshop, Harriet offers her students "writing invitations," each of which students can take in many different directions.
She likes to integrate poetry into her class because "poetry is the most concise form of writing. You can learn economy of language and joy of language." Once a month her class has a celebration of poetry with students invited to share something they have written or share a published poem.
So it is perhaps no wonder that her past and current students are among PJA's poetry winners this spring.
Poems by fifth-graders Yael Raider, Ruthie Zeidman and Arianna (last name withheld) will be published in the 2016 Honoring Our Rivers, A Student Anthology, a project of the Willamette Partnership to promote and nurture respect for Oregon's fragile river systems.
PJA winners of the Oregon Poetry Association competition are fourth-grader Liana Kressel; fifth-graders Gabby Galderisi, Yael Raider and Evan Horwitz; and sixth-graders Gabrielle (last name withheld) and Bella Phillips. Additionally, two PJA alumni who participated in Harriet's writing workshop for several years won in the high school category of the OPA contest. Gabi Cohn is a junior at Wilson High School and Seth Talyansky is a freshman at Catlin Gabel.
"I've had so many writers I admire cross my path as students," says Harriet.