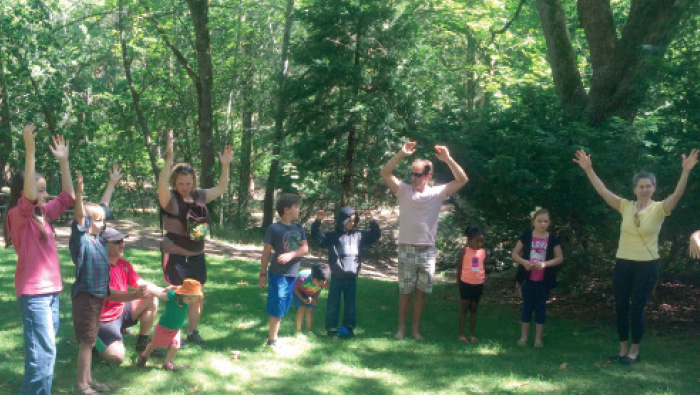 Families in Ashland enjoy Jewish stories, songs and movement at a PJ Library Sunday morning program in Lithia Park. On Sept. 11, Ashland launches PJ Library Connection Adventures with a Tot Shabbat at Pioneer Hall in Ashland. All families with kids 6 months to 8 years are invited to welcome Shabbat with blessings, song, storytelling and a light meal, all free of charge. RSVP to PJLibrarySOregon@gmail.com or call 541-488-7716 for more information.
PJ Library has had two major growth spurts in Oregon: first the program was expanded to offer free books for children up to age 11 in all five PJ Library programs in the state, and now three of those programs have received grants to engage the community.
PJ Library is a book-based program available to North American Jewish children ages 6 months through 8 years. Every month, eligible families receive a specific, age-appropriate book in the mail.
PJ Our Way is the next chapter of PJ Library for kids ages 9-11, enabling kids to choose the books they want each month.
Fifty-five communities applied for the Engagement Grant from the Harold Grinspoon Foundation and its generous PJ Library Alliance philanthropic partners. Of the 15 communities chosen, three are in Oregon.
PJ Our Way
PJ Our Way launched as a pilot program in 10 communities. This year all five Oregon communities – Portland, Bend, Eugene, Salem-Corvallis and Southern Oregon – were selected to be in the next pilot cohort of PJ Our Way for the 9- to 11-year-olds.
PJ Our Way offers the gift of exceptional books with Jewish themes to kids ages 9-11 – books that they choose themselves! PJ Our Way is a free gift from the Harold Grinspoon Foundation.
With PJ Our Way, rather than receiving a specific book in the mail, kids can go to pjourway.org every month to choose the free book they want to receive. Kids can also submit reviews and videos about the books. And they can apply to be part of the national Design Team that has early access to PJ Our Way books and helps create content for the website.
"We are so excited that in less than two months we are able to expand our reach from 6 months old all the way to 11 years old and look forward to new and amazing programing opportunities," says Rachel Rothstein, who oversees the PJ Library program in Portland in her role as director of educational initiatives at the Jewish Federation of Greater Portland.
Any child age 9-11 living in a pilot community is eligible to sign up. Kids can sign up with their parents at pjourway.org.
Community Engagement
PJ Library Southern Oregon, Eugene and Portland are recipients of the Harold Grinspoon Engagement Grant given to foster social connections and new opportunities in communities across the continent.
Young families raising Jewish children in the three areas will now have more opportunities to participate in Jewish life, thanks to a grant recently awarded by the Harold Grinspoon Foundation. The foundation created PJ Library, which offers Jewish books and programs to families around the globe.
The winning initiatives emphasize building social connections among families as well as engaging them in Jewish life, programming or learning. They range from ongoing neighborhood gatherings to Shabbat-preparation workshops and dinners.
PJ Library Southern Oregon, co-sponsored by both Havurah Shir Hadash and Temple Emek Shalom in Ashland, received $8,000 to launch Outreach Adventures, which will provide programming for young families throughout the Rogue Valley and beyond.
"Southern Oregon PJ Library is honored to receive this grant and thrilled to be part of the global PJ Library community reaching tens of thousands of families," says Havurah Shir Hadash Executive Director Ayala Zonnenschein. "Cyrise Beatty Schachter, Ashland-based cantorial singer/musician/Jewish educator, will oversee the programming, inviting local singers, storytellers, rabbis and artists to share their gifts in the richly textured events that will be offered. We are so excited to be the recipients of this generous grant, which will make a tremendous difference for young Jewish families in our region."
Portland received $15,000 to expand and deepen the engagement of families raising Jewish children by increasing the number and quality of engagement initiatives available in our community. Portland will focus in areas underserved currently in the greater Portland area such as the Eastside and Hillsboro.
In Portland the grant will fund Neighborhood Story and Song in five neighborhoods, a multi-session, drop-in family program highlighting PJ Library books and Jewish songs. It is designed to deepen the Jewish connections of current PJ subscribers, identify new subscribers and create micro-communities of families with young children living in close proximity.
PJ Library in Eugene is a program of the Jewish Federation of Lane County, where Audrey Banks serves as the coordinator. Eugene received $8,000 to develop PJ Connect, a collaboration with local grassroots Jewish community organizations to engage unaffiliated families in meaningful Jewish-themed events via three initiatives: monthly structured programs, twice monthly social drop-in groups and a series of home-based "just-in-time" activities available from a lending library.
The grant proposals were chosen through a competitive process open to local organizations implementing PJ Library across North America.
"PJ Library's impact goes well beyond the more than 144,000 books we send out each month," says PJ Library Director of Community Engagement Judi Wisch. "We have worked closely with our local partners for years to help advance Jewish family engagement, and this is the first time we are able to add financial support to great initiatives to help ensure their success."
These grants are the first stage in a five-year strategy to extend Jewish engagement in North America, through the support of the newly formed PJ Library Alliance. Partners in the Alliance are the William Davidson Foundation; the Jim Joseph Foundation; the William and Audrey Farber Philanthropic Fund; the Howard and Geraldine Polinger Family Foundation; Walter, Arnee, Sarah and Aaron Winshall; the Susser Family Trust; and an anonymous partner.