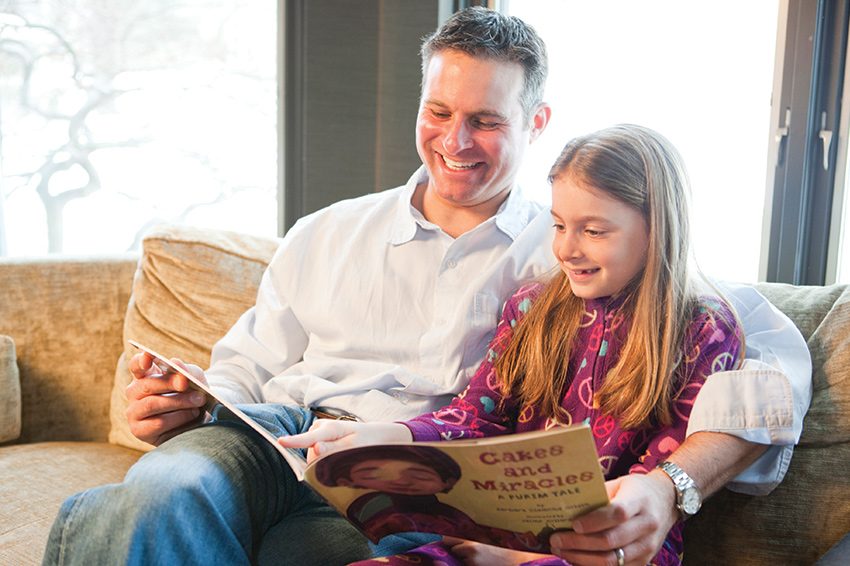 7-and 8-year-olds: Sign up for more free books!
On July 1 Portland-area kids under age 9, who had previously aged out of the PJ Library program, will once again be able to receive a free book each month.
For years, children aged 6 months to 6 years have been receiving the free books and music. Portland was one of the first communities to adopt PJ Library when the Harold Grinspoon Foundation in Massachusetts offered the program nationally. Originally administered locally by the Oregon Jewish Community Foundation, PJ Library has been run in partnership with the Jewish Federation of Greater Portland since 2011. Originally the program was available for children aged 6 months to 6 years. Children who have previously "aged out" after age 6, but have not yet celebrated their 9th birthdays, can re-enroll to once again enjoy their free monthly gift.
About 1,000 local children are enrolled currently, and some 2,500 children in greater Portland have received PJ Library books over the years.
Sandy Nemer's three children, Heshy (5), Anna (8) and Zollie (10), are among the children who have enjoyed the free books. "We have been receiving books to the point where our oldest now joyfully reads to his younger brother, not only as a way for them to learn about our Jewish values, but as a way for him to practice reading, as well," says Sandy. "I used to think that the library would provide us with some nice Judaic books, but I was wrong. Then came PJ Library and the most amazing books just came to us in the mail!"
When told about the expansion, Sandy asked immediately how to get Anna back on the list. "I would love to get Anna more Judaic books," says Sandy. "She feels she is 'too old' for some of Zollie's books. It would mean the world to her, because we value reading material that encompasses our family values in Judaism."
JFGP was able to seriously consider expansion to age 8 from the current maximum age of 6 when PJ Library/HGF announced the availability of the Alliance Subscription Grant.
"We are SO excited and appreciative of this opportunity," says JFGP Community Engagement Director Caron Blau Rothstein, who has served as the local PJ Library manager. When the program expands through age 8 July 1, Caron will transition the project to JFGP Director of Educational Initiatives Rachel Rothstein. In turn, Caron will be assuming management of GrapeVine (formerly managed by Rachel) as part of her community engagement role.
"The books for older kids are even more interesting and spark even deeper conversations between parents and children," says Caron. "We see it not only as a chance for older children in the greater Portland area to receive and enjoy our books, but as a foundation on which we can build more programming and experiences for these families to broaden and deepen their Jewish connections."
It's easy to enroll younger children and also to re-enroll children ages 7 and 8. If your child was previously enrolled and is not yet 9, email pjlibrary@jewishportland.org with your name and your child's name and federation will re-enroll her/him. First-time enrollees aged 6 months to 8 years can sign up at pjlibrary.org.