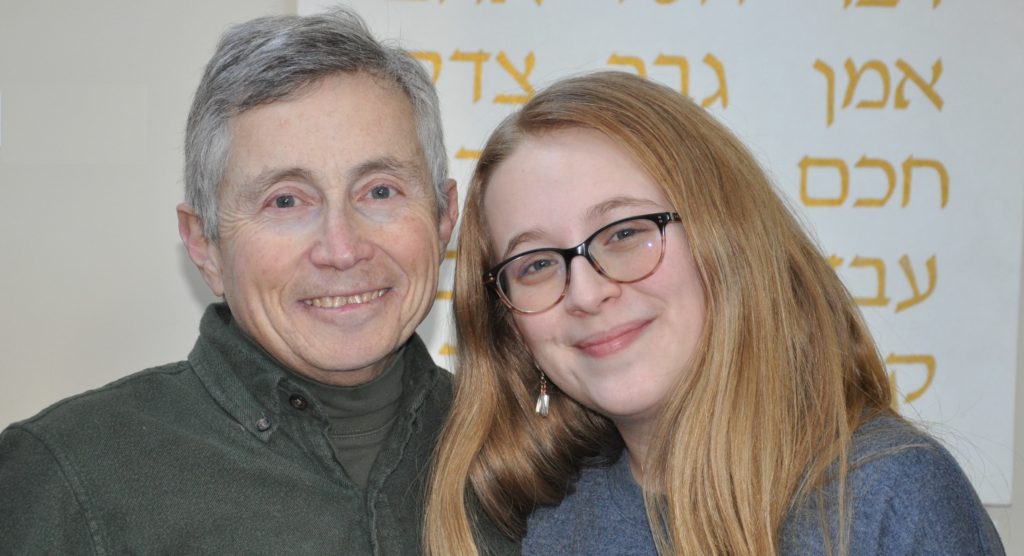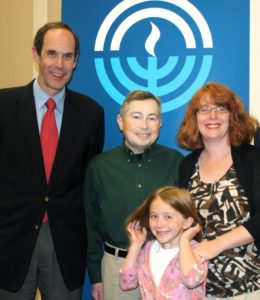 PHOTOS: On April 14, 2019, Ruthie Zeidman, pictured above with father Ken, will host a community-wide program with Dr. Brian Druker on cancer. Right, On May 15, 2012, the Jewish Federation of Greater Portland and Mittleman Jewish Community Center presented "The End of Cancer is within Reach, An Evening with Dr. Brian Druker." From left: Dr. Druker and Ken, Jennifer and Ruthie Zeidman.
Ruthie Zeidman's ties to pioneer cancer researcher Dr. Brian Druker stretch back to four years before she was born. Now an eighth grader at Portland Jewish Academy, Ruthie has invited the man who saved her father's life to join her for a public program on cancer.
In May 2001, Dr. Druker's research at Oregon Health & Science University won FDA approval for Gleevec, the first targeted cancer therapy, to treat chronic myeloid leukemia in patients with the Philadelphia chromosome. Just six months later, Ruthie's dad, Ken Zeidman, was introduced to Dr. Druker after doctors found a high count of white blood cells and diagnosed him with CML. For the next 13 years, Ken took Gleevec (with a couple of breaks when he had unrelated surgeries) and is now in remission from the often fatal disease.
At PJA, eighth graders do a Capstone Project including a service learning project, a research paper and a drash to connect their project to Judaism. Ruthie wanted her project to have personal meaning – and the impact her dad's cancer and treatment have had on her throughout her life is about as personal as it gets.
PJA service learning teacher Elana Cohn-Rozansky says she realized that Ruthie's connection with "this phenomenal scientist" had the potential to be of interest to the community well beyond PJA's walls.
So Ruthie invited Dr. Druker to join her to present a program on the impact of cancer and its treatment.
"I wanted to talk about how a cancer diagnosis affects patients and their families even after they are in remission," says Ruthie. "Dr. Druker is going to talk about what leukemia is, and I'm going to talk about my experience. Then we'll have a Q&A."
"I want to raise money and awareness," she adds, noting the event is free, but she is also requesting donations for the Leukemia & Lymphoma Society. During the reception at the end of the talk, she has planned a raffle to raise more funds.
"Dr. Druker will help motivate people to give," says Ruthie. "He helps the public understand that is what they can do to help eradicate cancer."
CANCER'S IMPACT
PRESENTERS: Cancer research pioneer Dr. Brian Druker and PJA eighth-grader Ruthie Zeidman
WHEN: 2:30-4:30 pm, Sunday, April 14
WHERE: Congregation Beth Israel, Pollin Chapel, 1972 NW Flanders, Portland
FREE, but donations requested for the Lymphoma & Leukemia Society
RSVP: Jennyzltd@yahoo.com
Donations can be made to Ruthie's fundraising efforts in one of three ways:
https://www.facebook.com/donate/534087323753365/
https://events.lls.org/pages/oswim/RuthiesFundraiser
OR, You can also send checks to LLS (please e write "Ruthie Zeidman" in the memo line of the check):
LLS
Attn: Shannon Gianola
6915 SW Macadam Ave., Suite 100
Portland, OR 97219