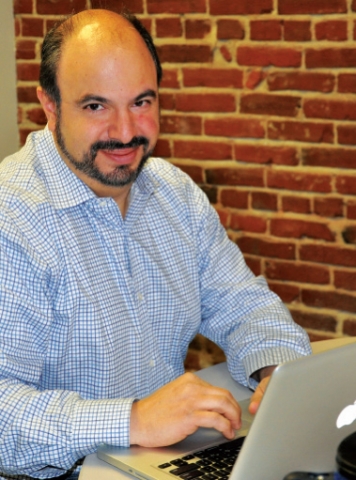 Rob Coury drew on his experiences as co-chair of Congregation Shir Tikvah to help launch a company that is very Portlandesque – innovative, high tech and green with old-fashioned overtones.
Perka is a like a loyalty card for your cell phone. On iPhone or Android, Perka is an app. But all cell phones, including old-fashioned flip phones, can use the program via text messaging.
The phone-based rewards card enables small- and mid-sized businesses to offer specials such as "buy 10, get one free" without people having to carry a card that takes up space in their wallets and eventually gets trashed. In addition to allowing little companies to offer a rewards program app, Perka instantly provides merchants with customer names and history "so they can have a more engaging interaction with the customer," says Rob.
Less than a year old, Perka already has more than 100 businesses, 70 in the Portland area, that offer its service. Coffee shops, hair salons, pizza parlors and other restaurants and some retail stores now offer Perka's perks.
Customers who have the app use it to check in; the business then gets instant messages about the customer's name and history on its Perka screen. Customers with flip phones can check in by texting the word Perka to the phone number listed on each merchant's Perka device.
Perka keeps track of how many stamps a person has toward each reward, enables merchants to offer repeat customers special deals and enables clerks to greet customers by name and offer them their customary order.
"We are enabling smaller businesses to use technology," says Rob. "We think that companies with more than 1,000 units (stores or outlets) can probably afford to build their own app. Perka started in businesses with one or two shops, but now people with 10 to 30 units (shops) realize it doesn't make sense to build their own app."
Another advantage of Perka, as opposed to individual company apps, is that customers can access the rewards program for many of their favorite shops with one app, according to Rob. "It's like 'share of the wallet' – how many cards are people really going to carry? We are going after 'share of the phone.' When people have page after page of apps, they put their most used apps on the first two pages. A lot of people put their Perka button on the first two pages. It gives local merchants the ability to be under one button."
Many of the negotiating and planning skills Rob has used in Perka were honed during his years on the board of Congregation Shir Tikvah. He says he considers himself lucky that the eastside congregation invited him to join the board when he was in his 30s. He served on the board for six years and is now in his second year as co-chair.
"Sitting through long-term planning meetings for a spiritual organization with older experienced business leaders has helped me in helping Perka grow, which I never would have expected," says Rob. "It helped get me ready for my next career – this company."
As co-chair, Rob has been recruiting other Shir Tikvah members to serve on the board. And when he talks about the benefits of serving on the board, his sales pitch has, "as my dad used to say, 'a sales point that has the added benefit of being the truth.'"
Rob's dad, who passed away a couple of years ago, was a "serial entrepreneur." Rob's great-grandfather was a Lebanese Christian who moved to the United States around the turn of the last century.
"I married into Judaism," says Rob.
While attending college in Pittsburgh at Carnegie Mellon University, he met and married Jennifer Kerstein. The couple moved to Portland for Jennifer to earn her graduate degree at Reed College, and they never left.
"We've been in Portland for 15 years," Rob says. "We were part of the great Jewish unaffiliated."
Now the family has an active membership in Shir Tikvah, where their son, Nathan, who turns 4 this month, is an avid participant in the Notz'tzim Hebrew immersion preschool program, which is a joint venture with Neveh Shalom.
And Rob keeps busy with Shir Tikvah's latest long-range planning process. Currently the congregation rents office space, space in a church for services and other spaces for various educational programs such as Notz'tzim. Ideally they'd like to find one or two spaces where the congregation can consolidate its programs.
Maybe there's an app for that.