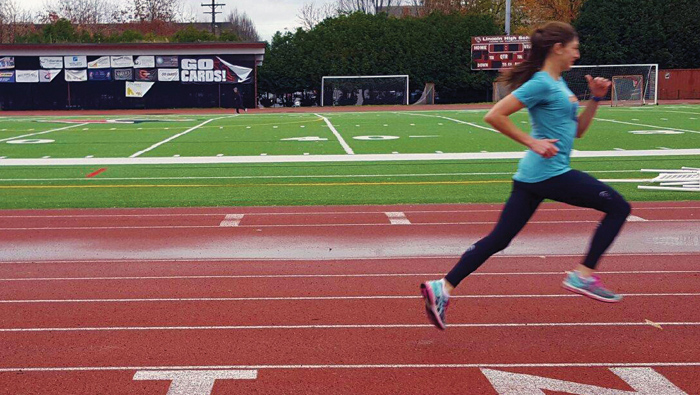 If there is an art and science to living in balance, Cymon Kersch, 30, has mastered it. She balances academics and athletics; basic science and clinical research; study time and personal time; achievement and humility.
"I think if I have more going on to structure my time, then I am able to use the time I have set aside for each piece of life and use it more efficiently," says Cymon, pronounced Simon, in honor of her great grandpa for whom she was named. "If I only have this long for family time, I better get it done."
She will compete on Team USA in the 2017 World Triathlon Championships in Rotterdam this September. Competing in her first Olympic-length triathlon last year at Oregon's Hagg Lake, she won and qualified for nationals. A month later, she finished sixth in her age group, earning a spot on Team USA for this year's world championships.
As an M.D./Ph.D. student at the Oregon Health and Sciences University, Cymon's feats are no less impressive. Her academic advisor Dr. Edward Neuwelt sums up Cymon: "In athletics or hard-core science, she goes the extra mile."
"She is approaching one of the fundamental problems in cancer," says Dr. Neuwelt, who is on Cymon's dissertation committee. "The implication (of her work) is going to be earth shattering."
Dr. Neuwelt says he oversees the clinical applications of Cymon's research, while OHSU Associate Professor Leslie Muldoon, Ph.D., oversees the hard science. Now in the third year of her Ph.D. program, Cymon does all her doctoral research in Dr. Neuwelt's Blood-Brain Barrier and Neuro-Oncology research group.
"One problem today is the tremendous crevasse between basic science and medical care," says Dr. Neuwelt. "She will understand the basic science and be able to cross the bridge to the clinical science."
Cymon calls Dr. Neuwelt an ideal advisor for her.
"Throughout his career, he has been able to take what he learned in the lab and go back and treat patients," she says. "He structures his time to balance the clinic and research. It's very rare for people to be able to do that."
Cymon hopes to achieve that professional balance, as well. That is why she enrolled in OHSU's M.D./Ph.D. program, which is designed so a student can become a clinician scientist.
Cymon's Ph.D. research is focused on two areas. First, she is exploring how metastatic breast cancer interacts with the brain to grow tumors there. Women with certain subtypes of breast cancer, such as HER2+ breast cancer, that metastasize (spread from the initial tumor location to other parts of the body) are more likely to develop metastatic tumors in the brain than women with other types of cancer.
"I'm looking at how HER2+ metastatic breast cancer cells are able to survive and grow in the brain environment," says Cymon. The brain environment is made up of unique blood vessels (that form a special blood-brain barrier) and cell types (neurons and glia support cells) that are very different from the breast tissue where these tumor cells come from.
"Metastatic cancer cells have to learn to grow in this 'foreign' tissue to become a large tumor," explains Cymon. "This idea is often referred to as the 'seed and the soil' model, where the metastasized cancer cell is the seed, and the different organs are the soil. Only certain seeds are able to grow in certain soils, and understanding what allows those seeds to grow in different soils will hopefully provide new ways to prevent or treat brain metastasis. If you understand better how the seed and soil interact, then you could change parts of that soil so that the seed cannot grow in it, and by doing so you could effectively prevent a metastatic tumor from being able to grow there."
That is especially important given what Dr. Neuwelt calls an epidemic of metastasized brain tumors. The success of chemotherapy and immunotherapy treatments against cancer elsewhere in the body has reduced deaths from those cancers, but such treatments are much less effective against brain tumors.
"Once a patient has brain metastasis, it is hard to cure," he says. "This is a whole new area to figure out a way to prevent it. … That is her thesis."
The second part of her research looks at glioblastoma tumors, and is inspired by the successes and failures of new immune therapies. Glioblastoma tumors, unlike metastatic tumors, start in the brain. This particular type of brain tumor is one of the most aggressive types of cancers.
"By looking at the expression of thousands of genes across tumors, we can infer what types of immune processes are going on and how the tumor is responding to this immune attack," says Cymon. "Our goal with this project is to provide a fundamental understanding of how the body's immune system interacts with different spatial regions of glioblastoma tumors. We then hope that by finding how different patients' immune systems interact differently with their tumors, we might in the future be able to predict who could benefit from immune therapies or be able to better tailor these therapies to people's individual tumors."
Cymon says her dissertation committee is very supportive of her upcoming participation in the World Triathlon. A couple of people from her Ph.D. program, including program coordinator Johanna Colgrove, who has family near Rotterdam, hope to travel to the Netherlands to cheer her on. Her boyfriend, Trey Read, also a cyclist, will accompany her, and they want to spend at least a couple of days cycling in Europe. But since she intends to finish the Ph.D. portion of her program by next summer, she says, "We won't be going on a long vacation."
Cymon says she has "private" goals for her first world championships, which, just like when she applied to medical schools, include reachable, realistic and fallback. But the only goal she is willing to share for Rotterdam is to "have fun."
The journey to becoming a world class athlete began when Cymon joined the Stingray swim team at the Mittleman Jewish Community Center when she was in grade school. Shortly after she was born, her parents, Harriet Cooke and Charles Kersch, decided to move from the east side of the river to the west side to be near the MJCC. The family also joined Havurah Shalom, which then met at the J. She became a bat mitzvah at Havurah Shalom after the congregation bought a building in Northwest Portland. She still attends some holiday services at Havurah or at P'nai Or, where her mom is now a member.
Cymon competed in swimming for the MJCC and later the West Hills Aquatic Team until she graduated from Wilson High School. At the University of Puget Sound, she started her first college winter training camp for the swim team while she was still jet-lagged from a winter break trip with Birthright Israel (which offers free 10-day trips to Israel for young Jewish adults).
"I always did long distance," says Cymon. "I don't have a fast-twitch muscle in my body." (Fast-twitch muscle fibers produce short bursts of energy useful in sprints, while slow-twitch fibers are used in endurance sports.)
She says the mile freestyle she competed in during college was good prep for the Olympic-length triathlon, which begins with a swim of 1,500 meters (.93 mile), followed by 40 km (24.9 miles) on a bike and ends with a 10 km (6.2-mile) run.
While she was in her master's program at Texas A&M, without training she tried a sprint triathlon and part of an Olympic triathlon.
"I didn't think I had time to do all of it," she says of her decision not to take time from her studies to train for triathlons at that time. "In retrospect, I wish I would have."
That feeling of lack of time kept her from exercising consistently during the first two years of medical school at OHSU. For her M.D./Ph.D. program, she went to the first two years of medical school before shifting to the Ph.D. program for four years. After earning her Ph.D. next summer, she will return to medical school to complete the final 1½ to 2 years of clinical work to earn her M.D.
"In my first two years in medical school, I spent almost all my time studying," she says, adding she ran a bit, but never consistently. "I didn't feel like me anymore."
Writing about her journey in an OHSU student blog, she explains, "Growing up as a student athlete, I was accustomed to having some form of sporty outlet during my academic life and soon found a love for running. Running was simply Cymon-time."
Over the next couple of years, she competed in several half and full marathons.
"I wanted to spend time for me," she says of her decision to run more. "It feels a lot more healthy and sustainable."
But at the Boston Marathon in 2015 she hobbled across the finish line with her back and shoulders in spasm and a very disappointing finish time. She decided it was time for a change.
Trey was preparing for his upcoming season of bicycle racing.
Cymon says that she thought if she could learn to ride well enough to keep up with Trey on his easy training rides, it would allow her to double-dip and spend time with her boyfriend while exercising.
She has had a lot of support and encouragement on her journey, with Trey serving as training partner, cheerleader, equipment procurer and lucky charm.
Trey soon decided she needed a better bike and got her a Focus Izalco road bike. She used that bike for both of her triathlons. But with Worlds coming up, a triathlon bike sounded like a good idea. However, the cost of a good tri-bike, ranging from $2,000 to $10,000 new, was not trivial.
Western Bikeworks had announced a raffle for a Cannondale Slice triathlon bicycle in conjunction with a celebration for the March reopening of Athletes Lounge in the bike store's Northwest Portland location.
"Trey and I both bought four tickets, then crossed our fingers and had good thoughts," says Cymon. "Trey held the winning ticket – he's my lucky charm!"
The win included a fitting from the bike shop, and her new aerodynamic bike was ordered.
"There will be time for me to learn to ride on the bars," says Cymon. Tri-bikes have special handlebars designed to put the rider in the most aerodynamic position.
Trey also gave her training a boost when for her birthday in September, he gave her a Garmin Pedal power meter. Power meters register the watts generated as cyclists pedal and provide instant feedback on how much power is generated.
"Trey and my coach both told me training with power would change my training – and it has," says Cymon.
In addition to riding with Trey at least a couple of hours each weekend, she also joins rides with the Portland Bicycle Studio and Portland Velo. She runs with a "pure running" group, as well as the Portland Triathlon Club, with which she also attends swim sessions. In the summer she swims outdoors with a group at Hagg Lake. Once a week she does strength training, during which she spends time on – what else – balance.
But her training is directed by Shawn Bostad of Steelhead Coaching.
"Cymon is a very special person," says Shawn. "Cymon lives, breathes and exudes the attitude you want in an athlete. … She works hard with a great attitude; she is genuinely excited to put in the hard work."
Cymon says she likes Shawn's approach, which promotes longevity in a sport and pre-hab (injury prevention) rather than rehab.
On his website, Shawn explains his coaching philosophy: "I take a holistic approach towards coaching and training to ensure all my clients reach the starting line injury-free, mentally prepared and physically tuned to compete at their optimal level. … We can allow the body to develop naturally according to its own physiological clock and each client's personal goals."
That philosophy fits well with Cymon's quest for balance.
"My body feels so much better with the three sports," she says. "I think they balance each other well."
Initially Cymon says she hesitated to share her journey, but decided that others might benefit from her example of taking time to exercise even when a busy schedule makes that seem impossible.
"No matter how busy you think you are, you can exercise," says Cymon, adding that the interview for this article was the first time she talked publicly about her journey to the Worlds. "People working in medical fields need to take time to take care of themselves, too," Cymon says of her decision to also write a blogpost on an OHSU student blog site.
"As students going into medical sciences and practices, we dedicate our lives to the health of others, and it's easy to become completely immersed in our academic training to prepare ourselves for our careers," she writes. "This immersion often comes at the cost of our personal well-being and life experiences outside the walls of the library, the laboratory, the classroom or the clinical office. But we can and should make time to take care of ourselves, our health and to enjoy life. My own is one little story about a student finding a little more balance through racing, but stories like mine are shared by current M.D. and Ph.D. students at OHSU. … We do not have to limit ourselves; we can be dedicated students, brilliant future clinicians and researchers; and cherish our lives outside of academics."
For Cymon, that balance also includes family time.
She and Trey join her mom for Shabbat dinner as often as they can. And while she says organized Judaism has taken a backseat in her life for the moment, she and her mom agree that Jewish values are still a big part of her life.
"I could not be more proud of my daughter," says Harriet. "She lives her life from Jewish values – works hard, is humble and caring, and loves justice and joyful celebration. … She devotes her life to work that will benefit others, engages both the rational and intuitive aspects of her mind, lives with a deep heart and is powered by the joyfulness that is encouraged by Hassidic and Jewish Renewal thought. This powers her work, her relationships, her triathlons, her friendships and the way she brings a joyfulness with her wherever she goes."