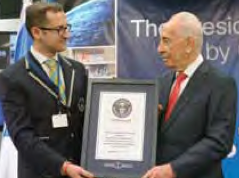 President Shimon Peres does not let his age of 91 deter him from attending and addressing several events on a daily basis. A few years ago, at one of these events, he was asked if he wants to be remembered as a leader who never stopped pursuing peace. Expecting a positive answer in some variation or another, Peres, as usual surprised everyone present by saying, "I want to be remembered as someone who always thought outside the box."
On many occasions he has said embracing high-tech and advanced technologies is a primary manifestation of thinking outside the box. In this respect, Peres practices what he preaches. In his last ministerial post before he was elected president, he served as the minister for regional economic development, where he worked tirelessly to raise the international profile of the Israeli high-tech entrepreneurial sector and became the main catalyst for advancement in nanotechnology and electric cars. Not surprisingly, he was asked by Paul Singer and Dan Senor, the authors of Start-Up Nation, to write the forward to the book.
Therefore, it should come as no surprise that last month, Peres addressed Israelis using a new, advanced, high-tech tool that allowed him to set a new record recognized by the Guinness Book of Records. He taught an online civics class to more than 9,000 high school students simultaneously, located at 71 different schools throughout Israel.
The idea was the initiative of Peres and the Israeli branch of Cisco, which developed the video conferencing technology called "TelePresence System 3000." This web-based technology possesses remarkably clear video images that allow participants to see every expression of other participants, with CD-quality audio allowing participants to hear every word. The standard system allows multi-point meetings of up to 48 locations. For this occasion, Cisco Israel was able to expand the infrastructure to reach 71 schools of the Amal vocational educational network across the breadth of the country.
Sensing this would be a seminal event, Cisco and the staff of Peres contacted the Guinness World Records company, which dispatched Senior Vice President Marco Frigatti. Frigatti commented, "We immediately liked this new record idea for three reasons. First because talking about civics and talking about democracy is relevant for everybody in the world, and the contribution we make is so important a topic for the young gen- eration. The second important aspect was that we had a special feature, a person who has seen the country from its origins to today, and who better to speak to the students? The third part was about the technology, a web-based solution that can be used within education to keep everyone connected and informed. The number to beat for this record was 5,000 participants, and so far we've counted over 7,000, which means (they and) the president of the State of Israel will be Guinness World Record holders."
Addressing both Jewish and Arab students at the 71 Amal schools, from Cisco Israel Headquarters in Netanya, Peres began by saying, "I am older than you, but even at the age of 91, I can still get thrilled, thrilled to see so many of you, thrilled at being a teacher and thrilled that by teaching, I am also a pupil. My whole life I have been a pupil. I am jealous of you that you are students. Why is it so important to be a student? Because to learn and know is more important than money, which comes and goes. Knowledge always stays."
During the 45-minute class, Peres emphasized values, equal- ity, freedom of expression and good citizenship. "Israel is small and you, the youth of the country, are competing with the youth of the world and you need to excel," he said. "In each of you there is more potential than you think. If you study, you will discover that you (will) be better people and achieve things that you didn't think were possible." Peres continued, "As a citizen of Israel, the most important thing is to maintain your values and to treat others as you want to be treated. It is easier to love than to hate."
Toward the end, Peres took questions from students from Amal Jerusalem, Amal Tel Aviv and Amal Kseifa, a Bedouin town. In his concluding remarks, Peres said, "I am proud of the students who broke the record. I had the privilege of being your teacher."
Frigatti, who supervised the proceedings to verify the new record, confirmed that a new record was set. "I have an interest- ing surprise because you're holding two records; not only have you taught a wonderful civics lesson, but you're also the oldest head of state in the world." He added, "The record set through using advanced technology for the sake of education, with the president as a special teacher, is an inspiration on a global scale."
After the record was announced, President Peres thanked Guinness World Records, Cisco Systems and the pupils at the Amal Schools across the country. He said, "This record should really be for all the students who participated, they created this record. We have to spread education; this is about encourage- ment of that goal. The more that can participate in these sorts of lessons the better. What we have to do is invest at least as much in education as we have in entertainment and make it accessible to all pupils." President Peres smiled and added, "About the second record, I suggest people start earlier and not to wait until they are my age."
At the beginning of the class, Cisco Systems Israel CEO Boaz Maoz said, "Cisco Israel, at the initiative of its Chairperson and CEO Mr. John Chambers, has been working closely with the Israeli government over the past year and a half in the fields of education, health care, infrastructure, commu- nications and cyber. The cooperation is aimed at transforming Israel into the world's first digitized country. The initiative aims to boost economic growth and reduce inequality gaps using technology and communication. As part of this effort we invited you, Mr. President, to teach the largest online civics class ever to over 200 classrooms and 8,000 students. The class will be broadcast using the most advanced technology, which will bring leading experts to every classroom in Israel."
By the end of the class, the figure had of course grown to 9,000 pupils. Peres is a monumental figure of historical propor- tions, not only in Israel but throughout the global community, and will be the subject of a future column. Though he did not say anything that will go down in history and stuck to the expected presidential clichés, the idea and the implementation are vintage Peres and this is what will be remembered. As Bill Clinton said when toasting Peres at his gala 90th birthday party, "Shimon, you are the social Einstein of the world. You never stop reminding us how special every child is and that we have much more in common than what divides us."