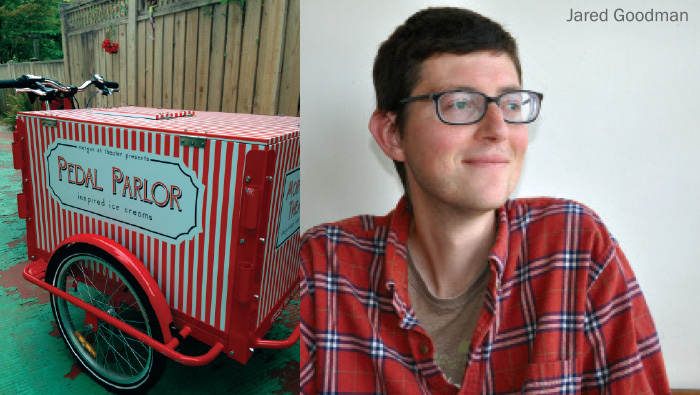 Two years ago, at the urging of friends who enjoyed his homemade, seasonally inspired ice cream sundaes, stay-at-home dad Jared Goodman decided to offer a dessert pop-up in his dining room.
From that humble beginning, Goodman has expanded to offer monthly dessert pop-ups, Sundae Cycles on six Jewish holidays, a Pedal Parlor roving ice cream stand at farmers markets and street fairs, and catering cool desserts for events such as the opening reception hosted by Oregon Jewish Life magazine at this year's Portland Jewish Film Festival. He also catered an event at the Portland Art Museum with each sundae inspired by a work of art. He says he would love to cater weddings or rehearsal dinners and create ice cream desserts inspired by the couple's individual story.
But it all started with his desire to feed people.
When Jared and his wife, research analyst Rebecca Seel, moved to Portland in 2009, they joined Havurah Shalom and started to meet other Jews on Portland's Eastside. Initially Jared worked as a substitute teacher, but when their daughter, Lena Goodman, was born in 2012, he became a stay-at-home dad.
"I enjoy hosting people, especially for Shabbat dinners," says Jared. Since friends always raved about his homemade ice cream, he decided to host an ice cream social at his home; attendees told him he should be selling his artisan ice cream. "I had an epiphany. Ice cream is popular, but no one had reinvented the ice cream sundae, which is to me the ultimate ice cream treat."
"So in September 2013, I created Morgan St Theater Dessert Club (morgansttheater.com)," he says. At the first event, for $10 attendees were treated to three original ice cream sundaes featuring flavor profiles Jared created using Northwest ingredients.
"The first time it took a month to sell 12 seats," he says. "I did it again the next month, and it took a week to sell the 12 seats. In December I sold out two seatings in two days."
Clearly something was working. The next year EaterPDX named Morgan St Theater one of the top eight most exciting pop-ups in town. He says the name reflects both the storytelling that accompanies the desserts and the theatricality of the whimsically inspired desserts. This year he has collaborated with two local theater companies to present "dessert theater." The second theater event will take place later this year at Portland Playhouse.
Last year he added Jewish storytelling and desserts in collaboration with Mikdash, a fledgling community and network of connection on Portland's Eastside. He created five dessert pop-ups featuring an ice cream menu based on the holidays. "Culinary meets spiritual meets Jewish meets social," says Jared.
"Each one managed to introduce the holiday (i.e., historical background and relevant stories) while maintaining an element of spirituality and culinary exploration," he says. "For example, at the Hanukkah event, I asked guests to bring a menorah from home. Then before we sat down for dessert, the group lit their menorahs in the window of a bakery on Northeast 42nd Avenue and sang the blessings together. … On Passover I told the story of my grandfather and his passion for matzo brei, and then I flipped a matzo brei in front of the guests."
This year Sundae Cycles expands to six holidays – Sukkot, Hanukkah, Tu B'shvat, Purim, Passover and Shavuot. Each event will cost $30; season tickets are $150 (buy 5 get 1 free). The first event, Sukkot, will be Tuesday, Sept. 29, from 8 to 10 pm.
"I am excited to host another year of events, building upon the relationships and ideas of this year past," says Jared, who has a bachelor's degree in Jewish studies and a master's degree in Holocaust historiography.
With the help of a successful Kickstarter fundraiser this spring, Jared also grew his ice cream business to make it mobile. Serving farmers markets and restaurant districts, city parks and street fairs, the Pedal Parlor is a roving ice cream social bringing thoughtfully composed ice cream desserts to the people of Portland.
"The Pedal Parlor is off to a great start," says Jared. "Every time I ride the trike, I'm filled with the joy of living the dream I have imagined for so long. I am connecting with a variety of people and families in my neighborhood, and often bringing a smile to one's face upon seeing the trike, let alone serving up some ice cream."
He doesn't have a set menu for the Pedal Parlor, though all desserts are designed to be something you can walk off eating. Bonbons, floats and scoops always will be available, but the flavors will change because, "It's too exciting to pass up the available fruits and vegetables for a seasonally driven menu." He does offer his popular Salty Buckeye bonbons (peanut butter ice cream dipped in chocolate and sprinkled with sea salt), in addition to a seasonal flavor each day.
For his floats, he makes his own shrub (a sweet and sour syrup of sugar, fruit and vinegar), which he adds to club soda and then pours over ice cream. "The vinegar balances the sweet of the ice cream," he explains.
He also offers specialty items such as ice cream sandwiches at times. But Jared's sandwiches really are sandwiches – he layers his ice cream on bread or brioche (just about the only thing he does not make himself, he buys the brioche from a local bakery). One popular flavor is a brioche bun with chocolate rosemary ice cream, olive oil, sea salt and hazelnut praline.
"I want to make desserts balanced in flavor – not sweet on sweet on sweet," he explains. "In the sandwich, the bread soaks up the melting ice cream like French toast."
In addition to the new trike, Jared also bought a new machine that will make three gallons of ice cream an hour.
Jared says that unlike the 90% of ice cream shops who buy a premade base and add flavors, he makes his own custard base. He says it is very labor intensive standing over the stove stirring for 10 minutes as he maintains the temperature at a constant 170º. The homemade base means he can't sell pints of ice cream for people to take home, but he can make treats for people to eat immediately.
"For me, every flavor of ice cream is a unique recipe," says Jared. "I'm doing true artisan ice cream."