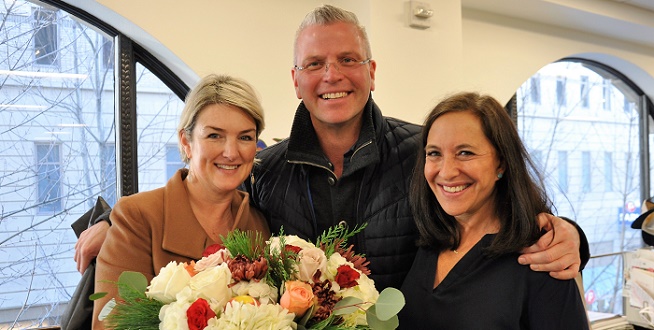 PHOTO: Just before New Year's, grateful clients Sasha Welford and Todd Peres of Debbie Thomas Real Estate brought flowers, champagne and snacks to Pat Welch, right, and her staff at Boly:Welch, a local recruiting and consulting firm. Pat has helped the real estate firm find both permanent and temporary employees, and the firm has helped relocating Boly:Welch clients find new homes.
Pat Welch attributes her success as a matchmaker in business and life to good gut instincts.
"I'm a matchmaker," says Pat, noting she has "fixed up" 43 people with their future spouses. "And I have good gut instincts about where people will be able to make a happy career. … We are matchmakers who find the cultural fit."
When Pat moved to Portland in 1975, she had no intention of founding a staffing agency, let alone one that would be named one of Oregon's 100 Best Companies to Work For every year since 2003 and would win a Best of Staffing Client and Talent Award in 2016.
"We've grown very organically," says Pat of Boly:Welch, the recruiting and consulting firm she cofounded with Diane Boly in 1986. Boly:Welch is now a certified B Corp that provides temporary, direct-hire and executive-search-level placements in fields such as accounting, office, legal, financial services, marketing, sales and human resources.
It was a surprise to many when Pat and Diane connected.
Pat had been working as a recruiter for the employment firm Murphy Symmonds & Stowell for about three years when she decided to be a stay-at-home mom with her two little kids, Brooke and Andrew. MS&S hired Diane to take over Pat's accounts. When Pat returned to the company three years later in 1983, coworkers expected the two to battle over accounts.
"We shortly realized we'd do better if we team up than if we compete," says Pat of what quickly became a de facto partnership.
The two women loved working together, but they both wanted a retirement plan, which MS&S did not offer. So in 1986, they created a legal partnership that offered its two employees a 401K, and they continued to work for MS&S as independent contractors. After MS&S was sold a couple of years later, the women decided to go out on their own. They rented space and hired a receptionist and secretary. Now about 40 people work in the Boly:Welch office, which is set up as a collaborative "bullpen" with no separate offices. A hundred or so others are on the Boly:Welch payroll working as temps in clients' offices.
Pat attributes the firm's success as a temp agency to the fact that it started as an extension of their permanent staffing business.
"When (unemployed) people come to us, we sell them on the value of temp work," she says. "We tell them, 'we don't want you to take a job you don't like.' We suggest temp work … to build skills and references while we look for the exact match."
"We evolved," says Pat simply. "We curated the answer to employees' short- and long-term needs and to clients' short- and long-term needs. … That's why we grew – we found the exact right person."
The women also decided to offer employees the benefits and work culture they themselves wanted. The 401K retirement plans were just the beginning.
"When we started the company, I was a single parent," says Pat. "I worked my job around my family."
The office now has a kids' room where employees' children can hang out after school or on school holidays. They offer maternity, paternity and adoption leave. Dogs are welcome and four or five wander freely through the office every day. Profit sharing, three weeks' vacation and two weeks of paid leave to do volunteer work are other benefits for Boly:Welch employees.
Pat herself is no stranger to volunteer work.
"The best thing I got involved with was Russian Resettlement with Jewish Family and Child Service," she says. Now the entire firm supports Community Warehouse, which grew out of JFCS's warehouse to furnish apartments for new arrivals.
Pat also served on the board of the Jewish Federation of Greater Portland in the mid-1990s, but says she feels she was too young then to make a meaningful contribution.
When her daughter, Brooke, was approaching the age for a bat mitzvah, Pat gave her the choice of whether or not to study and celebrate at Congregation Beth Israel, where they were members. At the time Brooke said no. Three years later, Andrew started to study with Rabbi Chaim Reznik at Congregation Shaarie Torah. Pat and her second husband, Ron Schutz, were married at Beth Israel with CBI Rabbi Emanuel Rose and CST Rabbi Yonah Geller co-officiating.
"My son bonded to this little Yoda-like character," says Pat, describing the much-loved man who taught generations of Shaarie Torah youth. "Brooke said she was sorry she didn't do a bat mitzvah, so she started (studying) then, too."
When Andrew turned 13, Pat's father took the whole family to Israel on a Jewish Federation mission. Not only did Brooke and Andrew celebrate their b'nai mitzvah in Jerusalem, Pat and her mother and mother-in-law also became bat mitzvah. The family hosted a celebratory lunch at the King David for all the Portlanders on the mission.
Pat's father, Julie R. Sandler, z"l ,died six years ago, and her mom, Iris Sandler, now lives in Pat's house, close to her three great-grandchildren. Pat is also surrounded by her Detroit Posse, a group of nearly a dozen women who grew up together in Detroit and now live, work and play in Portland.
Pat is now 68 and Diane is 75, so the two have begun planning for leadership succession. Andrew is in a good position to help with that. He has traveled widely and held varied jobs including commercial fisherman in the Bering Sea and recruiter at an employment firm in Kansas City. When his twins were born 5½ years ago, he decided to settle down in Portland. In August 2105, he joined Boly:Welch as president to help with succession planning.
bolywelch.com | 503-242-1300