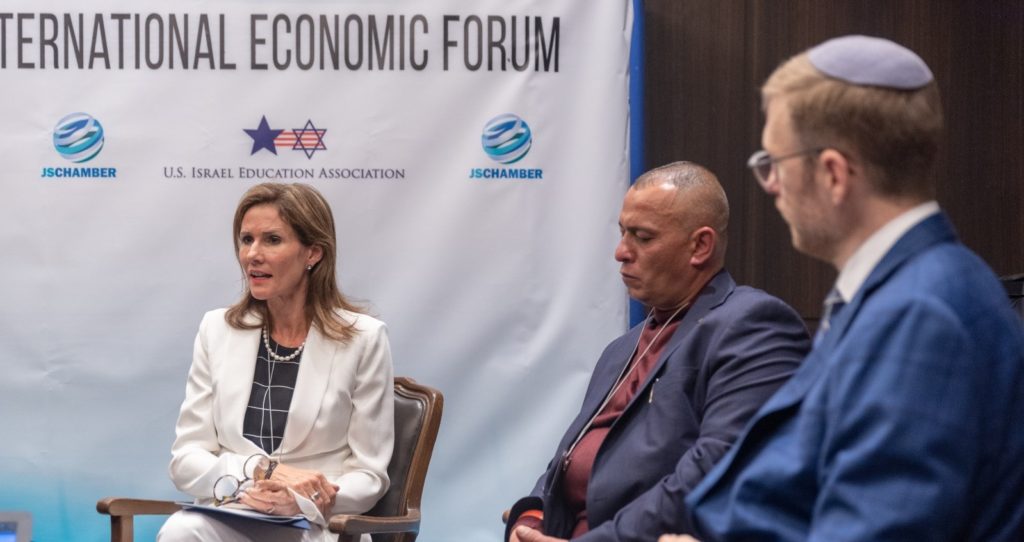 PHOTO: Heather Johnston, U.S. Israel Education Association executive director, speaks at Wednesday's forum alongside Ashraf Jabari, a Palestinian, and Avi Zimmerman, an Israeli, the two of whom are cofounders of the Judea Samaria Chamber of Commerce and Industry. Photo by Eitan Tal
An initiative aimed at advancing economic opportunities in the West Bank was launched in Jerusalem Feb. 20 with the active participation and support of both Israeli and Palestinian business leaders. The mission of the project, known as the Judea Samaria Regional Development Financing Initiative (RDFI), is to integrate economic planning and advance joint entrepreneurship between Israelis and Palestinians who live in the West Bank.
Leading the initiative is the Judea-Samaria Chamber of Commerce and Industry (JSC), an organization founded on a partnership between an Israeli, Avi Zimmerman, and a Palestinian, Ashraf Jabari.
"The JSC, along with U.S. Israel Education Association, initiated the Israeli Palestinian International Economic Forum that will promote business opportunities for all residents in the region," said JSC cofounder, Avi Zimmerman. "The process we launch today begins with developing an inventory of projects in the fields of tech, industry, tourism, environment, energy and infrastructure."
Political realities on the ground, including anti-normalization policies of the Palestinian Authority and mobility restrictions from Israel's security policy in the West Bank, have historically acted as barriers to economic progress. But through the RDFI, the Chamber and USIEA are attempting to help businesses in the West Bank break through or go around such obstacles. This achievement has started a process that is mapping out prospective partnerships and opportunities in various sectors in the West Bank.
"We must first create good links and good relationships not just in the West Bank but all over Israel so we can achieve our desired goal," said Jabari, a businessman and community leader from Hebron.
The RDFI received the blessings and praises of Israeli Minister of the Economy Eli Cohen.
"The State of Israel is a country of innovation and technology," Cohen said during his address at the forum. "There is a term we use called 'tikkun olam,' which means 'repairing the world.' We are trying to make the world a better place, and we use technology to make Israel a better place. I congratulate all those who took part in organizing this important meeting here. Its fruits will be reaped in the economy through joint action."
USIEA and its executive director, Heather Johnston, are motivated to ensure that many such fruits be created.
"In partnering with the JSC, we are doing what we can to help Israelis and Palestinians in the West Bank seize upon existing opportunities to build a promising and sustainable economic future," Johnston said.
USIEA has played a leading role in informing members of Congress and officials in the White House of projects such as JSC's. The USIEA has also succeeded in forging relationships between U.S. and Israeli officials as well as in bringing U.S. congressional delegations to experience Israel and the West Bank firsthand. More recently, USIEA arranged for U.S. Ambassador to Israel David Friedman to visit the West Bank and Palestinian and Israeli businesses in the region.
Alongside the process of charting potential opportunities, Zimmerman outlined the financial tools for such projects, which, he said, will "develop investments that will go toward these projects with two separate models: one is a short-term standard investment fund with a focus on enterprise, and the second is a long-term bond bank model with a focus on infrastructure investment."
The financial tools and models will help with finding the best ways in which both populations of the West Bank can open doors and mutually take part in the immediate region's continued economic development.
"We are taking Israeli-Palestinian business-to-business relationships to the next level with a strategic view to the future of the region. We're creating the frameworks necessary to incentivize business investment, which will serve both populations," Zimmerman explained.
The forum will continue on Thursday at the King David hotel in Jerusalem with the participation of dignitaries such as U.S. Ambassador David Friedman, former Israeli Ambassador to the U.S. Michael Oren and U.S. Senator James Lankford. There will also be a gathering and meeting between mukhtars and mayors from the West Bank.
About U.S. Israel Education Association
The nonprofit U.S. Israel Education Association offers U.S. officials unique insight into Israeli matters — especially in the West Bank — and connects regional and national leaders to advance mutually beneficial policies and laws.
About Judea and Samaria Chamber of Commerce and Industry
The nonprofit Judea and Samaria Chamber of Commerce and Industry works to coalesce and promote the business community in the region through local, regional, national and international programs.