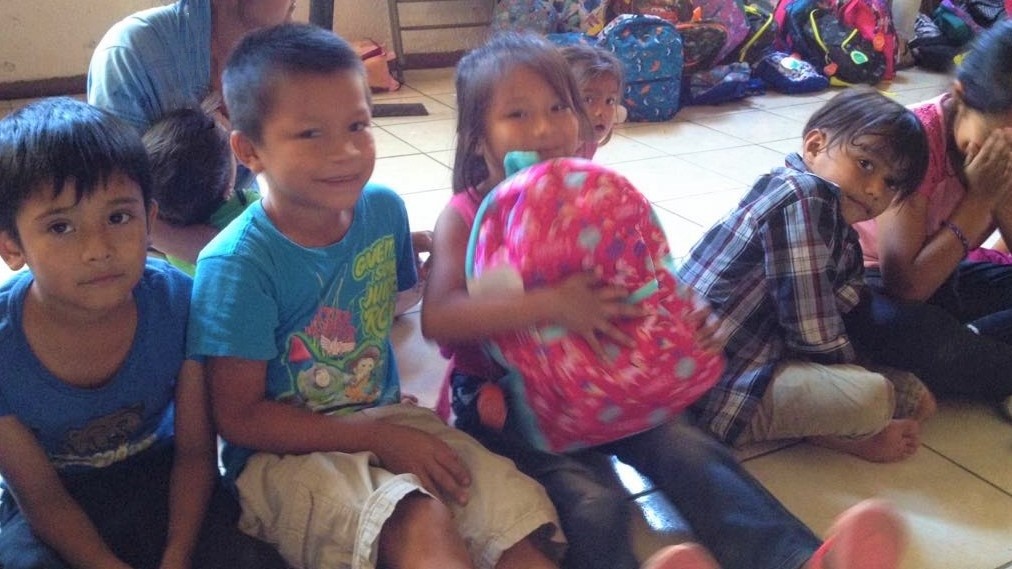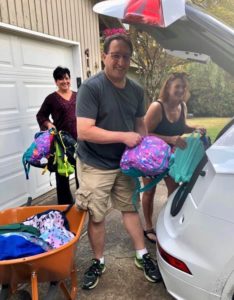 PHOTOS: Above, Children received backpacks full of donations from Portland in the Tijuana shelters (some had to cover their faces for safety reasons). At left, Jon Cohen helps drivers Emily Wanderer Cohen and Lisa Tutmark pack a car with filled backpacks that were delivered to the Little Mercies social workers.
Courtesy of Sallie Cohen
Positive Charge!  is preparing a second shipment of donations for Little Mercies Collection of daily items of comfort and necessity for migrant and refugee children fleeing Central America.
We are gearing up for our community-wide Little Mercies Backpack Assembly & Card Making Event, taking place on Sunday, Sept. 8, 1-4 pm, at the Windermere Raleigh Hills Office 1st floor conference room (entrance in back of building). At this event, we invite the community to help us pack up over 200 more backpacks and create cards of hope and kindness to send in each one.  All details and photos of this incredible community effort and act of love and support to aid in this tragic humanitarian crisis can be found on our Facebook page https://www.facebook.com/groups/PositiveChargePDX, on our website www.PositiveChargePDX.org<http://www.PositiveChargePDX.org>, and on Instagram #PositiveChargePDX
Positive Charge will continue our collection through October through our Amazon wishlist https://www.amazon.com/hz/wishlist/ls/37ROQNKR0THHN?ref_=wl_share  and at most of the same bin locations (adding more on the SW and East side).
People can order items through the Amazon wishlist
https://www.amazon.com/hz/wishlist/ls/37ROQNKR0THHN?ref_=wl_share
or drop off new and clean/gently used items at any bin location listed below.  CLOTHING: Due to border requirements, we ask the price tags be included on ALL clothing, including gently used clothing, using garage sale prices.
Requested items:
1) Toothbrushes
2) Toothpaste
3) Combs
4) Hair ties, emery boards (no polish, pls)
5) granola/protein bars
6) Flashlights with batteries
7) Spanish books (story, affirmation)    8) older/ younger kid coloring books + drawing pads + markers/colored pencils
9) art supplies + small games
10)  Something soft (stuffed animals, dolls, or balls – footballs, basketballs, etc.)
11) sun/bug lotions
12) super hero costumes
13) clothing
14) shoes
Local bin locations:
SW Portland:
1) Food Front Hillsdale
2) Prosperity Pie Shoppe
3) Mittleman Jewish Community Center
4) Garden Home Community Library
5) Pediatric Associates of the Northwest (near Tigard Costco)
6) Windermere Raleigh Hills Office (Mon – Fri)
NW Portland:
7) Pediatric Associates of the Northwest (Montgomery Pk)
8) Food Front Cooperative Grocery NW Thurman
SE Portland:
9) Abernethy Grade School
10) Tabor Heights United Methodist Church