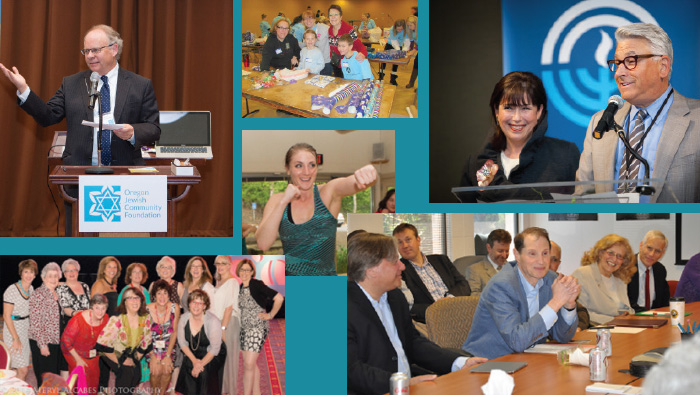 Jewish life in Oregon and Southwest Washington is growing and evolving to more efficiently meet the needs of today's world.
This summer Jewish Family & Child Service consolidated with Cedar Sinai Park. While the two will remain separate entities, the consolidation will make operations, endowment and development more efficient.
Last year also saw the successful merger of the Oregon Jewish Museum and the Oregon Holocaust Resource Center into the Oregon Jewish Museum and Center for Holocaust Education, and the Oregon Area Jewish Committee joined the Jewish Federation, expanding the Jewish Community Relations Council's important work of community outreach and advocacy.
After 118 years of serving women, families, children, immigrants and others in need, the Portland Section of the National Council of Jewish Women formally dissolved; but the group's legacy continues through programs it has established over the decades and through the many volunteers serving in the programs that NCJW created or aided.
David Bornstein wrote in his book, Social Entrepreneurship: What Everyone Needs to Know, "The idea of sustainability can be considered in two ways: the sustainability of an institution and the sustainability of ideas and values."
As our local Jewish community evolves, the ideas and values are sustained though the institutions may change.
Organizations/Agencies
Jewish Organizations
CONSCIOUS TORAH
2531 Chula Vista Blvd.
Eugene, OR 97403
541-514-2571
GRAPEVINE
Caron Blau Rothstein, Community Engagement Director
6680 SW Capitol Hwy.
Portland, OR 97219
503-245-6219
Fax: 503-245-6603
caron@jewishportland.orgwww.grape-vine.com
GrapeVine is a great way to help you get more out of your Jewish community. It ensures you learn about the programs most likely to interest you. Based on a user profile you personalize, GrapeVine provides custom recommendations to your inbox, browser and mobile device! You also receive a weekly email about events based on your personal interests. Go to our website and download the app to receive personalized recommendations for your Jewish life.
HADASSAH, PACIFIC NORTHWEST REGION
Peg Elefant, President
pelefant@hadassah.org
hadassah.org/pnw
Hadassah, the Women's Zionist Organization of America, is a volunteer organization that inspires a passion for and commitment to its partnership with the land and people of Israel. It enhances the health of people worldwide through its support of medical care and research at the Hadassah Medical Organization in Jerusalem. Hadassah empowers its members and supporters, as well as youth in Israel and America through opportunities for personal growth, education, advocacy and Jewish continuity.
HADASSAH, PORTLAND CHAPTER
Diana Lindemann
503-312-2530
pnwregion@hadassah.org
HADASSAH, SHALOM CHAPTER
(Vancouver and SW Washington)
Maxine Silverman, Membership Vice-President
360-566-8188
msilverman15@comcast.net
JEWISH BUSINESS NETWORK
9604 NE 126th Ave., Ste. 2340
Vancouver, WA 98682
360-597-3942
Jewish COMMUNITY RELATIONS Council
Bob Horenstein, Director
6680 SW Capitol Hwy.
Portland, OR 97219
503-245-6496
Fax: 503-245-6603
bob@jewishportland.org
www.jewishportland.org/jcrc
With representation from a cross-section of the local Jewish community, the JCRC develops consensus positions concerning matters of importance to the Jewish residents of Greater Portland and Southwest Washington, including social justice, civil rights and church-state issues, as well as the US-Israel relationship. The JCRC is affiliated with the Jewish Federation of Greater Portland and the Jewish Council for Public Affairs, the planning and coordinating body for the national organized Jewish community in public affairs advocacy.
JEWISH EVENTS WILLAMETTE-VALLEY
2531 Chula Vista Blvd.
Eugene, OR 97403
541-514-2571
JEWISH FAMILY & CHILD SERVICE
Carrie Hoops, Executive Director
Les Soltesz, President
1221 SW Yamhill St., Ste. 301
Portland, OR 97205
503-226-7079
Fax: 503-226-1130
info@jfcs-portland.org
www.jfcs-portland.org
Guided by the wisdom and values of our tradition, JFCS provides social services that improve the lives of adults, families and children in the Jewish and general communities. We partner in the community to help our most vulnerable residents, including seniors, people with disabilities, and individuals and families lacking basic necessities. JFCS offers compassionate wraparound services to address the whole person to foster mental, emotional and financial well-being so they can thrive.
JEWISH FAMILY SERVICES OF LANE COUNTY
PO Box 5924
Eugene, OR 97405
541-484-2541
JEWISH FEDERATION OF GREATER PORTLAND
Marc Blattner, President and CEO
6680 SW Capitol Hwy.
Portland, OR 97219
503-245-6219
Fax: 503-245-6603
info@jewishportland.org
www.jewishportland.org
Since 1920, the Jewish Federation of Greater Portland has been your means of connecting with your community, discovering new ways to do good and giving back to those who came before you. By raising funds that support a broad network of organizations and through innovative programming and initiatives, we are able to meet the ongoing needs of people at home, in Israel and around the world for today and for future generations.
JEWISH FEDERATION OF LANE COUNTY
PO Box 5924
Eugene, OR 97405
541-484-2541
JEWISH GENEALOGICAL SOCIETY OF OREGON
PO Box 19736
Portland, OR 97280
503-249-1976
JEWISH THEATRE COLLABORATIVE
Performances: Milagro Theatre
525 SE Stark
Mail: PO Box 42022
Portland, OR 97242
503-512-0582
(See full listing: Arts & Culture section)
JEWISH WOMEN'S ROUNDTABLE
JWRT.org
MAZON: A JEWISH RESPONSE TO HUNGER
10495 Santa Monica Blvd., Ste. 100
Los Angeles, CA 90025
310-442-0020
MIKDASH PORTLAND
Jewish programming on Portland's east side
mikdashportland@gmail.com
www.mikdashportland.org
MITTLEMAN JEWISH COMMUNITY CENTER
Steve Albert, Executive Director
Matt Sasser, Manager of Membership & Guest Services
Beth Germain, CFO
6651 SW Capitol Hwy.
Portland, OR 97219
503-244-0111
Fax: 503-245-4233
mjcc@oregonjcc.org
www.oregonjcc.org
The MJCC has been a vital part of the greater Portland community for over 100 years. We provide a gathering place for the Jewish community while warmly embracing people of all faiths. We offer a variety of recreational programming for all ages, wonderful fitness facilities, a 25-yard lap pool, a warm water therapy pool, a flexible space for your next meeting or event, and of course, much loved community celebrations and social and cultural events.
OREGON BOARD OF RABBIS
7550 NE Irving Ave.
Portland, OR 97213
503-473-8227
OREGON JEWISH COMMUNITY FOUNDATION
Julie Diamond, Executive Director
Gail Mandel, Legacy Development & Marketing Manager
Tara Siegman, Donor Relations & Grants Manager
1618 SW First Ave., Ste. 210
Portland, OR 97201
503-248-9328
Fax: 503-248-9323
info@ojcf.org
www.ojcf.org
OJCF is dedicated to creating, promoting and facilitating a culture of giving while serving as guardian of permanent funds, safeguarding regional Jewish communal life. OJCF promotes strategic philanthropy offering charitable individuals philanthropic tools including donor advised funds, charitable gift annuities, planned gifts and trusts. In partnership with the Harold Grinspoon Foundation, OJCF directs the Life & Legacy initiative in Oregon to promote after-lifetime giving to build endowments for Jewish organizations and help assure Jewish tomorrows.
OREGON JEWISH M– USEUM AND CENTER FOR HOLOCAUST EDUCATION
1953 NW Kearney St.
Portland, OR 97209-3925
503-226-3600
(See full listing: Arts & Culture section)
PORTLAND MITZVAH NETWORK
Caron Blau Rothstein, Coordinator
6680 SW Capitol Hwy.
Portland, OR 97219
503-245-6219
Fax: 503-245-6603
volunteer@jewishportland.org
www.portlandmitzvah.org
Promoting volunteerism in the Jewish community, for the Jewish community and by Jewish community members. Hosts volunteer events (Good Deeds Day, J-Serve), promotes ongoing volunteer opportunities and more. Access to volunteerism resources locally and beyond.  Affiliated with the Jewish Federation of Greater Portland.
General Community Organizations
ENERGY TRUST OF OREGON
Lizzie Rubado, Solar Programs
Susan Jowaiszas, Commercial and Industrial Programs
Tom Beverly, Residential Programs
421 SW Oak, Ste. 300
Portland, OR 97204
503-493-8888
Fax: 503-546-6862
info@energytrust.org
www.energytrust.org
Energy Trust of Oregon is an independent nonprofit organization dedicated to helping utility customers benefit from saving energy and generating renewable power. Our services, cash incentives and energy solutions have helped participating customers of Portland General Electric, Pacific Power, NW Natural and Cascade Natural Gas save over $1.7 billion on energy bills since 2002, through investments in efficient and renewable power at more than half a million homes and business throughout Oregon.
OREGON COMMUNITY FOUNDATION
Max Williams, President and CEO
Johanna Thoeresz, Chief Development Officer
1221 SW Yamhill St., Ste. 100
Portland, OR 97205
503-227-6846
Fax: 503-274-7771
info@oregoncf.org
www.oregoncf.org
The mission of The Oregon Community Foundation is to improve life in Oregon and promote effective philanthropy. OCF works with individuals, families, businesses and organizations to create charitable funds to support the causes they care about. Through these funds, last year OCF awarded nearly $80 million in grants and scholarships.
OREGON COMMUNITY WAREHO– USE
3969 NE Martin Luther King Jr. Blvd.
Portland, OR 97212
503-235-8786
Jewish Media
OREGON JEWISH LIFE
Cindy Saltzman and Bob Philip, Publishers
Deborah Moon, Editor in Chief
Debbie Taylor, Advertising
6680 SW Capitol Hwy.
Portland, OR 97219
503-892-7404
Fax: 503-245-4342
info@ojlife.com
orjewishlife.com
Oregon Jewish life is the lifestyle magazine that celebrates the vitality, diversity, challenges and  accomplishments of our community. Specializing in print and digital magazines, annual resource guides/directories, and contemporary new online media, Oregon Jewish Life is a powerful marketing tool for anyone wanting to reach the Jewish community with impact.