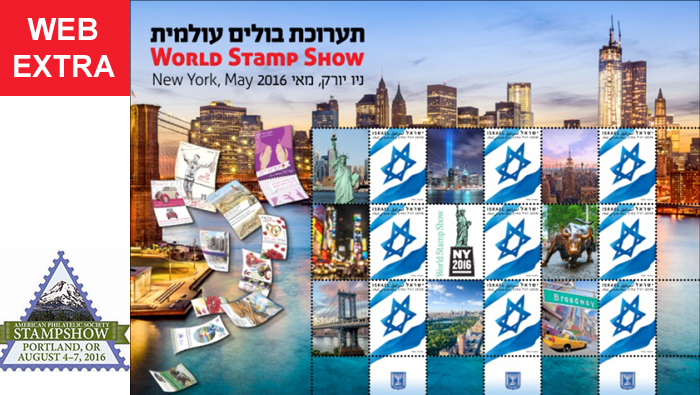 The Israel Philatelic Agency of North America will be representing Israel Post at the American Philatelic Society Convention in Portland Aug. 4-7. The show is free.
A limited number of the special Sheetlet issued for the World Stamp Show 2016 in New York will be available for sale. Also on sale will be stamps on Jewish festivals, Fiddler on the Roof, Museum artifacts, and historic events in the history of Eretz Israel. Special customized stamp sheets featuring Star Wars and Disney will also be available.
Free gifts will be given out to the first 50 children who come to the booth each day.
Israel's stamps are like minute ambassadors spreading the messages of the country and telling the story of the Israel experience, history, heritage, nature and culture. Come and see the exquisitely designed issues creatively expressing their topics in a way that delights the eye and stirs the heart.
Israel's Minute Ambassadors will be at the Israel Booth no. 921 at the APS Stamp Show Portland Aug. 4-7 at the Oregon Convention Center, 777 NE Martin Luther King Jr. Blvd. Show hours are: 11 am-6 pm, Thursday; 10 am-6 pm, Friday and Saturday; and 10 am-4 pm Sunday. The Israel Booth will be closed on Saturday.
StampShow 2016 in Portland marks the 130th annual convention of the American Philatelic Society. Each year, stamp collectors, exhibitors, historians and members of the general public gather to socialize, increase philatelic knowledge and exchange stamps. The 2016 show will feature 100 dealers, 35 societies, live auctions, literature and philatelic exhibits, more than 100 meetings and seminars, and first-day-of-issue ceremonies for new stamps. There will also be special emphasis on Northwest postal history, the 100th anniversary of the Oregon Stamp Society and a few other partnerships.
For more information, visit stamps.org/StampShow-SS or contact Barb Johnson, Shows and Exhibitions Assistant, at 814-933-3803 ext. 217, or stampshow@stamps.org.