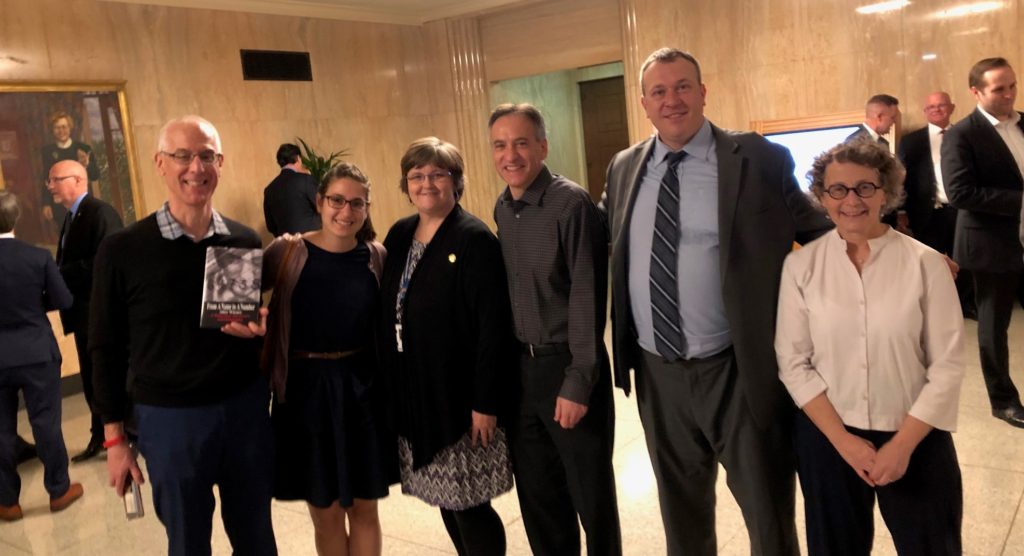 Photo: From left: Phil Mandel, OJMCHE's Amanda Solomon, Rep. Janeen Sollman, JFGP CRC Director Bob Horenstein, George Okulitch, and OJMCHE Director Judy Margles at the State Capitol.
On May 28, 2019, SB 664, a bill to mandate Holocaust and genocide education in Oregon starting in the 2020-2021 school-year, unanimously passed its final vote on the House floor. Once it is signed into law by Gov. Kate Brown, this important legislation will provide all students in the state of Oregon with curriculum on the Holocaust and genocide. Gov. Brown is expected to sign the bill this week; a ceremonial signing of the bill is being planned at the Oregon Jewish Museum and Center for Holocaust Education later this month.
JMCHE worked with Les and Eva Aigner, Holocaust survivors and members of OJMCHE's Speaker's Bureau; the Jewish Federation of Greater Portland; Sen. Rob Wagner and Rep. Janeen Sollman who spearheaded the effort. OJMCHE says many other supporters made the legislation successful.
OJMCHE believes that learning about the consequences of discrimination and hatred can inspire the students of today to become the leaders of tomorrow and promote a culture of inclusiveness to prevent future genocides. To engage and work with educators, OJMCHE is creating a teacher advisory board and a student-educator internship. Applications for each are due June 14.
OJMCHE seeks certified teachers and educators (grades 6-undergraduate) to be members of the Teacher Advisory Board for the 2019-2020 school year. The TAB meets five times during the school year to foster collaboration and learning between teachers and museum educators, advise OJMCHE on its educational programs, and participate in roundtable discussions around a variety of topics.
TAB members will receive: Free donor level membership to OJMCHE for a year; 10% discount in the Ron Tonkin Family Museum Shop.; 10 professional development hours; and a free class visit to OJMCHE.
The new Student-Educator Internship gives students the opportunity to become involved with Holocaust and genocide education. Any Metro-area high school student who will be a sophomore or junior for the 2019-2020 school year is eligible to apply.
Student educators will begin as an "Ask Me" docent – someone who "floats" around the exhibitions and is available to answer questions and provide additional information to help fill gaps in visitors' knowledge. Student educators are not expected to be experts in the Holocaust or Oregon history, but are expected to engage visitors during their visit and pass along questions to OJMCHE staff if they do not know an answer. After three months, student educators will be eligible to lead weekend public tours.
Student educators must attend 12 hours of training the week of Aug. 12, 2019, and commit for four hours volunteer time each month of the 2019-20 academic school year. Among other benefits, participants will receive community service hours; training and education on the role of museums and educating the public; and a letter of recommendation for college, trade school, or jobs by a member of the education department.
ojmche.org