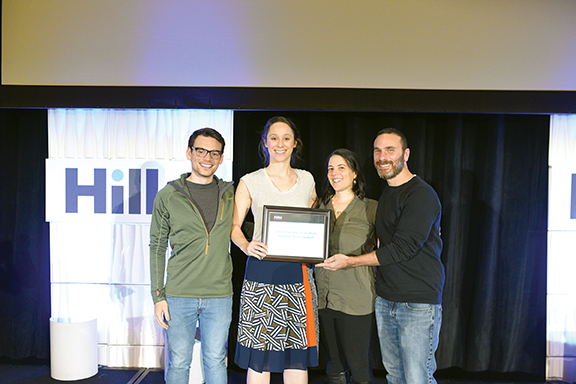 PHOTO: Oregon Hillel staff (from left) Loren Murphy, Brittany Lenhart, Rachel Chodorow-Reich and Andy Gitelson accept the Hillel International Campus Partner of the Year award on behalf of Oregon Hillel.
Oregon and Greater Portland Hillel representatives were among the more than 1,100 Hillel professionals, partners and stakeholders who gathered in Denver Dec. 4-7 for the fourth annual Hillel International Global Assembly and first-ever Hillel International Global Leadership Conference for volunteer leaders.
The gatherings showcased innovation from Hillels around the world, and gave Hillel professionals the opportunity to share ideas and successes that can be emulated on campuses of every size.
Oregon Hillel received the Hillel International Campus Partner of the Year Award, recognizing the Manzil/Midrash Jewish/Muslim Learning Initiative created in partnership with the Muslim Student Association and Arab Student Union at the University of Oregon.
"Being recognized among so many incredible Hillel programs led by an equally impressive collection of staff and lay leaders from around the world is truly humbling and a great honor," says Oregon Hillel Executive Director Andy Gitelson. "For the past three years, and now going into our fourth, we've had an amazing group of students, leaders and staff who shared the vision and commitment to building relationships and respect that made this unique interfaith learning series a truly impactful and moving initiative. I am so very proud that this initiative is happening at the University of Oregon and, as we continue to develop relationships in Corvallis, we hope to bring it to Oregon State University in the near future."
Building on the success of Hillel U, the organization's comprehensive new professional development program, this year's HIGA featured peer-to-peer and expert-led learning modeled after corporate and academic trainings.
"Together with staff and one board member, PDX Hillel was able to learn from and with other members of the Hillel movement in a collaborative way that can only happen through in-person synergy," says PDX Hillel Director Rhonda Abrams.
This year's programming included "Empowering and Supporting Students in the Face of Anti-Semitism and Anti-Israel Bias," "Pastoral Counseling Master Class,"
"Objectives and Key Results for the Social Sector: Adapting How Google Sets Ambitious Goals and Manages Progress to Drive Growth" and "Intersectionality: Identity, Politics, Judaism and the Campus Community."
"Hillel International Global Assembly brings together the best and brightest from the field of Jewish campus professionals, providing them with an opportunity to learn from one another and bring new ideas to every campus community,"
says Eric D. Fingerhut, president and CEO of Hillel International.
"With a successful first year of Hillel U and the Hillel Talent Grants behind us, we know our professional development efforts are starting to change the Hillel movement, allowing us to grow our professionals and impact more students."
The first Hillel International Global Leadership Conference brought together Hillel's volunteer leaders from around North America and the world for an insider look at the most significant topics and issues facing Jewish life on campus.
The more than 150 participants included major donors to local Hillels and Hillel International, chairs and members of local Hillel boards, and other key stakeholders. The Global Leadership Conference is a centerpiece of Hillel's new Global Leadership Society, an initiative to identify, cultivate and steward volunteer leaders from across the Hillel movement and deepen Hillel's connection with the broader Jewish community.
Participants in the Global Leadership Conference learned new skills to improve their local board of directors, hire future Hillel directors and make improvements toward Hillel's Drive to Excellence benchmarks.