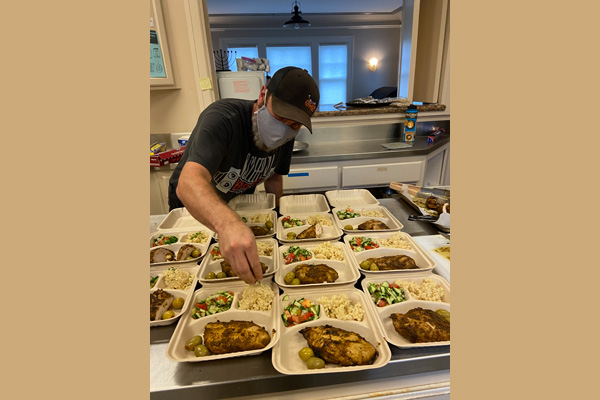 Photo: Andy Gitelson, executive director of The Oregon Hillel Foundation prepares meals for students.
Starting college is both an exciting and daunting process under normal circumstances, but this year's college freshmen are facing challenges never before seen by universities.
Andy Gitelson, executive director of The Oregon Hillel Foundation, is also adapting to these challenges.
"How do we teach our students how to be responsible – pikuach nefesh – that value of human life extends beyond just putting a mask on," he says. "To me, it means how do we create that environment that teaches our students how to be good stewards in our community. That's what we're focusing on."
The Oregon Hillel Foundation serves students at both University of Oregon and Oregon State University.
Andy says that they have canceled their annual ski retreat to Sunriver Resort and closed their building down to the public. They are creating freshman meet-ups online so they can see each other's faces, and they do food drop-offs at dorms and tell the students to meet downstairs so that they can see other Hillel members who may be living in their dorm.
"We've done mostly one-on-one engagement, reaching out to every student at least once a month to check in," says Andy. "We've been proactive about putting out resources. We use our boxes and bags that we provide the meals in to deliver content regarding Jewish prayers. For Shabbat, they can get havdalah candles, regular candles, grape juice – if they need anything, we can get it to them."
For the High Holidays, they prepared and served about 70 dinners. The individually packaged meals will also be available every Friday night for Shabbat. They also still deliver matzo ball soup for free on both campus locations.
"The biggest change is that where we used to have a team of people in our kitchen cooking, now it's one person putting it all together – me," jokes Andy.
Hillel also put up a sukkah for Sukkot and made it available for students to come by one-by-one to shake the lulav and etrog and do the mitzvah.
Some new programs include a "MitzVote"  campaign through Hillel International designed to engage students in their civic duty of voting; the hiring of a social justice staff member who is working on building connections within the Black, Latino, Latinx and LGBTQ+ communities and the submission of a wellness grant for an online wellness series for students.
Hillel has also written a grant to pilot a partnership with Jewish studies. "Rabbi Meir Goldstein is our senior Jewish educator," explains Andy. "He's been on campus for a year now, and he's tripled enrollment in Jewish studies as well as been a connector between Jewish studies and Hillel." Rabbi Goldstein is at the University of Oregon. There is an online Jewish studies group at Oregon State where they have a Jewish Learning Fellowship.
Hillel is also working with the Shalom Hartman Institute. "We would normally take 8-10 students over for there for an iEngage seminar in Jerusalem for 10 days every winter break," says Andy. "Clearly, it's not happening. They've pivoted and moved online, and we are working to pilot a brand new for-credit class utilizing the iEngage curriculum."
Hillel has an advantage over other Jewish organizations that function on a campus level due to their approach to pluralism and open-door policy. Their mission isn't just to bet here for Jewish students but to be there for all students and to use Jewish values to build community and inspire leadership.
Andy believes that under the current circumstances, "We are uniquely positioned to invite your non-Jewish roommates to share Shabbat with you, to impact anti-Semitism by opening that door to your non-Jewish network and say, 'We're not scary, greedy, weird, stereotypical people, this is who we are, and this is what's beautiful, now share some of your community with me.'"
He continues, "That's our golden opportunity. We're giving them the tools to do it in their space. That's what we've always wanted to do, and this is the way we have to do it now."
For more information on the Oregon Hillel Foundation, visit oregonhillel.org.