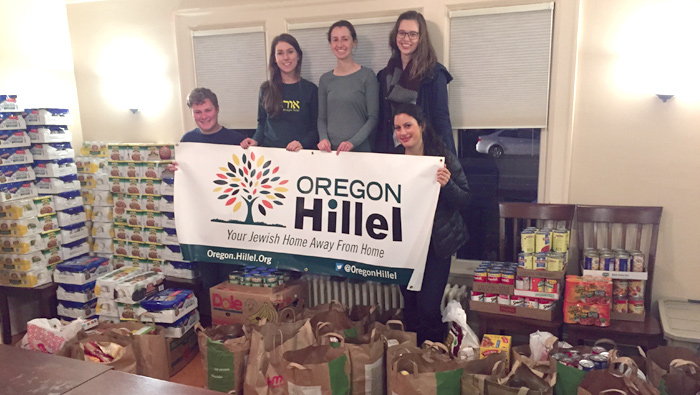 Oregon Hillel has taken aim at making the world a better place through a trio of programs. Alternative Spring Break (see story next page), Manzil Midrash and the Tzaddik Initiative already have made a difference in the lives of students and others they have reached out to help.
MANZIL MIDRASH
"Students often find themselves asking 'Do my efforts really make a difference?' or 'What can I do to ensure a just society?' " says Amanda K. Weiss, Oregon Hillel director of Jewish leadership and learning. "These questions cross cultural divides and religious theologies."
So for the second year, Oregon Hillel has brought together a diverse group of students for a series of student-created and student-facilitated campus conversations – Manzil Midrash (house [Arabic] of study [Hebrew]). The project's goal is to foster interfaith understanding and cross-cultural encounters and promote open and respectful discourse within the Jewish and campus community, specifically surrounding the Israeli-Palestinian conflict.
The conversations are co-sponsored by Oregon Hillel (at the University of Oregon), the UO Jewish Student Union, UO Arab Student Union and UO Muslim Student Association; it is funded by Oregon Hillel and the Avi Schaefer Fund.
Manzil Midrash topics are facilitated on a monthly basis by a student leadership team. In addition to improving interreligious relations in Oregon, organizers hope to create a curriculum that can be replicated nationally for other campus student leaders.
"This was the first time ever that the Muslim Student Association took part in working with the Jewish Student Union to learn more about the similarities and differences between our two religions," says participant Fahma Mohammed. "This event opened my eyes to some of the similar experiences that we have shared while living in the United States."
Participant Charlotte Rheingold agrees: "This program did an excellent job in creating a diverse, open environment in which to explore issues and burning questions about Judaism and Islam. It showed how much the two religions have in common, and how people relate to their religion in so many different ways that it is impossible to stereotype people."
Another student found an unexpected element in the program. "Something I noticed while attending the sessions is that I've not only learned more about the Muslim faith, but also about my own," says Linda Guillen. "I've learned about values within different sectors of Judaism. I loved feeling the connection in beliefs with my peers. I can't wait to see how much more Manzil Midrash can grow. I'm also really excited to see the incredible things it can do for not only our campus, but hopefully inspire other schools, as well."
INITIATIVE
Hillel International has enabled Oregon Hillel to deepen its commitment and understanding of tzedekah (community service) opportunities and tikkun olam (repairing the world) through its Tzaddik curriculum based on student-facilitated conversations.
Oregon Hillel Vice President of Tzedek Jake Monasch and Tzedek Committee Chair Arielle Wahba will introduce the curriculum at Hillel's Retreat in the Snow scheduled for Martin Luther King weekend (Jan. 15-18). Jake and Arielle will facilitate a conversation with 80 students from the University of Oregon and Oregon State University about their responsibility in helping their community and not standing idly by.
The kickoff, Jake and Arielle will use this curriculum to teach their peers on the Tzedek Committee in biweekly meetings. They also plan to incorporate the Tzaddik curriculum into each community service opportunity they create.