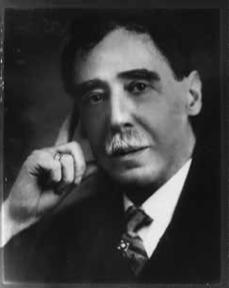 Next month Portland's Sephardic community will be celebrating "A Centennial of Sephardic Life in Portland," with a major exhibit at the Oregon Jewish Museum and other activities.
But before there was a Portland Sephardic community, there were individual Sephardic Jews who made their way to Oregon – and who became important leaders both in the Jewish community and in civic life.
The most notable was David Solis- Cohen, scion of a prominent Philadelphia Sephardic family, who came to Portland in 1878 by way of California.
"Without doubt, he was the single most important Jew of that Oregon community," historian William M. Kramer wrote in a 1996 publication of the Western States Jewish History Association. "(He) served with equal vigor his nation and his faith."
Kramer describes Solis-Cohen as "the perfect blending of American and Jew," noting that while his mother was Sephardi, his father was Ashkenazi, and he was descended from both colonial Jewish and immigrant stock. He was religiously observant, enjoyed leading services in numerous congregations and was also a noted writer, merchant, lawyer and public personality.
Born in 1850 in Philadelphia, Solis- Cohen was active in Jewish and cultural life there before moving to California in 1877, where he helped found a synagogue in Oakland and a Young Men's Hebrew Association in San Francisco. But it was in Portland, where he moved a year later, that he found a home and a community.
"The city breaks upon the traveller's view like a vision," he wrote to the Jewish Record, a Philadelphia publication, describing his experience of sailing up the Willamette River. He was, Kramer says, the city's "Number One Booster." After working as a bookkeeper for a local firm, he began his own business, the Golden Rule Bazaar, also known as Cohen, Davis and Company, a wholesale dealer and importer of toys and notions. It soon became the leading wholesaler in its field throughout the Northwest.
By 1889, Kramer reports, Solis-Cohen was regarded as "prominent among the younger of the businessmen who have materially advanced the mercantile interests of Oregon."
Solis-Cohen served on the executive committee of the Portland Chamber of Commerce and as director of the Portland Trust Company, was vice president of the Franklin Building and Loan Association, and was commissioner of the State Board of Charities and Corrections from 1890 to 1892. He also served on the state Board of Immigration and as Portland's police commissioner. Solis-Cohen's youngest brother, Isaac Leeser Cohen, eventually joined him in Portland, working first with his brother and then becoming involved in the developing motion picture business. Their sister, Salome Solis-Cohen Bernstein, also settled in Portland, where she became a leader in the Council of Jewish Women and also was among the city's first kindergarten teachers. Her husband, the attorney Alexander Bernstein, and her brother, David, became law partners.
Kramer describes Solis-Cohen as "a man for all synagogue seasons," who was especially active in congregations Beth Israel and Ahavai Sholom, but also in many others, including Congregation Ahavath Achim, the Sephardic synagogue founded in 1916.
Solis-Cohen participated in laying the cornerstone for Beth Israel's second synagogue, at Southwest 12th Avenue, in 1888 and spoke at its dedication a year later. He repeated both roles a generation later, when a new synagogue was built at the congregation's current location in Northwest Portland. At both dedications, it was Solis-Cohen who was given the honor of lighting the ner tamid, the eternal light.
"The Jewish religion is above all things a religion of the home," he said at the dedication of the second Beth Israel. "The law is not merely to be deposited in our temples – it is to be a living symbol of light, to always be with us."
He also was part of the cornerstone ceremonies for Congregation Ahavai Sholom's first two synagogues – and as Gary Miranda notes in a history of Congregation Neveh Shalom, Solis- Cohen is reported to have officiated at the laying of cornerstones of every synagogue built during his 50 years in Portland, and of several outside the city as well.
"One would be hard put, in fact" Miranda says, "to find an organization of which (Solis-) Cohen was not a promi- nent member. What he didn't join, he was elected to."
Although Solis-Cohen and his wife, the former Bertha Kahn of Portland, had no children, he was actively involved in children's religious education at both Beth Israel and Ahavai Sholom, and also promoted adult education.
He was an organizer and founder of B'nai B'rith lodges and also of the B'nai B'rith (later Jewish Community) Center, and was involved as well with the Royal Arch Masons, the Ancient Order of United Woodmen and the Elks, where he served as an exalted ruler. Kramer notes that the Masons made Solis-Cohen their poet laureate, while the Elks named him "the Bard of the Portland Lodge," both in tribute to his writing and speaking skills. In Philadelphia, Solis-Cohen wrote for two local papers, and later published poems, plays and other works.
His musical, "Esther," was produced in Portland in both 1880 and 1894, Kramer records, with proceeds from the first pro- duction divided between Ahavai Sholom and Beth Israel, and from the second donated to Portland religious schools.
Solis-Cohen worked closely with Rabbi Stephen S. Wise during his tenure at Beth Israel, and, like Wise, became a leading supporter of the nascent Zionist movement. He was a featured speaker at the inaugural meeting of the Zionist Society of Portland in 1901, and by 1903 had become its president.
Judith Margles, director of the Oregon Jewish Museum, notes that "Portland's Jewish community was unusual in its broad and vital support for Zionism" during the early years of the 20th century, when Solis-Cohen was active.
Solis-Cohen died at his home in Northwest Portland on Nov. 7, 1928, at the age of 78. His wife, Bertha, who was at his side, died just seven weeks later, on Dec. 26.
Rabbi Julius J. Nodel, writing in his centennial history of Congregation Beth Israel, said Solis-Cohen held a unique place in local history. "(He) was identified with all Jewish efforts in Portland," Nodel said. "For him, Judaism was one whole concept. He threw his weight behind any movement that drew Jews from different facets together."
Sura Rubenstein is a Portland writer. In the interests of full disclosure, she is also the guest curator for "Vida Sefaradi: A Century of Sephardic Life in Portland," an exhibit opening June 11 at the Oregon Jewish Museum. For details about the exhibit, visit ojm.org.
VIDA SEFARADI: A CENTURY OF SEPHARDIC LIFE IN PORTLAND May 19: Professor Devin Naar speaks at PSU
June 1: Gala dinner and opening ceremonies
June 11: Exhibit opens at the Oregon Jewish Museum
A richly illustrated catalog and DVD will be on sale beginning June 1
For more information: vidasefaradi.org