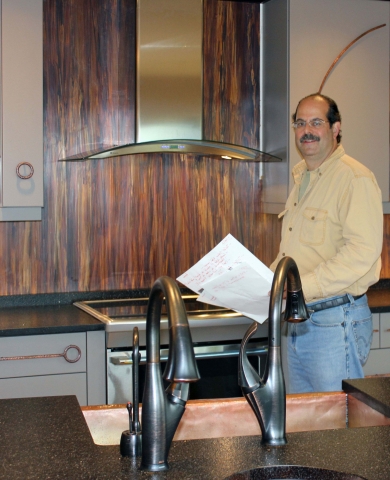 Steven Heiteen is optimistic that residential construction will rise during his term as president of the Homebuilders Association of Metro Portland. Not that he plans to take credit for that any more than he deserves the blame for the dismal construction numbers during his three years as a vice president of HAMP.
When Heiteen, who owns Portland Remodel, first took office in December 2009, the country was already mired in a recession that took a particularly hard toll on the housing industry. According to the U.S. Census Bureau, Oregon building permits for privately owned housing units fell from 21,101 in 2007 to a low of 6,868 in 2010. Last year, the numbers started to recover with 7,663 permits issued.
Through his three years as a VP (HAMP's traditional path to the presidency), Heiteen has worked to educate members on trends in the industry. HAMP is active in political advocacy for building-related issues and helps members network to improve their businesses. Heiteen says many members are involved in metro-area planning departments or sit on city committees; he himself is on Portland's Development Review Advisory Council, which provides oversight for the Portland Building Department.
As he prepares to step up to the presidency Dec. 1, Heiteen says the region's builders finally have reason to be optimistic.
"The industry is improving. We are running through existing lots." This reflects the increase in building this year, he says. "So we (HAMP) are involved to help more land come online so folks can do home builds."
"The whole residential construction industry was hit pretty hard," he says. "Some folks left the business. But folks who are still here are starting to get busier."
At the July board meeting he says he heard a lot of good news. "Things are positive for everybody."
"We probably won't be back to 100% of where we were by the time I get done a year from December, but we are well on the way. Things have turned the corner in the right direction," Heiteen says.
In his own business, which focuses on remodeling, the recession didn't take quite as deep a bite. "Some of the tightness with the housing market helps to motivate people to remodel or retrofit their existing home. …Remodeling was hit hard also, but it got in (trouble) later and saw an earlier recovery."
Heiteen brings to his presidency a long history in the industry. He started his construction business in Oregon 20 years ago. Before that, he worked in his family's residential and restoration business in Chicago for 12 years. He moved up through the ranks – apprentice, carpenter, foreman, estimator and finally project manager.
When he and his wife, Susan Kuznitsky, moved to Portland to start their own business, they joined Congregation Neveh Shalom. Their sons Jacob, 18, and Matthew, 15, both became b'nai mitzvah at the Conservative congregation.
He says he enjoys remodeling, as opposed to new construction, because home building is more about a product and remodeling is about customer service.
"We are working on their home with them in the home," he says. "I'm adept at smoothing the process."
Heiteen says bathroom and kitchen remodels are the most popular project because "those components really enhance people's way of living in a home."
Creating a master suite, either by adding on or turning a four-bedroom home into a three-bedroom home with a large master, is also popular. "Empty nesters want one spectacular bedroom suite," observes Heiteen.