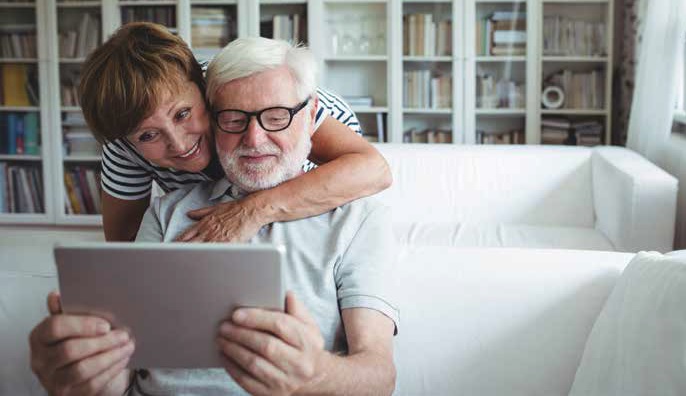 By Emily Helwig
The internet has revolutionized the way we do just about everything. From buying groceries to talking to friends and family to finding out the latest news, the World Wide Web puts seemingly infinite possibilities right at our fingertips.
However, along with all of the stuff we love about the internet, an abundance of scams and viruses are unfortunately ready to trick you into giving up sensitive information about yourself.
That's why we've put together this guide for seniors. We have plenty of tips on how to keep your identity safe and how to avoid getting scammed out of your hard-earned money.
Computer safety and cybersecurity
As powerful as our computers are, they're still susceptible to a whole host of viruses and malware that can slow your computer down and put your personal information at risk.
These are some smart ways to protect your computer and yourself from viruses:
Make strong, unique passwords
Make sure your online passwords are strong and unique. Yes, the name of your beloved pet or your birthday might be easy to remember, but they'll also be easy for others to figure out.
The best practice is to combine eight or more upper and lowercase letters, numbers and symbols to create a solid password. Use a random password generator to create strong passwords that will be difficult for others to figure out and keep those passwords in a safe place like a private notebook.
Do not install unknown software or plug-ins 
Don't install software from websites you don't know and trust. If you get a pop-up ad offering you free virus protection software or telling you that you need to install a plug-in, these are likely fake notifications designed to get you to download viruses and malware.
Be wary of attachments
Don't open attachments, respond to emails or click links within emails. This is always true for senders you don't know. But, sometimes even people you do know can fall prey to viruses and malware that automatically send out emails to everyone on their contact list.
If someone you know sends you an email with a link or an attachment you weren't expecting, shoot them a message and ask if they meant to send it.
Online purchases
These days, you can get almost anything delivered straight to your door with just a few clicks. While that's something you should take advantage of, make sure your you make purchases as safely as possible. Here are a few tips to follow when shopping online:
Make sure any purchases are on a secure website
Only make purchases or send your personal information on security-enabled websites. You can tell a site is secure if there is an "s" after the "http" in the website's address. On some browsers you'll see a lock symbol next to the address. These sites encrypt your data when you send it, making it difficult for others to steal that information.
Use a credit card whenever possible
Debit cards are convenient and great for keeping track of how much money you have versus what you have on credit. But, credit cards offer you better security options and will hold you liable for much less money if you do have fraudulent charges made on your account.
Check credit card and bank statements regularly
Some banks will notify you of suspicious activity on your account, but it's up to you to keep track of your purchases and make certain that no one is using your card to buy stuff online. Make keeping an eye on your statements a regular habit, so you know that your accounts are secure.
Use a private computer and Wi-Fi network to make purchases
Only make purchases on your own private Wi-Fi network. Using a public computer or even just a public Wi-Fi network will make it easier for others to steal your information. Create a private, secure, password-protected Wi-Fi account in your home and only use that network or those you trust to make your purchases.
Medicare and online safety
Many popular scams targeting the elderly folks involve Medicare. These are some things to watch out for when it comes to your Medicare coverage:
Exchanging personal info for Medicare cards
In April of 2018, Medicare recipients started receiving new Medicare cards.
These new cards won't have your social security number on them like the old ones; that should help reduce identity theft and fraud. The new cards will be sent out automatically, and you should receive yours sometime between April of 2018 and April of 2019.
However, some folks have reported receiving phone calls or emails where they're asked to provide information to receive their new card or even told that they need to pay to get their new card mailed to them. This is a scam.
The Medicare website notes, "Medicare will never call you uninvited and ask you to give us personal or private information to get your new Medicare number and card." If you receive a phone call or message like this, do not give out your personal information.
Medicare fraud
Another common scam is Medicare fraud in which a healthcare provider or someone else uses your Medicare account to bill for services you did not receive. Be sure to check your statements regularly to ensure that your Medicare number hasn't been compromised.
Unsolicited calls offering to enroll you in Medicare
Open enrollment periods are an especially popular time for Medicare scams. Each year from October through December you have the opportunity to enroll in or re-enroll in your Medicare program.
During this time, scammers will often call or email you claiming to be from the Medicare office and asking for your information to enroll you.
Again, Medicare will never contact you and ask for your personal information like this, so do not give out your personal information in this scenario.
"Free" appointments, prescriptions or refunds
Free check-ups, prescriptions and refunds? If it sounds too good to be true, it probably is.
Some scammers will tell you that due to changes in your insurance, you're entitled to a refund. They'll then ask you for your bank account information to direct deposit your refund, but they are just trying to steal your account information.
You should never give out your bank account information over the phone or online, especially to someone you don't know. Others will tell you that you can get access to free medical supplies (especially for diabetics), free doctor's visits or free prescriptions, but you need to give them your Medicare info to access the freebies.
There is never a case where this isn't a scam, so don't give out your info.
For seniors, it can be especially challenging to know the difference between what's real and what's fake. Since online scammers so often target older folks, it's crucial that you know how to keep yourself and your information safe.
If you suspect that you've been the victim of fraud or a scam, contact the Federal Trade Commission's website at consumer.ftc.gov to find out the next steps for keeping yourself and your information safe.
This article was edited from an original piece published on dealspotr.com