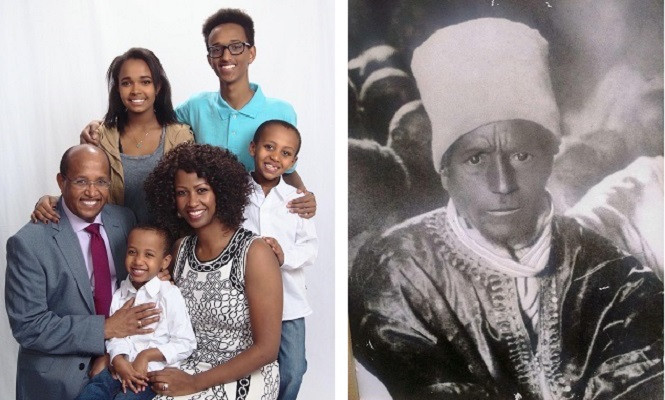 Left, Solomon and Mimi Ezra with their four children. Right, Tuwabe Melku, Solomon's grandfather, was a chief kess (rabbi) for all Ethiopian Jewish communities until he died in 1963.
Operation Solomon had help from Solomon Ezra
By Shuly Wasserstrom
One of Portland's Jewish residents insists he's "just like everyone else," but in truth, Solomon Ezra was an integral part of a covert operation to bring thousands of Jewish Ethiopians to Israel. He has quite the story to tell.
Solomon has lived in Oregon since 1994, but he was born in Ethiopia and spent time in Israel during his youth. He was born in the Jewish village of Ambober in the Gondar province in 1960 and was raised in a religious, traditional household, led by his grandfather Tuwabe Melku, who was a chief rabbi in the area.
At 16, Ezra was jailed and tortured after being accused of spying. His sister, who was living in Israel, helped negotiate his release, and he immediately moved to Israel. He served in the Israeli Air Force and immersed himself in Israeli culture, but he never stopped thinking about the Jews in Ethiopia. Ultimately he played an essential role in the movement to bring them to Israel.
A good student in Israel, Solomon landed a scholarship to Boston University and began his undergraduate education. His connections in Ethiopia were still strong, and in 1990 he returned and began to organize what would become Operation Solomon – a covert operation to fly thousands of Ethiopian Jews to Israel. The Ethiopian government, immersed in a civil war, resisted the movement, but negotiations eventually led to an agreement.
On May 24, 1991, a ceasefire in the civil war was negotiated so the Israeli planes could fly in and out of the country. Solomon recalls this day as the most thrilling of his life. He was briefly involved in facilitating negotiations, but he mainly acted as a coordinator for the community on the ground.
"It was a dream come true," he says. "Finally, they let my people go."
For 36 hours, Solomon helped check IDs and assign a number to each family. He was registering each person at the consulate before boarding the plane to start their new lives in Israel.
"Everyone wanted to come, but the selection screening was very detailed," Solomon recalls. "It was a critical time. I had already lost my parents and other family members, and I didn't want to leave anyone behind."
Officials worked throughout the night – and quickly – in case the government leaders decided to call it off. Tensions were high and the Israeli government worked tirelessly to complete the operation. They took seats out of airplanes to fit as many people as possible.
"I had never worked so hard, but I was not tired. I was so excited. Every person who worked on the project did an outstanding job. I have never seen that kind of concentration, it was beautiful," he says.
By the end of the operation, 35 aircraft had airlifted 14,325 Ethiopian Jews to Israel. Solomon was on one of the last planes out.
"It was emotional for me. We all did an excellent job. I've never been more proud in my life," he says.
After the operation, Solomon went back to Boston to finish his degree. He then completed a master's degree at UC Davis in California, where he was recruited by Intel and moved to Portland in 1994.
Solomon has been involved in Portland's Jewish community and raised four children with his wife, Mimi. Keeping Ethiopian Jewish traditions alive and passing them onto his children is very important to him. He returns to Israel as often as possible to visit family. He says he would have loved to live in Israel, but life in Oregon has been good to him.
Solomon has now turned his attention to building a synagogue in Rishon Lezion, Israel, in honor of his grandfather. He is determined to help Ethiopian Jews in Israel keep traditions alive and is building the synagogue in traditional fashion.
"Rishon is central Israel, and I wanted it to be in the center for the communities in the north and the south," he explains.
He says he often thinks of the family he lost in Ethiopia and hopes this synagogue will serve to honor them.
To contribute to that effort, contact Solomon at sezra_2000@yahoo.com or 503-750-1683.
Oregonian aided resettlement of 70,000 Jews
By J. Wandres
"Operation Solomon," the 1991 airlift of more than 14,300 Ethiopian Jews to Israel, was a significant success story. But it does not equal "On the Wings of Eagles," the 1949-1950 resettlement of more than 70,000 Jews from all over the Middle East. That clandestine airlift was managed by a gentile from Oregon.
Robert Francis Maguire Jr. had earned a flying license as a teenager in Portland. He studied at Reed College before graduating from Oregon State University. He joined the U.S. Army Air Corps in 1942 right after the United States declared war on Germany and Japan.
Following the war, Maguire took a job flying for Alaska Airlines. When David Ben-Gurion contracted with the airline for four propeller-driven DC-4 aircraft, Maguire and other Alaska Airline pilots ferried the squadron to Israel. In 1948 and 1949, similar aircraft had ferried supplies during the Berlin Airlift into the Allied sector of Soviet-blockaded Berlin.
Ben-Gurion's first concern was to bring home some 49,000 Jews existing in harsh exile in the outback of Yemen, a country on the Horn of Africa. It is not clear how long Jews had been in the mountainous region; some believe since the time of Solomon. Yemen, a heavily Muslim nation, was anti-Semitic and levied harsh proscriptions against Jews. Yet, as journalist Joe Spier wrote, the Yemeni Jews, "In synagogues and schools … taught their children to write and speak Hebrew, and to teach the Talmud." The devout Jews learned they would return to the homeland "on the wings of eagles."
Most had never seen a DC-4 aircraft and were afraid to board. Their rabbi had to persuade them that their exodus was a life or death choice and absolve them to fly on Shabbat. Aircraft crews removed seats to lighten the load, which permitted up to 100 refugees with carry-on possessions to crowd together into the plane.
Pilots often had to take off from airstrips in the outback, and then fly over water and at night to avoid hostile ground forces trying to shoot them down. Before radio-based navigation, the pilots had to navigate by the stars to Lod airport in Tel Aviv.
When Alaska Airlines bailed out, Maguire formed Near East Air Transport. During the next two years, NEAT and "On the Wings of Eagles" brought some 70,000 Jews from other lands to their homeland. Nicknamed "Operation Magic Carpet," the airlift ended in September 1950. Ben-Gurion honored Maguire, an Episcopalian, calling the Oregonian his "Irish Moses."
Maguire returned home and settled in Van Nuys, CA, where he married and raised two sons. He formed a corporation to establish Fixed Base Operations facilities at several California airports. In 2004, Maguire was awarded a Medal of Honor by the Simon Wiesenthal Organization. In 2005 at age 94, Robert Francis Maguire Jr. departed this world on his own Wings of Eagles.