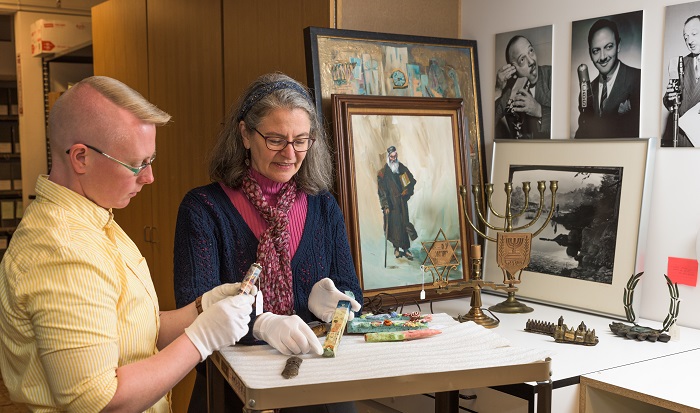 PHOTO: Archivist Alisha Babbstein, left, and Curator of Collections Anne LeVant Prahl prepare artifacts for exhibition. Photo by Mario Galucci
By Debra Shein
A compelling array of changing exhibits and a thought-provoking selection of core exhibits will have drawn about 22,000 visitors to the Oregon Jewish Museum and Center for Holocaust Education during its first year in its new home in the Pearl.
But many who come through the museum's doors don't realize that it also houses the largest repository of documents, photos, films, recordings and artifacts chronicling the history of Jewish life in Oregon since the 1840s. These are all carefully curated in the museum's collections, which contain a wealth of information regularly accessed by professional researchers, students and those just wishing to find out more about their families' pasts. The archives tell the story of the Oregon Jewish community and preserve it for the generations to come through notes and papers of some of Portland's most distinguished rabbis, the World War II correspondence of Bill Rosenbaum, scrapbooks and photo albums, and more than 750 oral history interviews.
The collections are visited by researchers from all over the country. Historian Ellen Eisenberg wrote her two volumes on the Jewish Oregon story from 1849 to the present based on information she found there. Some have come to explore the early days of the Reform movement, when Congregation Beth Israel was a "test pulpit" for new rabbis such as the eminent Stephen Wise, who came to Portland early in his rabbinic career. One researcher combed the documents of the original Neighborhood House (Portland's settlement house, founded in 1905) while investigating the history of social aid programs, and another searched for information on the Lair Hill Association's response to Portland's urban renewal project. Even K-12 students have explored the archives: one young boy, along with his mother and grandfather, stopped by to find out more about the grandfather's uncle, Rabbi Joseph Fain, a renowned Lithuanian scholar who served as rabbi at Congregation Shaarie Torah.
Although the archive collection is generally not on display, many documents, photos and recordings are continuously being made available online, thanks to the efforts of Curator of Collections Anne LeVant Prahl, Archivist Alisha Babbstein, a dedicated cadre of volunteers and interns, and a grant from the Oregon Heritage Commission. Visit the Collections section of the OJMCHE website (ojmche.org) to explore the online collection, which includes recordings and transcripts of 160 of the 750 interviews conducted by the Oral History Project. Those interviews feature members of Oregon's Jewish community recalling memories from the late 1800s to the present and Holocaust survivors who later became Oregonians.
Anne is continually seeking to expand the archives' holdings and encourages all those connected to Jewish life throughout the state to donate papers, records and connected objects of relevant individuals, organizations and businesses. She also wants primary resources documenting communal Jewish life in Oregon (including synagogue, club and school records), public leadership and planning, and Holocaust survivors who settled here. The museum would like to collect items from all time periods, the present as well as more distant past, and those pertaining to Jews from all walks of life, not just those most active in the Jewish community.
"This is where your family and business papers belong," says Anne. "We are the repository for the Jewish community in Oregon. You should not throw away your grandparents' things when you're cleaning out the attic."
The archives are a free resource. Those who donate items can come back and visit them. In fact, collections become much more accessible at the museum. They are professionally organized and catalogued. Families, synagogues and agencies can come look for information on their own pasts in ways they could not when papers were packed away in boxes.
The museum is actively seeking additional funding to facilitate the processing of collections and to make more available online.
New rotating exhibits from the archive are being developed to highlight particular aspects of Jewish life in Oregon.
Photos are being added to the online histories to provide a sense of who people were and what their times were like.
As curator of collections, Anne focuses on building and organizing the collections to more fully capture the material culture of the Jewish community in Oregon.
As the museum archivist, Alisha works to digitize and post the collection on the museum's website and to provide search functions to make it easier to locate items in the archive. She holds a master's degree in library and information science from the University of Wisconsin at Milwaukee specializing in historical collections management.
The archives staff also develops materials to prepare docents to give tours of the exhibits and to provide accurate and deep information to visitors.
Approximately 20 volunteers and interns contribute their labor at any one time, processing collections, cataloguing, working on the Oral History Project and filling in the research files.
"We would be lost without them," says Anne. The archives are also assisted by the efforts of Eliezer Froehlich, a professional genealogist. Interns from Portland's colleges and universities, as well as from around the world, work to gain credit and to explore career possibilities.
To Make a Donation or Visit the Archives
Call Anne LeVant Prahl or Alisha Babbstein at 503-226-3600 to discuss donations or to make an appointment to visit. Please do not bring in items without prior discussion.
For more info and a list of items being collected, see Donate under the Collections section of the OJMCHE website, ojmche.org.
A Sampling of Archive Holdings
Papers and memorabilia of many of Portland's major congregations, the Jewish Federation, the National Council of Jewish Women, Portland Jewish Academy and Jewish-owned businesses. Records of Cedar Sinai Park are coming soon.
Correspondence of David Solis-Cohen (1850-1928), an early president of Congregation Beth Israel whose Sephardic mother only agreed to marry if the name would be hyphenated so her heritage would not be lost. Includes letters and essays about the issues of his time.
Papers of Portland rabbis Joshua Stampfer, Yonah Geller and Henry J. Berkowitz, containing sermons, eulogies, notes for classes they taught, etc.
More than 750 oral history interviews, including about 100 interviews with Holocaust survivors, each full of riveting detail. Some are already available on the website including: Sanford Adler (1892-1980) and Sanford Heilner (1885-1978), both major players in small Oregon towns where there were not even enough Jewish families to have a minyan; Daniel Labby (1914-2015), who vividly describes early 20th-century life in Portland; Manly Labby (1900-1983), labor organizer, who provides a compelling account of unions in the 1930s; and Hans Ludwig Biglajzer (1926-2017), a Holocaust survivor who braved the brutal conditions of the Lodz ghetto and later Dachau.