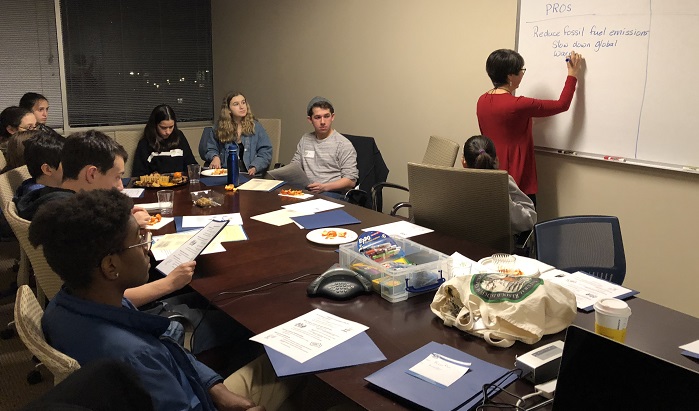 On Jan. 30 the Oregon Jewish Community Youth Foundation held its first advocacy workshop for students in 6-12th grades. Entitled Hope in Action, the session brought together 11 students to learn how to be an effective advocate for oneself and one's community, as well as how to plan meetings with stakeholders and communicate with elected officials.
OJCF's Collaborative Giving Program Coordinator Sonia Marie Leikam taught participants about the principles of lobbying and rules for effective advocacy encounters. In addition, guest speakers Pam Vergun from Plant for the Planet and Linda and Gary Wallmark from 350 PDX: Building the Climate Movement shared their stories of lobbying for clean energy jobs in Oregon.
"It was wonderful to see both middle school students from Portland Jewish Academy and high school students from Cleveland, Wilson, Sunset and the International School of Beaverton come together to learn how to best use their voices to bring about change in the world," says Leikam. "I look forward to seeing how the attendees take the information they received and supporting them as they put it into action."
One advocacy strategy Leikam shared with the students was Dr. Martin Luther King Jr.'s Six Steps for Nonviolent Social Change. According to Dr. King, advocating for a cause can be broken down into six adaptable steps: identify a problem, get the necessary facts, identify the solution, find the decision makers to engage, build support and locate allies and, lastly, determine the methods to execute one's advocacy plan.
"The foundation was thrilled to offer this workshop to middle schoolers as well as high schoolers," says OJCF President & CEO Julie Diamond. "We look forward to bringing more advocacy programming to the community in the near future."
Gail Mandel is the legacy development and marketing manager at the Oregon Jewish Community Foundation.
U.S. Rep. Suzanne Bonamici to keynote youth benefit
The Oregon Jewish Community Foundation is pleased to announce that U.S. Rep. Suzanne Bonamici will be the guest speaker at this year's OJCYF Annual Benefit Dinner on Thursday, May 3, at the Mittleman Jewish Community Center. Congresswoman Bonamici has represented the 1st District of Oregon since 2012. More information about the OJCYF dinner is available at www.ojcf.org.