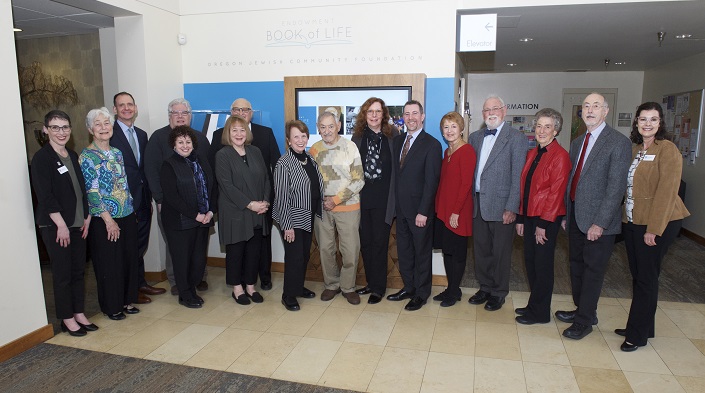 PHOTO: Group shot of all signers in front of Book of Life installation at the Mittleman Jewish Community Center. Photo by Naim Hasan Photography
Just as the old man in Midrash plants a tree so that his grandchildren might eat its fruit, legacy donors today ensure that the seeds of Jewish programs and institutions grow to nourish the minds and souls of future generations.
On March 21 the Oregon Jewish Community Foundation held its second Endowment Book of Life signing ceremony and welcomed 11 new signers into the Book of Life family. Located in the lobby of the Mittleman Jewish Community Center as well as online at ojcfbookoflife.org, the Book of Life acknowledges and honors individuals who have committed to leave an after-lifetime gift to support Jewish organizations in our community. These gifts, either through one's estate plan, IRA beneficiary designation or life insurance policy, will help strengthen our shared community for generations to come.
The stories that Book of Life signers share convey the values and motivations behind their decision to leave a legacy gift and serve to connect the generations. OJCF's Book of Life recognizes the generous commitment of these individuals.
In March the following people signed the Book of Life: Steve Albert and Janie Goldenberg, Ron Appelbaum and Judy Nemer Appelbaum, Barry and Karla Benson, Gerel Blauer, Nathan Cogan, Beth and John Germain, Stephen and Elaine Kantor, Tony and Priscilla Kostiner, Theodore Nelson and Curtis Shaffstall, Jeanne Newmark, and Carolyn and Gary Weinstein.
If you have made a legacy gift to benefit our community, OJCF invites you to be a part of the Endowment Book of Life. For more information, contact Gail Mandel at gailm@ojcf.org or 503-248-9328.
BOX: BOOK OF LIFE EXCERPTS
"I was brought up in a Jewish home where I saw being generous to others as a part of my everyday life." – Jeanne Newmark
"We believe that life is a precious gift. To live it without meaning, without purpose, without making a difference is to deny that gift." – Carolyn and Gary Weinstein
"As children, we were taught the importance of giving back to the community. As parents, we have strived to instill that philosophy in our own children." – Stephen and Elaine Kantor
"We moved to Portland in 1974. We were warmly welcomed by the Jewish community. Our family has grown and thrived here. Now it's time for us to give back to the community." – Tony and Priscilla Kostiner
"Curt and I are proud to be a part of a community that imparts a steady and respectful voice calling all of us to action." – Theodore Nelson and Curtis Shaffstall
"It is wonderful to see the community working together, and the common thread that binds us should never be broken." – Gerel Blauer
"Tzedakah has always been important to me…. I don't see it as giving back, but rather giving forward." – Nathan Cogan