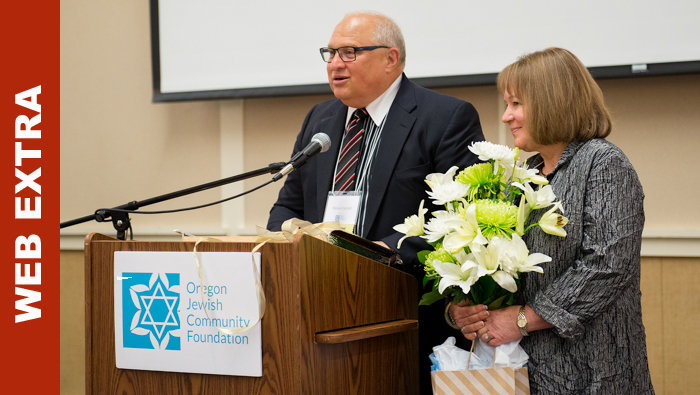 Photo by Eden Swartz
The Oregon Jewish Community Foundation named Steve and Elaine Kantor as the 2016 OJCF Legacy Society Honorees, and recognized their leadership and generosity at the foundation's Annual Meeting and Reception on June 15 at the Mittleman Jewish Community Center. Foundation President-Elect Steve Laveson, and others, honored the Kantors, noting their considerable impact as volunteers for both Jewish and general community organizations. OJCF board members, fund holders, executive leaders and more than 100 community members attended the reception, which included a vote by members of the foundation on the slate of nominees for board service in fiscal year 2017.
The Kantors were selected for the honor due to their longstanding dedication to and support of Portland's Jewish community and OJCF. Steve Kantor is a past president and one of the founding members of OJCF, as well as an inaugural member of the foundation's Professional Advisors Group.
"Steve's years of counsel, support and dedication to OJCF, both personally and professionally, have helped shape the foundation into what it is today: a sophisticated organization dedicated to assisting our donors and partner organizations to strategically achieve their philanthropic goals," said OJCF Executive Director Julie Diamond. "His involvement with our Professional Advisors Group from its earliest days is a natural fit given Steve's expertise in estate planning and his strong belief in the importance of leaving a charitable legacy."