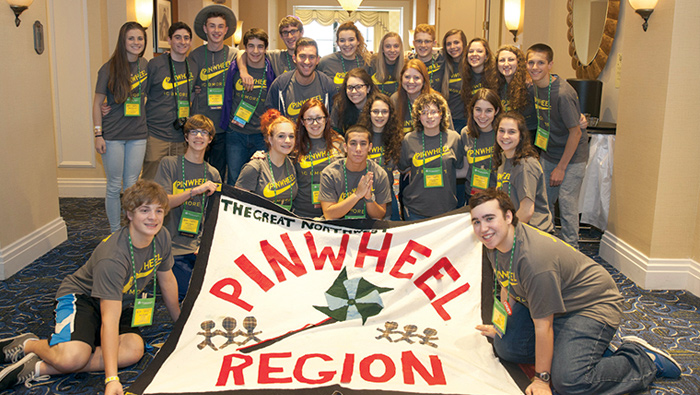 More than 700 teenagers from United Synagogue Youth, including five from Portland, gathered in Baltimore Dec. 27-31, 2015, to celebrate, learn and give back at USY's 65th International Convention. A program of The United Synagogue of Conservative Judaism, USY is America's largest Conservative Jewish youth group.
The gathering focused on teen advocacy with education tracks including sessions on combating anti-Semitism, political activism in U.S./Israel relations, LGBTQ issues and gender equality, race and poverty, mental health awareness and more.
Three Portlanders who attended the convention shared their perceptions of the gathering. All three are members of Congregation Neveh Shalom and attend Lincoln High School.
Hannah Glass, 16, says she enjoyed the learning track she participated in. "I heard from multiple speakers from organizations with different opinions, such as Stand With Us and J Street, that advocate for Israel," says Hannah. "Israel advocacy is something that takes hearing from many people to understand where you stand, and I am really grateful that I had the opportunity to expand my knowledge in that way."
Hannah Sacks, 17, also enjoyed her learning track sessions. She participated in the LGBTQ track. "It was so interesting to hear the perspective of gay rights from a Jewish standpoint, especially since I live in such a liberal city," she says.
This was the fourth USY International Convention 17-year-old Jack Friedman has attended. He says he wanted to attend because it gave him the opportunity to reconnect with some of the friends he made on USY Pilgrimage (a six-week summer program in Israel) and because of his experiences at past conventions.
"Truly, there is nothing like the feeling of walking into opening session at the beginning of IC," says Jack. "The feeling of seeing so many Jewish teenagers in one place is truly indescribable. It is one I never experienced before going to IC, and likely one I'll never experience again."
USY partnered with several organizations at the convention to educate and equip the teens to take action; those organizations included the Anti-Defamation League, Sojourn, Keshet, Avodah, U Mattr and AIPAC. The teens heard leading professionals in the field of social justice including keynote speaker Rabbi Abraham Joshua Heschel, American Jewish World Service President Dr. Ruth Messinger, renowned "Mitzvah Man" Danny Siegel, Center for Citizen Empowerment and Transformation CEO Sam Daley-Harris, and USY's 2015 Danny Siegel Changemaker-in-Residence and Cleveland social entrepreneur Matthew Fieldman.
Teens participated in several hands-on social action projects including creating school supply kits, blanket making, food preparation and compiling winter necessities packages for the homeless. Local Baltimore partners include the Weinberg Housing and Resource Center, various other local shelters, Living Classrooms, several area hospitals and more. To strengthen USY's partnership with other Jewish youth groups, these projects will be delivered to the Baltimore community by BBYO teens during their February 2016 convention.
The teens also engaged in Israel-related projects in honor of Ezra Schwartz, a former USYer who was recently killed by a terrorist attack in Israel. Schwartz died while delivering food to soldiers in Gush Etzion, so to honor his memory and commitment to Israel, the teens will participate in a letter-writing campaign for the Israel Defense Forces.
In addition to social justice, the convention brought together Jewish teens from across North America to celebrate, interact with each other and spread their ruach (spirit) to the local community. The teens explored Baltimore landmarks including the inner harbor and the National Aquarium, got a taste of Israeli culture with musical guest Hatikva 6 and celebrated 65 years of USY conventions.
This report was based on email interviews with Oregon teens and a press release from USY.