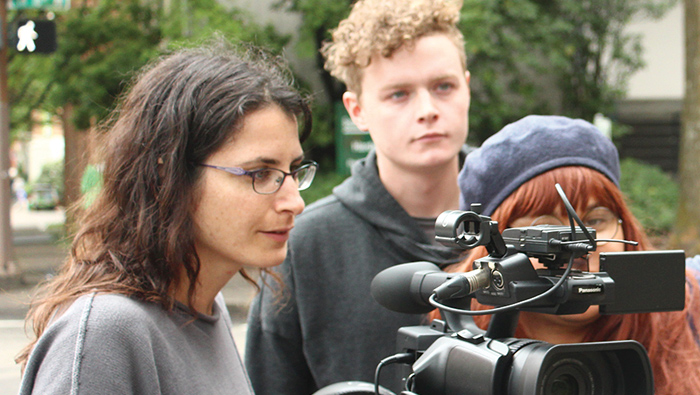 Nili Yosha was raised in Israel and Hollywood immersed in both filmmaking and social action. But when she boarded a plane from Tel Aviv to New York Sept. 10, 2001, she wanted to put social activism aside, concentrate on her studies and do anything but make movies.
The next day as she watched the Twin Towers fall, she realized "You can't escape your destiny, and you can't shirk your responsibility as a human being."
Now she has found the perfect blend of the two passions she sought to leave behind – social justice and the arts. Last year she founded Outside the Frame, a Portland nonprofit that empowers homeless and marginalized youth to tell their stories on film while gaining job skills that will enable them to rejoin society.
Outside the Frame had its public launch in June with the premiere of "The Lost Boys of Portlandia." The documentary follows Portland's real lost children as they debate if and how to return to mainstream society while creating their own film of the iconic story Peter Pan.
otfpdx.org to donate or volunteer
"The Lost Boys of Portlandia" trailer: vimeo.com/otfpdx/teaser
The June 7 inaugural gala drew some 500 people, including politicians who said they would share the film with other policymakers and the filmmakers themselves who answered questions about homelessness and becoming contributing participants in society. HUD Oregon Field Office Director Margaret Salazar welcomed attendees to the event at Revolution Hall, which Nili chose both for its name and location at 1300 SE Stark St., near homeless tent camps.
Outside the Frame offers film workshops for marginalized youth and video production services (courtesy of the youth trained in the program) to organizations that need a voice.
"We create authentic, high-quality media pieces," says Nili. "We can make your organization look good. And it helps us fund our mission to provide film workshops to homeless and marginalized youth."
Outside the Frame provides film workshops for youth to share their stories with the community.
Making films, she explains, engages a lot of people with a variety of skills as they create something that changes others' perceptions.
"You can't change peoples' minds through logic, you have to change them through the heart," says Nili. The films the youth create enable people "to hear what these youth have to say for themselves. This is a two-way street. People watching are getting educated and changing their views, and hopefully are moved to change policy or give the youth opportunities with a job or internship."
The film workshops teach the youth soft job skills, and give them confidence and something for their resume. Some participants in the first Outside the Frame workshop have gone on to complete their GEDs and are now attending college; one was hired as a production assistant by one of the group's film mentors, and another is on the board as a youth mentor of Step Up while he attends school for film production.
"If we give them tools and chances at this critical time in their life, they will stand on their own two feet," she says.
While Nili believes Portland has excellent social service programs, she feels providing just necessities is not enough. She sees her program as a valuable complement to those social services.
"There is no Torah without bread, but bread isn't enough," says Nili, paraphrasing a Talmudic concept. She adds that early Jewish scholars "thought of everything already."
"The age I work with (18-24) is old enough to understand what is going on and young enough to rail against it," she says. In the past, social service programs ended at age 18 and foster youth were left to find their own way. Now support extends to age 25, and she believes her program is a good complement to the necessities provided by social services.
Nili says she decided to focus her efforts on youth because she realized the experiences she had at a young age were critical to her worldview.
"I grew up seeing how you use film as a tool to make the world a better place with limited resources," she says.
Her parents, Yaky and Dorit Yosha, are acclaimed filmmakers who directed and starred in Israel's first anti-war film, "Shalom," in 1973. In 1978, their film "Rockinghorse" was the first film to represent Israel in the Directors' Fortnight at Cannes Film Festival, where they returned with two more films in later years.
The 13th generation of her family to live in the land of Israel, Nili was born during the first Lebanon War in 1982. When she was 4, the family moved to Hollywood for a film project and ended up staying for nine years. Returning to Israel in 1995 after the Oslo Peace Accord, Nili became very involved in the leftist, socialist youth group of the Meretz political party, where she says, "We had a lot of discussions and did lots of social action."
She participated in a Bat Shalom peace trip with 10 Israeli, 10 Palestinian, 10 Spanish and 10 Italian girls, who spent two weeks in Italy talking about the Israeli- Palestinian conflict. She says a special bond formed the first day between the Israelis and the Palestinians when a bus driver told the girls they couldn't eat their lunches on the bus. Nili says the Italian and Spanish girls quickly put their lunches away, but the Israelis and Palestinians slid down in their seats and exchanged glances as the surreptitiously ate their sandwiches.
"From then on you couldn't fool us," says Nili. "We realized we had more in common than not. … The media divides and conquers."
Nili says the trip was a very formative experience for all of the girls, which helped her realize what a crucial age the teen years are.
Following high school she was a conscientious objector to serving in the IDF. Instead she spent her compulsory service time doing community service as a counselor working with Israeli Arabs in the village of Tira. She says that Israeli Arabs have the most complex identity in the Middle East, but because they were young, "We had no idea how impossible the situation was, and we did things."
That experience also taught her the power of supplemental or experiential education, which is the basis of Outside the Frame.
She says she still remains optimistic there will be peace founded on a two-state solution because "there is no other choice. … People have long wanted peace. People want to raise their children and not have to worry. The politicians are the stumbling block. Unfortunately, fear-mongering wins elections."
After being swept up in the events following 9/11, Nili headed for Portland to attend Reed College.
Coming from Tel Aviv, she says Portland seemed small and wet. So after two years she moved to California to finish her bachelor's degree at the San Francisco Art Institute in North Beach and earn a master's degree in Hebrew Literature from San Francisco State University.
She returned to Portland in 2009, where she discovered that in the years she was away, "Portland has gotten more hip and me less so, so we meet in the middle."
She is now happily settled here with her partner, Annie Johnson, who is studying with Rabbi Joey Wolf of Havurah Shalom, where she will be his last conversion before he retires.
Nili says she had two babies last year: the first when she launched Outside the Frame and the second a month later with the birth of her daughter, Eliana Yosha, now 14 months old.
She hopes someday Outside the Frame will become a nationwide program to combat homelessness with funding from the government. But for now, her Portland nonprofit relies on volunteers, tax-deductible contributions and contracts with organizations needing a voice for which the youth create authentic, high-quality media products. She has also applied for grants to provide more stable funding to ensure homeless youth have what they need to thrive and rejoin society as contributing members.
"The dilemma of the Lost Boys is whether to go back to the real world," says Nili. She adds through the power of film, "We can hear what they worry about and what they hope for while clearly seeing they are able to participate in society and be articulate and hard working."